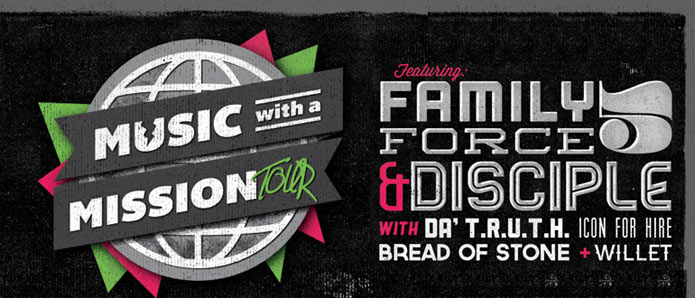 Music With A Mission Tour
Family Force 5, Disciple, Icon For Hire, Da T.R.U.T.H., and more
9/30/12, at Willoughby Hills Friends Church in Willoughby, OH
With several fall tours in full swing, there are plenty of shows to choose from on any given weekend. The Music With A Mission Tour is no exception; hitting over 24 different cities and hosting a good balance of veterans and novices, this is one of the most eclectic tours I've seen this side of Winter Jam.
Warming up the audience was singer/songwriter Cory Lamb. I had not heard of Lamb until this tour, so I was interested to see his performance. He came out on the stage with quite a bit of energy and he was able to get the crowd dancing. After a short set (only three songs), it was time to welcome the next act to the stage.
Next up was the up-and-coming band, Willet. Willet definitely favors the modern rock sound, drawing to minds artists like Chris Daughtry and Todd Agnew. After their second song, lead singer Jeremy took a moment to talk about the heart of the band and their new record they're selling independently. He explained that they have their album set up so that the consumer can pay what they want for it, even if it means taking it for free. They closed out their set with a third song, and invited the audience to come back and visit their table after they were done playing.
Bread Of Stone was set to perform next, and they concoct a mix of pop/rock and funk in their music. They had little video cameras on stage set up around them to project their images on the large screens behind them, so that added another element into their set. Part way through their show, their lead singer, Ben Kristijanto, held up a small sack and proceeded to explain what their "mission" was that they were supporting on the tour. They explained that if you purchased one sack, it would feed about 40 people. Plus, you would get a t-shirt, bracelet, and a few other goodies in the sack. As they were getting ready to play their next song, they were experiencing some technical difficulties, so they also only played three songs. Regardless, they encouraged everyone to go and check out their table as they kicked into their final song for the night.
After a quick set change, Tooth and Nail's own Icon For Hire took the stage with gusto. While it sounded as if Ariel was having a rough night vocally, her and the rest of the group didn't show any signs of slowing down. They opened with "Theater," off of their debut release, Scripted, and moved straight into "Off With Her Head," also from the same record. After the first two songs, they moved into a medley of "Up In Flames" and "Jump Around," by the band House of Pain. Guitarist Shawn and bassist Josh broke off from the stage to grab some mini trampolines, and the band proceeded to jump on them while Ariel rapped. Ariel and Shawn then had the audience split down the middle and had a "jumping contest" to see which side could jump the most. After that, they rounded out their set with "Get Well" and their single, "Make A Move." They encouraged everyone to stop by their merch table and say hello once they were done playing.
Switching up the pace between these rock acts was rapper Da T.R.U.T.H.. Da T.R.U.T.H. was accompanied on stage with his drummer, and he also had some backing tracks playing as well. Da T.R.U.T.H. bounded on stage and started to engage the audience. Everyone who was watching him seemed to be almost caught off guard by his semi-abrasive stage presence, but by the end of his first song, everyone was dancing and singing along with him. Da T.R.U.T.H. put on a passionate performance and never forgot to credit God for everything in his life. Da T.R.U.T.H. played four songs, and then it was time for the veteran rockers known as Disciple.
Before Disciple came on, Fatty from Family Force 5 came out and shared about his time in the hospital from a few years ago. He was hospitalized because of kidney failure and he needed surgery, but there was no guarantee he would come out 100% recovered. He said he that if he didn't die, he would have to be hooked up to a machine for the rest of his life. He mentioned that while he was frustrated with what was going on, he ultimately put his faith in God and prayed for His will. After weeks of being hospitalized, Fatty came out of the hospital with a clean bill of health, with no need for anything but yearly checkups. He said it was truly a miracle and God's grace he survived. He then went on to explain the reason behind why they're doing the Music With A Mission tour, and how they're working with Cure, an organization that provides medical care for people who need surgery, but can't afford it. A short video was played afterwards, and by the time Fatty left the stage, there were a few wet eyes in the audience.


"Outlaws" by Disciple, live 9.30.12
(video by Cortney Warner)
Once Fatty was finished, the stage crew began to unveil the large stacks of custom Mesa Boogie cabs that showed off the new logo for Disciple's forthcoming release, O God, Save Us All. Disciple has to be one of the hardest-working bands on the scene; I am constantly seeing their name on lists for concert tours and festivals, and they still continue to deliver energetic performances every show they play. They started off with the title track off O God Save Us All and went straight into the fan favorite, "Game On." Kevin then took a moment to talk for a minute about their new record and their mission as a band. He mentioned that their new record was available for preorder, and that anyone who wanted to could head back to the merch table and do so. He also asked permission to play two new songs for them, one fast, and one slow. The audience responded with cheering, and Kevin said they would start off with the slow one first, titled "Draw The Line." Over the summer, Disciple was incorporating this song into their festival set, so by now many audience members have already heard it and were singing along. The second song was "Outlaws," and it has that classic southern rock sound that Disciple's famous for. They kept things rolling with their radio hit "Dear X," and wrapped up their performance with "Rise Up," which included guitarist Micah doing his signature backflip off the cabinets. While this was a relatively short set for Disciple, they certainly packed a punch in the time they did have.
The lights came back on, and it was time to get things ready for Family Force 5. We could soon see their drum riser revealed, and several crewmembers brought out stage boxes with the American flag on the front. Within minutes, the lights dimmed, and FF5 exploded on the stage with "Ghostride The Whip," off of their Dance Or Die With A Vengeance album. To the audience's delight, they played a majority of songs from their first two records, with only songs like "Wobble" and "Can You Feel It?" showing up from III. Singer Soul Glow Activatur broke up the music for a few minutes to talk about their band and introduce the different members. He went on to talk about how they shot their music video for "Zombie" just a few hours south of where they were performing that night, and asked if anyone in the audience participated in the shoot. To no one's surprise, several hands shot up. Soul Glow's banter was the perfect interlude to their next song, which (no surprise) was "Zombie." They continued to play favorites such as "Love Addict" and "Kountry Gentlemen," and with what seemed like an abrupt end, Family Force 5 left the stage. But the guys were soon cheered back for an encore, where they played "Wobble" (and got the audience involved with the dance that goes with it), and ended the night with "Cray Button," from their III.V EP. It was a great, and "cray," way to end a fun night of concerts.


"Kountry Gentlemen" by Family Force 5, live 9.30.12
(video by Cortney Warner)
The Music With A Mission Tour is one of the most exciting concerts tours for fall 2012. It's convenient if you're looking to catch established acts like Disciple and Family Force 5, and also looking to check out some newer artists like Willet and Cory Lamb. The Music With A Mission tour is a great night out with your family, friends, or youth group, and contains a good dose of both sparkle and substance.
--
Cortney Warner
, 10/6/12
Music With A Mission Tour
click on an image for a bigger size
**vertical images cropped for thumbnails**
Willet:
Bread of Stone:
Icon For Hire:
Josh "Fatty" Olds (of Family Force 5):
Disciple:
Family Force 5:
*all photos by Cortney Warner and are the property of the photographer and Jesusfreakhideout.com