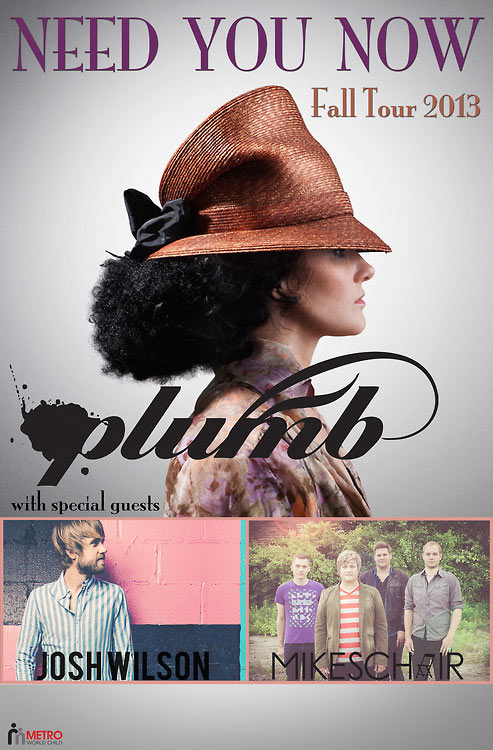 Plumb, Josh Wilson, Mikeschair
Need You Now Tour
10/13/13, at Church of the Open Door in York, PA
If you frequently attend live shows, it can surprise you when you realize how much time has passed since the last time you've seen a particular artist. It could be because that artist doesn't come to your area much or they've slowed their frequency of touring, or perhaps their local tour dates continue to fall on inconvenient days to attend. Whatever the reason, when you finally are able to link up with the artist, it can be a wonderful thing.
I've personally followed the musical adventures of Plumb since her self-titled debut released in 1997--back when "Plumb" was a band and not just the name Tiffany goes by on stage. Since her debut, Plumb shed the band image and continued on, picking up speed in the mainstream (you can hear her song "God-Shaped Hole" in a key scene in the 2003 comedy Bruce Almighty) before the apparent expansion of her personal family (i.e. she married and became a mother of three) slowed her time in the spotlight. And in recent years, Plumb has recorded a lullaby album, released a hits collection (Ahem, a real one. The two-album label contract fulfillment back in the day does not count), and recently released the long awaited (and long delayed) studio album, Need You Now. So with a new album has come a new tour, and Plumb took with her the tour support of Josh Wilson and labelmates Mikeschair.
Actually, if you've followed Plumb for any length of time, labelmates like Josh Wilson and Mikeschair may seem a little strange at first. Both artists have "that" Contemporary Christian AC radio sound, while Plumb has intriguingly juggled a power pop/rock sound that has spawned anthemic relationship songs and edgy rockers on the same recordings (except for that lovely lullaby album, Blink). Both Wilson and Mikeschair are more present-day CCM pop without the kind of sound that zips from one end of the energetic scale to the other (like Plumb's). But in today's musical climate, it probably makes sense to pair acts like them with an artist who has made waves on the chart with the wonderful single "Need You Now (How Many Times)." So, to open the night, pop band Mikeschair gave the evening a chill beginning with a handful of encouraging contemporary songs that set a chill tone for the night. After the worshipful "All for You," the York, Pennsylvania audience took their seats and stayed there until frontman Mike Grayson would ask them to stand again. Mike then asked the audience to say their names all at the same time at him and offered a friendly greeting, before getting personal to talk about the affliction of alcoholism in his family. He admitted it was nothing he dealt with personally, but something that greatly affected his family at one time and he used it to encourage anyone in the audience who may be struggling with any kind of addiction. They then performed the new song "People Like Me," and then Grayson picked up his acoustic for "Someone Worth Dying For" from their 2011 album, A Beautiful Life. He then talked about their new album dropping in January before closing with the brand new single, "All I Can Do (Thank You)."
After a quick set change and a video from Plumb on the backdrop screen encouraging couples to work a date night into their schedules to strengthen their marriages (something that literally saved hers), Sparrow Records artist Josh Wilson took the stage. I've seen Josh a few times live now, and this marked the first time I was seeing the young artist with a full band to support him. It was certainly a different feel when "I Refuse" began and it was more than just his voice and guitar. It created a fuller sound for his songs--more so matching the album recordings--but I have to admit I kind of missed the more stripped-down approach to his acoustic renditions. But after "Pushing Back The Dark" and "Before The Morning," the band left Josh on the stage alone with his acoustic as he talked a bit to the audience before he used his electronic loop machine to supply a homemade beat for "Shine On Us." Josh stayed on stage with just his acoustic for "I See God in You" and then was joined by his band again for "Carry Me," which he introduced with a story about his own struggles with anxiety. The band then left once again for Josh's final song, his signature instrumental performance of the hymn "Amazing Grace," for which he utilizes the loop machine to weave a unique soundscape to drive the song.
Before intermission, Plumb came out with Josh's wife to talk to the audience briefly about the ministry Metro World Child and the heart behind that inner city ministry. She then encouraged the audience to look into it and support it before leaving the stage for intermission. Around 8:45, Plumb and her band took the stage for the main event of the night. It's been nine years since I last saw Plumb play and I was pretty excited to finally see her perform once again. This is also her first tour in seven years, but from watching her now you probably wouldn't guess that it's been so long. She emerged donning a tall hat and long coat, singing into a mike at the back of the stage as she beat a tom-tom drum and sang "Invisible." As the lead-off track to her latest album, Need You Now, "Invisible" is Plumb flexing her rock muscles at her very best (unfortunately, there isn't a lot of that on the album or in the live show, though). She followed it up with the much poppier "Beautiful," which continued a steady flow of songs from her newest album. In fact, before the night was through, Plumb would perform nine of the twelve songs from the album, with a tenth serving as the closing house music. (Curiously, the album's debut single, "Drifting," was not one of those ten songs!) For the catchy "One Drop," Plumb encouraged some crowd clapping and singing along to get them interacting a bit. She then talked again about date nights and how important they are for a marriage before playing "Chocolate & Ice Cream" to end the first run of Need You Now songs. For an artist like Plumb with six studio albums in 16 years, it seemed a little odd that she wouldn't play more fan favorites. But the emotional "Damaged" (the "Redemption Extended Version") followed with a bandmate providing cello support for the song. She then moved into the equally emotional "I Don't Deserve You," another song from the new album written out of marrital struggles. The cello was also then used for a stripped-down, re-imagined version of "God-Shaped Hole" that was given the piano ballad treatment. It was a nice take on the classic Plumb tune from 1999, but, admittedly, I missed the original version. She then shared the painful true story about a friend whose baby died after only being alive for 28 days and how she'd written the next song for her, "I Want You Here." It's one of those heart-wrenching songs that I'm actually surprised made the set list because of how heavy thematically it is. It's a hard song to listen to on the album due to its tragic subject matter, but Plumb brings so much passion through the song that it's just as difficult to overlook. She then did a complete one-eighty and told the audience that because of her background in rock music, she needed to perform a rock song for the audience and moved into the feisty "Cage." Afterward, she took a photo of the audience for her Facebook page and then introduced the next song as being about a broken heart, "Say Your Name." And as a treat for the longtime fans, she slipped a line from "Here With Me" in at the very end of the song. Plumb then offered a single cut from the album she wrote for her children, Blink, in "In Your Arms," before performing the Matt Maher worship song "Lord, I Need You" (for which her guitarist took lead on the vocals). At this point in the night, Tiffany opened up about the rough patch in her marriage almost two years ago when she and her husband separated and almost filed for divorce. She talked about how, through perseverance and God's healing they are better now than ever. She then mentioned a severe anxiety attack that she suffered earlier this same day before the show and how "Need You Now (How Many Times" was born out of these kinds of intense struggles. It made for an excellent finish to her set, and she wrapped up the song in the same way she opened her set, with her pounding on the tom-tom. As relaxed as the York, PA audience was for most of the night, they surprised Plumb & Co. with a standing ovation that persisted through the house music (her song "At Arm's Length" from the new album). Plumb then re-emerged with the support of her guitarist to perform the first encore of the tour, an acoustic rendition of "Stranded."
It may have been seven years since her last tour, and understandably so since that was about the time she started extending her family, but Plumb's performance on the Need You Now Tour is a very welcomed return for the accomplished pop / pop rock singer. While she still excels at performing upbeat, rock tunes and couldn't hurt adding one or two more to her set ("I Can't Do This" and "Drifting" perhaps?), the set list for this tour is still a strong one. It includes almost her entire new album ("Drifting" and "Unlovable" are entirely absent), so fans just getting into her music will certainly get to hear plenty of "2013 Plumb"--and she throws in a few hints of classic Plumb to honor the longtime fans. Definitely don't miss this tour; hopefully it won't be quite as long before Plumb hits the road again for a string of dates like this.
--
John DiBiase
, 10/20/13
Plumb Set List

01. Invisible
02. Beautiful
03. One Drop
04. Chocolate & Ice Cream
05. Damaged (Redemption Extended Version)
06. I Don't Deserve You
07. God Shaped Hole (Piano Version)
08. I Want You Here
09. Cage
10. Say Your Name / Here With Me
11. In My Arms
12. Lord, I Need You
13. Need You Now (How Many Times)

Encore:
14. Stranded (Acoustic)
Need You Now Tour 2013
click on an image for a bigger size
**vertical images cropped for thumbnails**
Mikeschair
Josh Wilson
plumb
*all photos by John DiBiase and are the property of Jesusfreakhideout.com