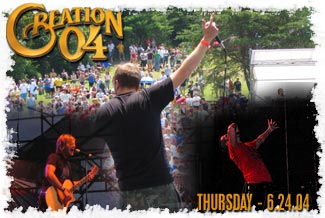 Plumb, Switchfoot, Audio Adrenaline
6/24/04, Mt. Union, PA. at the Agape Farm.
One of the best lineups I've ever seen for a day at Creation Festival was set up for Thursday. The problem with that is it makes for one busy and hectic day as well. We were once again helping out the ForeFront team (now more known as EMI CMG due to a merger earlier this year), so we absorbed a mere couple hours of sleep and trekked out to the festival around 9:30am. We resumed our job of passing out stickers from the day before and in the process were able to hear the Main Stage morning acts. Casting Crowns offered their brand of adult contemporary worship before giving up center stage to pop/rock vocalist Trevor Morgan followed by the lovely Sarah Kelly. Following a message from Rob Bell on "The Soul of a Revolutionary", the Fringe Stage began for the first time Creation week with none other than the highly entertaining, highly talented John Reuben.
An anxious crowd was greeted by Reuben who came out sporting a new, shorter "do" and a "love" t-shirt. He wasted no time in leading the crowd in the raucous "Treats" before playing "Move" and "Have No Opinion?". His new crowd participation "gimmick" preceded "Do Not", in which he admits he'd been lying by telling every city no one rocks harder than they do and insists that no one rocks harder than the Creation crowd. Reuben offers one of the genuinely funniest live shows available. He can make the crowd laugh even without seeming like he's trying. Not taking himself too seriously makes the genre of music he plays fit well. But when he does happen to get serious for a song or two, like with the chills-down-the-spine "Freedom To Feel" rocker, it still works because Reuben is equally as genuine when he's not fooling around. He closed his set with the crowd favorites "Doin'", "Gather In" and "Life Is Short" before a hungry crowd demanded an encore. Reuben graciously responded, with time allowing, and played "Higher" to finish.
At 1PM, Seventh Day Slumber followed up Reuben, but Skillet played simultaneously at the Main Stage. To me, with being a "panhead" since the beginning, it was a no-brainer of a choice. Skillet was in top form as they opened ferociously with "My Obsession", moving nicely into "Best Kept Secret" and then right into the fan-favorite "Kill Me Heal Me". From there, frontman John Cooper began experiencing some serious technical difficulties with his bass as the sound cut out and they had to start over, not once, but twice! The crowd was very forgiving and the rest of the show remained problem free. From the title track of their newest record Collide, they played "Forsaken" and then slowed it down for some worship with "You Are My Hope" before playing "Open Wounds", "You're Powerful", "Angels Fall Down", and closing with their hit single "Savior".
At 2PM, Petra followed up Skillet, but Sanctus Real played simultaneously on the Fringe Stage. Although Petra was the first Christian rock band I ever got into, after interviewing the Sanctus guys last year and loving their sound since, I trekked back on over to Fringe. This was my first time seeing Ohio-based Sanctus Real since the release of their new album Fight The Tide, so it was nice to hear the guys mixing up the set list with songs from both of their stellar releases. "Say It Loud" made a fitting opener with the new "The Fight Song" following up nicely as well as "Nothing To Lose", "Audience Of One" and the worshipful "Everything About You". Sanctus is a fantastic live band and hearing the songs live really adds a lot to them. At one point, however, my curiosity peaked and I needed to head back over to the Main Stage to check out Petra's show. I'd seen them live last about nine years ago when they were still relatively popular and I haven't seen them since. As I walked over I could hear them performing their new song "Test Of Time", ironically a song that probably fits the band and their ministry -- how they've endured the test of time for over 30 years. As I approached I noticed a decent-sized crowd for a style of music that isn't as "in" today as it used to be, but how can anyone who appreciates the history of Christian rock truly not be at least minimally intrigued by the forefathers of the genre. From there, they did what appeared to be short versions of hits spanning their career, playing excerpts from several songs. Although I was there for only mere minutes, I heard "Sight Unseen", "This Means War", and as I walked back to see Sanctus I could hear "Beyond Belief". I must say I was really surprised how worn out Petra appeared on stage. Lead vocalist John Schlitt was heavier than his signature thin appearance and his long blonde hair was now almost completely white. Guitarist and founding member Bob Hartman moved around the stage very well for his years but his frumpy gray hair and salt and pepper scruff just made him look more under-the-weather than anything. Regardless of appearance, it's still great to see these guys are still performing and bringing their ministry to the masses. By the time I got back to Sanctus Real, I heard them play "Inspiration", "Captain's Chair", "Alone" and U2's "Beautiful Day".
The Fringe Stage is a much more fan-friendly atmosphere. Following each show, the artists would sit at their merch tables and fans could come up and meet them at their own leisure. Over at Main, a tent was set up off to the side where, if you wanted any of their merch, you had to stand in a long que line and wait to run through. There were more security at Main, will more distance between the artists and the fans while Fringe was just a much more intimate setting.
3PM yielded the choice to see one of four speakers across the festival grounds including Eastman Curtis, Joshua Harris, Ryan Dobson, and Mike Silva. We ended up helping out EMI during this time, and at 4PM watched Sarah Kelly's performance over at the Fringe. Kelly's open and intimate shows are magnetic. She's one of the most personable female solo artists I've seen and she's just as outgoing and friendly off-stage as she is on. She started her set on her piano with the transparent "Please Forgive Me" before taking a seat barefoot on a stool for "Matter Of Time", her hit single "Take Me Away" (a song about surrender), and what appeared to be a new song "It All Comes Back To You". Her set was sadly too short, but it left room for newcomer Trevor Morgan to share some stage time and for us to grab a chance to say hey to Sarah back at her table.
At roughly 5:35PM, the always incredible Plumb (aka Tiffany Arbuckle Lee), began her set, walking out on stage uniquely dressed in bright red fishnet stockings, a white tank top over a black dress with striped pull-on sleeves and green-streaked hair to round out the ensemble. But if anyone thought that that was a bit interesting, her guitarist (who's last name really is Fairy) was indeed a man wearing a frilly skirt. She opened her set with the catchy yet heart-wrenching "Boys Don't Cry", followed by "Walk Away" and the older "Without You" from her 1999 release CandyCoatedWaterDrops. Following "Hold Me", a song about her wedding night and talking about how happy she was she and her husband waited, she performed "Stranded" and "Here With Me" from CandyCoated as well. She introduced "Damaged" as being the song she's most proud of and began talking about her new record she's currently working on for a Spring 2005 release. Plumb mentioned that the song, which was also on Candy..., has been re-recorded for her next record the way she performs it live. The song about sexual abuse didn't appear to have much different going for it in the way of sound, however, the song ends much differently, offering more hopeful lyrics and even a hallelujah chorus. From there, she ended with a brand new song, entitled "I Can't Do This", an edgy rock song about realizing we can't do things without God's help.
Cool Hand Luke and The Mint were the last acts on the Fringe while Chris Tomlin and his band followed up Plumb on Main. Before the final acts of the night began, Bob Lenz offered an inspirational message on "Reassurance of the Savior's Everlasting Love". From there, around 8:25PM, San Diego rock geniuses Switchfoot made their Creation evening debut. Usually, Switchfoot has previously played the Main and Fringe stages earlier in the day, but since their popularity has soared with the release of their 2003 record The Beautiful Letdown, the guys are no longer a smalltime act. The opened with the classic, and current single, "Dare You To Move". I had wondered how Switchfoot, a band known mostly for being more artistic and more of a garage band than a Main Stage performing act, would pull off an evening show and they adjusted beautifully to the time slot. Lead vocalist and guitarist Jon Foreman played to the crowd nicely. When it called for it, the band just did their songs the way they were meant to be played and heard but they mixed in plenty of upbeat crowd pleasers like "Adding To The Noise", "Gone" and "More Than Fine". "This Is Your Life" was more serious material while "Ammunition" was a great rock-out moment for the band. From there, they played a brand new song entitled "Stars", a hooky rock song with a modest chorus. The slower "On Fire" was a welcomed mood change and was followed up by the classic "New Way To Be Human", and the more upbeat "The Beautiful Letdown" and closed, expectedly, with the smash hit "Meant To Live".
And as if it weren't enough to see one of my favorite bands among such a great Thursday lineup, a better choice couldn't have been made to close out the evening than Christian rock veterans Audio Adrenaline. Creation goers can pretty much expect to catch AudioA's performance at the festival annually so it really isn't a surprise to see them return. The rock quartet is known for their energetic shows and for being able to really get a crowd moving, and the band seemed in stronger form this year than last year. In fact, the band themselves even expressed their excitement to be back on the Farm as well. They opened their evening set once again with "World Wide One", an appropriate way to kick off the night. Frontman Mark Stuart displayed his newly-shaved head (as opposed to the long locks he had last year), a suit jacket and shades as he grabbed the mic. The band's backdrop this year featured two stands that rotated, displaying their logo on one side and strobe lights on the other. In the middle sat Ben Cissell's drum set complete with a large gong placed behind him. Their set moved briskly forward into "Mighty Good Leader", "Under Dog", "Church Punks", and the undying fan favorite "Big House". After Stuart waded through the crowd and selected a young fan to help him finish off the song, Cissell playfully sounded the gong and made him do it again. But slowly putting all joking aside, they used "Dirty" as a segue for "Hands and Feet" and encouraging the audience to get serious about mission work. Following the redemptive "Ocean Floor", the classic rocker "We're A Band" preceded a message from bassist Will McGinniss about God searching for the lost sheep. "Leaving Ninety-Nine" appropriately followed and lead into "Beautiful" (where they once again pulled fans from the crowd to dance with them on stage) before closing with "Get Down". I stood off to the side of the stage and watched the stage crew frantically trying to prepare for the encore song. When the band came back out for "Start A Fire", flames had been ignited across the tops of the two strobe stands as well as directly in front of the drum set. With the lights turned down low, the flames illuminated AudioA as they closed the song with Mark's infamous cow bell solo (to which guitarist Tyler Burkum quoted a famous Saturday Night Live skit featuring Christopher Walken uttering the line "I've got a fever and the only prescription is more cowbell!"). They finished off with Grand Funk Railroad's "American Band" and left the stage, but the crowd wasn't satisfied. It was clear that they hadn't planned to do another song but as the crowd's screams got louder and a mass of them began chanting "DC-10", the AA guys graciously answered the call and performed one last song.
After 11PM, Communion was offered to the crowd. Small plastic cups filled with grape juice with tiny wafers wrapped on top were passed out to the crowd as worship leader Paul Baloche lead the audience. It was the perfect way to end the evening, but later night festivities were still optional for campers. The "Late Night Club" at the Children's/Worship Tent featured Starfield at midnight, but our tired bunch zipped back to our hotels (of course getting lost on the way for the second night in a row) to turn in for the night...
- written by
John DiBiase
Creation 2004: Thursday Photo Gallery
click on an image for a bigger size
John Reuben -- 12:00pm Fringe Stage
Skillet -- 1:00pm Main Stage
Sanctus Real -- 2:00pm Fringe Stage
Petra -- 2:00pm Main Stage
Sarah Kelly -- 4:00pm Fringe Stage
Plumb -- 5:35pm Main Stage
Switchfoot
-- 8:25pm Main Stage
Audio Adrenaline -- 9:55pm Main Stage
*all photos by
John DiBiase
, and are the property of
Jesusfreakhideout.com
Creation 2004 Review: Wednesday | Thursday | Friday