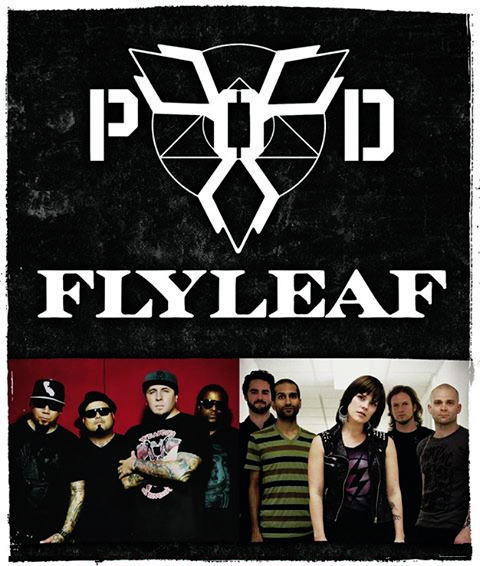 P.O.D., Flyleaf
7/16/13, at McGuffy's House of Rock in Dayton, OH
When thinking of Christian-based rock acts that have achieved mainstream success over the years, no list would be complete without P.O.D. and Flyleaf. With two notable bands that also happen to be friends, it only made sense that a tour together would ensue. Heading out on a nineteen-city tour across the U.S., the P.O.D. and Flyleaf tour is a tour for the rock enthusiasts, and also proves to be an excellent show.
Opening up the night was the Los Angeles-based quintet Stars in Stereo. Sporting a similar sound and image as bands like Paramore, Fireflight, and the evening's own Flyleaf, it was easy to see how they fit on the tour. They played about five songs and got the crowd warmed up for the co-headliners.
After a quick set change, it was time for Flyleaf. I had never seen Flyleaf live while Lacey Sturm was still on vocal duties, so I had nothing to compare Kristen May's performance with. Regardless, Flyleaf puts on a high-energy rock show with a punch, and I was impressed with how well she fit with the band. They played seventeen songs and included a mix from all three albums, and even some new tracks that feature Kristen's work with the band. They opened their set with "Call You Out," off of their latest record, New Horizons, and then went right into the title track of said album, then played "Again," "Cassie," and "Perfect." They took a short break from playing to introduce themselves, and then they played their newest song, "Something Better," which features Sonny Sandoval of P.O.D. Sonny came out to sing his parts with the band, which was a pleasant surprise to the audience. After that, they went into "Great Love," "Fully Alive," "Fire," and "Sorrow," and then Kristen introduced two new songs, titled "Hanging By A Thread," and "Wall of Lies." They played about five more songs, and ended their show with "I'm So Sick." The new Flyleaf tunes seem to be moving towards the pop side of their music, but they still keep an air of familiarity about them. Kristen's vocals are top-notch, and she does an excellent job as frontwoman for the band.
After Flyleaf finished up, there was another set change, and then it was time for P.O.D. to take the stage. This was also my first time seeing P.O.D., and I didn't know what to expect, but they also kicked the show up a notch. Commencing their show with gusto, they kicked it off with "Murdered Love," from Murdered Love, and then went into "Lost In Forever," also from the same record. They played songs such as "Lights Out" and "Boom," and before they went into "Youth of the Nation," Sonny Sandoval brought his two children up to the stage and introduced them to the crowd. It was his one son's birthday that day, so they brought out a cake and everyone sang to him. Sonny kept them on stage to help sing/play on "Youth of the Nation," before moving into the songs "Southtown," "Beautiful," "Higher," and "Alive." During the set, Sonny brought his sons back out and they silly-stringed the audience, and Sonny took the cake and shared it with the crowd. After leaving the stage and being cheered back for an encore, they played a few more songs and ended the night with "Satellite." The crowd left hot, sweaty, and seemingly very pleased with the night's festivities.
If the P.O.D./Flyleaf tour is coming through your city, and you're a fan of rock and roll and having a good time, then I highly suggest going out to one of these shows. It's definitely a great and worthwhile way to spend a summer evening.
--
Cortney Warner
, 7/26/13
P.O.D./Flyleaf Tour
click on an image for a bigger size
**vertical images cropped for thumbnails**
Flyleaf:
P.O.D.:
*all photos by Cortney Warner and are the property of the photographer and Jesusfreakhideout.com