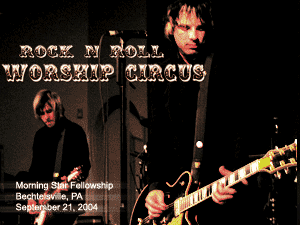 Rock 'N' Roll Worship Circus
9/21/04, Morning Star Fellowship, Bechtelsville, PA
I can very easily say what I'm about to say. Rock 'N' Roll Worship Circus has easily one of the best live worship shows today. If anyone ever tells you that you need bright flashy lights to put on a show, and the band needs to be jumping around to worship then they haven't seen RRWC. They play worship the way it was meant to be played. It's not about themselves, but about the music and the connection with God. And it doesn't hurt that they also have some of the coolest on-stage clothing.
The Bible says to bring your best before God and they certainly do. Rock 'N' Roll Worship Circus opened up the show by playing their entire new EP The Listening in order. Hearing "Untitled" and the worshipful "I Love the Rain" ballad live again brought back some wonderful memories. It's hard to capture a live sound on CD and hearing "Like I Do," "The Way That Love Is Made," and "Dead Man" live for the first time was amazing. One eerie song flowed into another as they played "Open the Gates," the intro to "The Undiscovered," which is the coolest song to hear live. That opened up the more mellow set of "We Sing Glory," "Blood of Jesus" and "Gift Of Cool." This led into "Loving You", the first song off of their national debut record Welcome To The Rock 'N' Roll Worship Circus and closing with a brand new song yet to be recorded on one of the band's records. "Triple Fascination" was a treat to hear again. We first heard it live at Creation this year after the guys had written the song during a recent sound check. This version was completely revamped, polished, pumped up and it sounded great.
For an unplanned encore, lead vocalist Gabe Wilson came out and prayed and led everyone in singing "The Blessed Tune," which he dedicated to the concert promoter's daughter (who's favorite song it was). The thing that's great about seeing them live, besides the music, is they are so real with their message of letting the words speak for themselves and not being flashy - just letting the Spirit move. From their classic 60's style suits to their humble artistry, this is one band you don't want to miss live.
--
Kevin Chamberlin
, 10/1/04
Rock 'N' Roll Worship Circus Set List
01. Are We Listening?
02. Untitled
03. I Love The Rain
04. Like I Do
05. The Way That Love Is Made
06. Dead Man
07. All I Can Do
08. Open The Gates
09. The Undiscovered
10. We Sing Glory
11. Blood Of Jesus
12. Gift Of Cool
13. Loving You
14. Triple Fascination
Encore:
15. The Blessed Tune

Rock 'N' Roll Worship Circus Photo Gallery
click on an image for a bigger size
Rock 'N' Roll Worship Circus
*all photos by
John DiBiase
, and are the property of the photographer and
Jesusfreakhideout.com