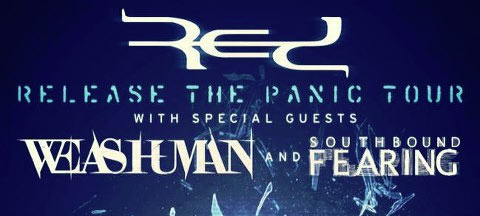 Release The Panic Tour
RED, We As Human, Southbound Fearing
5/20/13, at The Altar Bar in Pittsburgh, PA
RED has been actively touring the country in support of their latest release, Release The Panic, and on this specific tour, RED has brought out Atlantic Records' We As Human and Red Cord Records' Southbound Fearing as supporting acts. This tour stretched through the better half of the spring, and brought some straight-up rock and roll to every city they stopped in. A friend of mine and I were able to catch the show in Pittsburgh, and it proved to be quite an evening.
After filing in to the former church-turned-bar, things started to heat up, literally and figuratively. The tiny stage and small dimensions made for a hot and tight fit, but only added to the rock and roll vibe. Opening up the evening was a local band and they played about five songs before the sound guy, while heading into their next song, abruptly stopped them due to time constraints. They did a decent job with what they were given, but it seemed to make the crowd more anxious for the rest of the performances.
Stepping up to the plate next was Southbound Fearing, and admittedly, I didn't catch much of their set, because I stepped out for a bit. I headed back into the show as they were playing their last few songs, to which the audience seemed receptive. From what I gathered, they were much more engaging than the first act. They wrapped up their set with a 'thank you' and then exited the stage to make room for We As Human.


We As Human, "We Fall Apart" - Live May 20, 2013
video by Cortney Warner
For anyone who has not caught a We As Human show, they're one of the most engaging and energetic live acts currently emerging on the scene. They played about eight songs, most of which are from their forthcoming, eponymous, full-length debut, such as their singles "Strike Back" and "We Fall Apart," and they got the crowd to interact with them fairly well as they played. Lead singer Justin Cordle even took some time to go out into the audience and sing during their set, and in between songs he bantered with the crowd. They closed their set with "I Stand," which is also off their unreleased debut, and left the stage on a high note. They definitely were a lot more interactive with the audience than the previous two openers, and were a great way to get the audience primed for RED's headlining performance.
After a half-hour set change, RED finally commenced playing. They opened with "If We Only," off of their latest record, Release The Panic, to the audience's joy. They played a wide variety of songs from their four studio albums, with songs such as "Release The Panic," "Feed the Machine," "Mystery of You," "Death of Me," and "Pieces." Lead singer Michael Barnes took a few moments in the middle of their set to address the crowd (including a little Pittsburgh Steelers vs. Cleveland Browns rivalry-to which my friend and I were in the minority), and took some time to talk about their faith as Christians, and how that has made an impact on their lives and why they make music. Guitarist Anthony Armstrong and Barnes played "Not Alone" acoustically to round out the break, and it was a great moment in the show. Soon after, they resumed playing with the full band, and there was even a drum solo executed by their drummer, Joe Rickard, accented with some dubstep mixed in. They closed their set with "the song that put them on the map," "Breathe Into Me," off of End of Silence, and the crowd wanted more.


RED, "If We Only" - Live May 20, 2013
video by Cortney Warner
Overall, this was a great evening of entertainment, with energetic and professional performances from all the bands on the bill, excluding the local opener. The only complaint of the evening was the audience; while they seemed to be enjoying themselves enough, they all just kind of stood there without engaging too much with the performances, regardless of how much the bands attempted to bring them in. It's nothing major, but it just took me (and, it seems, the bands) aback at how mellow the crowd was. Regardless, this was a top-notch rock show that was a great way for RED to promote their new record, as well as a great way to introduce their fans to We As Human and Southbound Fearing.
--
Cortney Warner
, 6/12/13
Release The Panic Tour
click on an image for a bigger size
**vertical images cropped for thumbnails**
We As Human:
RED:
*all photos by Cortney Warner and are the property of the photographer and Jesusfreakhideout.com