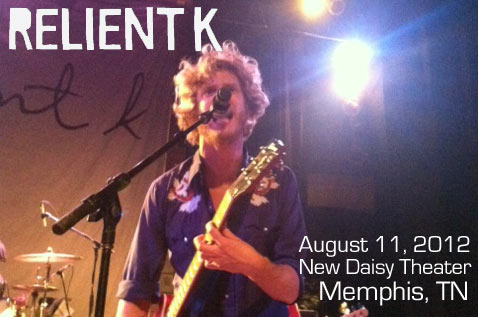 Relient K
8/11/12, at New Daisy Theater in Memphis, TN
When I saw the announcement that Relient K was heading out on tour again, I couldn't have been more thrilled. After nine years waiting, I finally had the chance to see my favorite band in concert. So last weekend I trekked down to Memphis, Tennessee with a friend, and we were prepared for a great night of entertainment.
The day of the concert I found out that House Of Heroes, who was also on the tour, would not be appearing at this particular show. It was quite a bit of a letdown, considering we bought tickets thinking we'd see Relient K and HOH. But those kinds of things happen often, so we didn't let it put a damper our spirits too much.
To kick off the night, a Matt Thiessen doppelganger named Evan came on stage and proceeded to play some songs on an electric guitar. After several songs sung off-key, and several swear words, including the f-bomb, he finally left the stage. Turns out he was one of the crew members who decided to have some fun. That was not exactly my idea, or the idea of the parents with young kids there, of "fun." But the night was only starting, so I tried to shrug it off and move on.
Next up was another man on the guitar (and a Macbook), William Beckett, former frontman of the disbanded punk rock band The Academy Is. He sang about 5 songs off of his EP, as well as one from his old band. He was more professional than his predecessor, and his voice was quite enjoyable to listen to. Unfortunately, Mr. Beckett was also a fan of those four-letter words, as he used them about as often as Evan did when he was on stage. Needless to say, this night was not going the way I, or probably most of the audience, expected.
The final support act before Relient K was Hellogoodbye. While they were definitely better than the first two acts, they weren't exactly spectacular either. They came on stage with cups of alcohol and cigarettes in tow, and proceeded to stumble their way through their concert. After about 5 songs, a lot of swearing, and some crass comments, with one even directed at Relient K, they finally exited the stage.
After tolerating the three openers (although I would use the term "opening performer" on Evan very, very loosely), it was time for Relient K. After waiting almost a decade to see them perform, I was able to push past the three previous acts, and was nothing but excited for their show. As a whole, Relient K puts on an excellent live show; from their overall sound quality to their energy on stage, these Ohio rockers know how to do it right. They opened with "Forget And Not Slow Down," and went right into "Be My Escape." They played at least one song from every record, sans their self-titled debut, and even introduced three new songs off their forthcoming record, which is due out in January, according to Matt Thiessen. They bantered for a little bit on stage, but they seemed more focused on cranking out the songs, which was perfectly fine to me. After what seemed like a short set, they announced their last song of the night, "Devastation and Reform." The crowd passionately chanted and cheered for an encore, and Relient K came back up for a few more songs. Relient K wrapped up their set with "Sadie Hawkins Dance" and "Savannah," and left the audience wanting even more.
I do want to point out that, while the supporting bands were drinking and swearing quite a bit, Relient K did not do either, at least from the public view, so they maintained their integrity and professionalism throughout the night.
The new Relient K songs are very catchy, and different than what they've done before. Instrumentally, the three new songs have a similar vibe as the songs on their cover album, K Is For Karaoke, but it's the lyrical content that separates their previous work from the new material. While one of their new songs, "Collapsible Lung," maintains the wit and sweetness that Relient K is known for, another new song, "PTL (Part Time Lover)", seems to be about an affair/one-night stand. Relient K has always sung about love and girls, but never in this manner. I understand these guys are all in their 30s now and don't write about high school and mood rings anymore, but I didn't expect to see this kind of stuff from them. "Boomerang" was the third new song they performed, and it was the most upbeat out of the three. I couldn't quite make out the lyrics to that song, but it sounded similar to "Sahara," off of Forget And Not Slow Down. I can't judge an album from just three songs, but considering who they had opening for them on this tour (minus HOH), and some of the content of these new songs, it seems as if Relient K may be heading for more secular outings. But I've been off before, and I sure hope they prove me wrong on this one.
Overall, Relient K's part of the concert was one of the most entertaining shows I've been to, and it was great to see them play songs like "Pressing On" and "Who I Am Hates Who I've Been." The show would have probably been more enjoyable if we didn't have to suffer through those opening acts (And granted, the opening acts would have probably been more enjoyable for some if they were paired with a more compatible headliner). While they were somewhat comparable in musical style to Relient K, their actions on stage didn't seem to parallel them as well. It was a poor choice of judgment on Relient K's/management's part in my opinion. To me, it almost seemed as if Relient K was fishing on this tour, trying to figure out who and what their fan base still was. I guess only time will tell where they'll cast their rod.
--
Cortney Warner
, 8/14/12
Relient K
click on an image for a bigger size
**vertical images cropped for thumbnails**
Relient K:
*all photos by Cortney Warner and are the property of the photographer and Jesusfreakhideout.com