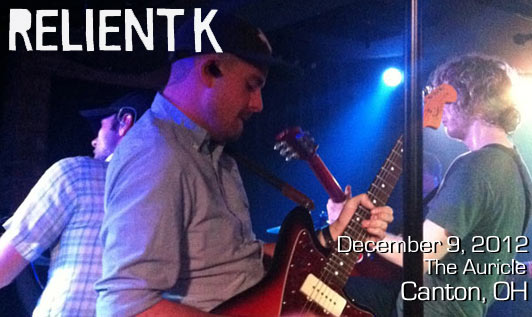 Relient K Christmas Homecoming Show
12/9/12, at The Auricle in Canton, Ohio
After having somewhat of a low-key year, Relient K decided to put together a few end-of-the-year shows that they aptly titled "The Relient K Christmas Homecoming Shows," with two scheduled in the birthplace of the band, Canton, Ohio, and one scheduled in Nashville, TN, where most of the band currently resides. I was fortunate enough to catch the second show in Canton, as it was roughly an hour from where I live, and boy, was it beyond worth it.
Right off the bat, I knew the night was going to be one for the books. Relient K announced via their Facebook and Twitter accounts that one of the two opening bands for that night would be none other than Dave Douglas, their former drummer, and his new band Attack Cat. Dave left Relient K around the time Five Score and Seven Years Ago was released, as he decided to focus on his new project located in Cleveland with his girlfriend, Rachel. Dave provided not only his drumming skills while in Relient K, but he also contributed his voice to several songs during his time with them, so it was intriguing to see if he was going to accompany the boys on stage for a song or two that night.
Another contributing factor (and one I didn't fully realize until I got there) was how small the place was compared to where Relient K normally plays these days; the venue was in the basement of a small building, and seemed to only house about 250-300 people. Even though the show was sold out, it still had a very intimate feel to it, which was a nice touch. The stage itself was extremely tiny, and it was interesting to see that all three openers set up their gear on their own, as I saw maybe obly a small handful of crew guys working with them that night.
Kicking off the night's festivities was the alternative rock band, Attack Cat, and they offered an energetic performance to warm up the audience. Accompanied with a keyboard, drums, and a guitar, it was cool to see Dave and Rachel switching off and on with vocal duties. They performed about six songs or so, and encouraged the crowd to stop by their table and say hello after the show was over. The second support act was another local band, We Are Public Radio. We Are Public Radio's sound would be best described as "pop/rock" and was fully equipped with a keyboard, two guitars, a bass and drums, along with vocals. They played about eight songs, and while it seemed as if they were having a bit of an off night, it was evident that they were popular among the audience members that night, since they had several local fans in attendance. Both bands were great choices as support acts for Relient K, and by the time We Are Public Radio had wrapped up their set, the audience was more than warmed up and ready for the headliners.
After about a forty-five-minute set change, and dealing with some minor setbacks (such as assisting a girl who fainted a few minutes before Relient K played), the Ohio rockers started off their show with a bang, as they opened with their hit "Who I Am Hates Who I've Been," off of their popular Mmhmm album. They immediately went into "High of 75," also off of Mmhmm, and then they really pulled out a surprise by playing the intro and first verse of "K Car," from their self-titled debut album, and then turned it into a medley of sorts by quickly transitioning into "Hoopes, I Did It Again," another Relient K "oldie but goody" from their third album, Two Lefts Don't Make A Right, But Three Do. Relient K played a massive set of twenty-three songs that night, with two new songs, five Christmas songs, and at least one song off of each album, sans their B-Side record (I was actually surprised by this, since they usually play "The Lining is Silver" during their live shows). But nonetheless, it was a very satisfying set list to say the least. One of the night's greatest and most memorable moments was when lead singer Matt Thiessen welcomed Dave Douglas to the stage to sing "Failure to Excommunicate" and its 'sequel,' "Life After Death and Taxes (Failure II)." It was a pleasant and welcomed surprise, and a great addition to their set. It was a real treat for the fans, and definitely not something you get to see too often from them.
Since the titles of these shows do imply that it is a Christmas concert, it seemed only appropriate that they play some of their Christmas stuff. As mentioned above, they played five festive songs to close the night, and mixed some classics such as "O Holy Night," "Sleigh Ride" and "Have Yourself A Merry Little Christmas," with some of their originals, "I Hate Christmas Parties" and "I Celebrate the Day." All in all, it was a great way to end their eclectic set. The band was quickly cheered back for an encore, which entailed three more songs, a new one called "Collapsible Lung" and two more off of Mmhmm, "I So Hate Consequences" and (ending the night) their biggest hit to date, "Be My Escape."
This was truly one of the best concerts I've attended, and certainly the best I've ever seen Relient K perform. Between the small size of the venue and audience, and the long and well thought-out set list, it was a recipe for excellence. It would be great if they were to do a whole tour like this, as I know many of their fans would come out and support them. I felt so fortunate to live relatively close to where they were performing, because this show was truly special. The only complaint I could make is that they didn't offer up any release date or details concerning their forthcoming release (aside from the two songs they played), but that is pretty miniscule considering everything else that took place that night.
There is no doubt that Relient K is one of the crown jewels of the Christian Rock market, and even some secular outlets as well. Over the years, fans have grown accustomed to seeing them play at larger venues, such as headlining major Christian summer festivals like Creation, Warped Tour, and events like Rock The Universe in Orlando. It was refreshing to see them take it back a few notches and play a tiny and laid back venue. It may not have had all the bells and whistles that their shows would typically have in bigger places, but they had that feeling of intimacy and connection that seemed to resonate with fans more than any amount of fireworks or lights could offer. Suffice it to say, this show was truly special. Here's hoping that they'll do more shows like this in the future.
--
Cortney Warner
, 12/18/12
Relient K
click on an image for a bigger size
**vertical images cropped for thumbnails**
Relient K:
*all photos by Cortney Warner and are the property of the photographer and Jesusfreakhideout.com