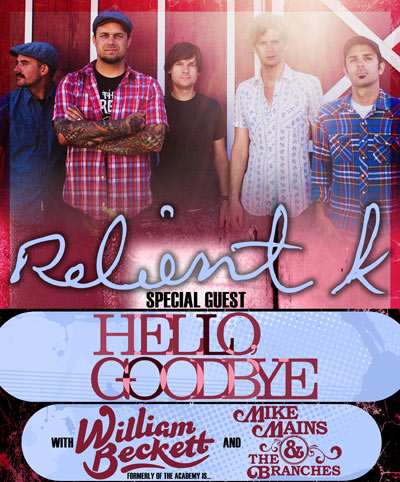 Relient K
5/14/13, at Newport Music Hall in Columbus, Ohio
For their spring tour, Relient K knows how to make a splash. Hitting up over 21 cities across the U.S. and bringing out 3 supporting acts, including Mike Mains and the Branches, it seems that the Ohioans are gearing up for their anticipated new record, Collapsible Lung, in style. I was fortunate enough to be able to catch their show in Columbus, Ohio and it was definitely a night for the books.
I was a little hesitant to go to this show at first, because two of the openers were Hellogoodbye and William Beckett, both who were on Relient K's summer tour last year, and left a less than favorable impression on me when I saw them in Memphis. Thankfully, this show was not a repeat of that Memphis show, although there was still some minor swearing and alcohol drinking from the stage from these two (mostly Hellogoodbye).
Opening up the night was indie rock band Mike Mains and the Branches. They played about seven songs during their set, and they delivered an energetic and engaging live performance. Having not seen Mike Mains and the Branches prior to this concert, I was pleasantly surprised by their stage presence and how they interacted with the crowd.
After their set, William Beckett and Hellogoodbye took the stage, respectively, and they each played about 8 songs while engaging in some banter in between songs. Matt Thiessen even came out and sang on one song for both of them towards the end of their sets.
After the three openers, it was finally time for Relient K. Since Ethan Luck has officially left the band, and the Jo(h)n's have decided to sit this tour out, it was just Thiessen and Hoopes on stage as Relient K, with two other guys filling in on bass and drums. Since this usual quintet was just a quartet for the night, it was easy to tell that there were some gaps in certain areas during the different songs, but since Relient K was originally founded as a three-piece, and then as a quartet for a while in the earlier days, they seemed pretty at ease with the number of people they had on stage with them. They opened with their hit, "Who I Am Hates Who I've Been," off of their Mmhmm record, and then they then went into "High of 75," also off of Mmhmm. After that, Thiessen took a moment to address the crowd and talked about how much he and Hoopes loved the venue they were in that night, and they bantered with the crowd about being from Ohio. Thiessen dedicated the next tune to the Ohio girls, and called it more of a "public service announcement," right before they moved into a "Mood Rings/In Love With The 80s" medley. Their new song, "Don't Blink" was next, and it seemed to get a good response from the audience, and then they played "Candlelight" and "The Lining is Silver," from Forget and Not Slow Down and The Nashville Tennis EP, respectively. Thiessen and Hoopes broke out their acoustics for a fan request, "The One I'm Waiting For," and Thiessen even stated he wrote that song about pop singer Katy Perry, whom he formerly dated. They kept the acoustics out again for another cover called "Ohio," and then they brought out the band, as well as some members from the opening bands, for another cover, which was a Third Eye Blind song I didn't catch the name of. They segued in to "Forget and Not Slow Down," and then in to two more new tracks, "Collapsible Lung" and "If I Could Take You Home." They wrapped up their set with "Sahara," "Sadie Hawkins Dance," and "Savannah" (to which Thiessen dedicated the last one to his sister's baby). They came back for an encore and they played "Hang On Sloopy," which is the Ohio and The Ohio State University rock song, and "Which to Bury, Us or The Hatchet?" They closed their set with their hit "Be My Escape" and thanked the audience for coming out to see them.


"Don't Blink" - Live May 14, 2013
video by Cortney Warner
The night's festivities were definitely top notch from Relient K and Mike Mains and the Branches, and it was great to see Relient K out on tour again. If you're a fan of Relient K and if they're hitting up a city near you, this tour (and their upcoming summer tour) both provide a perfect time to hear some of their new stuff, and to sing along with some of their oldies as well. Here's hoping Relient K continues to keep pressing on in their endeavors.
--
Cortney Warner
, 5/15/13


"If I Could Take You Home" - Live May 14, 2013
video by Cortney Warner


"Ohio" - Live May 14, 2013
video by Cortney Warner


"The One I'm Waiting For" - Live May 14, 2013
video by Cortney Warner


"Candlelight" - Live May 14, 2013
video by Cortney Warner
*all videos by Cortney Warner and are the property of the photographer and Jesusfreakhideout.com