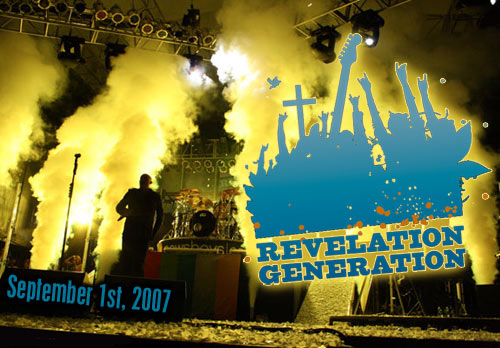 Newsboys, MxPx, Norma Jean, Skillet, Emery, & more
9/1/07, Frenchtown, NJ
The third time must be the charm. At least that's what the Grom family is probably thinking after the third annual Revelation Generation was a huge success compared to last year's wash-out. For our first time attending Rev Gen, and seeing how much work went into publicity and advertising, we were quite excited to wake up Saturday morning and see the sun shining bright.
We arrived at Rev Gen an hour and a half after the gates opened and skipped the winner and the runner-up of the Battle of the Bands, I Am The Alpha And Omega and Reilly, respectively. The first band on the schedule we wanted to see was Falling Up, but by the time we checked in and got to the Philadelphia Stage, their set had started 15 minutes early, which was a bit frustrating. We were fortunate to have schedules with times because the only way to find out when a band was playing was to visit the only table on site with set times. The lack of a printed schedule was a slight setback to people that we talked to throughout the course of the day asking us who was playing when. After we watched a few Falling Up songs and heard some of the new tracks off of the upcoming album, Captiva, we went back to the New York Stage to check out Grits.
When we got to the NY Stage, we were disappointed to hear that Grits was running late and was switching their set with Building 429. Upset to hear that that was the case, we roamed the grounds instead and checked out the merch and the King of Kings skate team. Amazingly, Building 429 had one of the longest sets of the day due to the delay, but we were rewarded with a few songs from Grits around 1PM. We were able to see "Tennessee Bwoys," "Ooh Aah," and hear "High" as we were going back to the Philly Stage to check out Emery.
Emery had one of the more impressive sets during the afternoon. As we would spend most of the day at the Philly Stage, we were looking forward to seeing the afternoon lineup. They opened up with "So Cold I Can See My Breath" from their latest release, The Question. Their set would feature "Listening to Freddie Mercury" and "Studying Politics" off of said album, as well as some new songs from their upcoming record I'm Only A Man, "What Makes a Man a Man," which was a nice ballad, and "After the Devil Meets His Wife," a song about the danger of drowning. All in all, they were extremely energetic and the constant change in lead vocalist offered the crowd plenty of variety in a 40 minute set.
We went back to the press tent near the end of their show to go back up for The Almost, and looking backstage you could see the enthusiasm that was building and going to climax when Norma Jean would soon play. For those not familiar with The Almost, they are the side project of Underoath drummer Aaron Gillespie. Aaron wanted to provide a way to become closer to his fans and got out from behind the drums. Their set, however wasn't extraordinary, but Aaron's presence onstage showed like a seasoned veteran from his years of playing with Underoath.
After The Almost, the schedule was a bit slow, so we took a break and went to grab some lunch and re-hydrate ourselves. So for about an hour, we just killed some time while Brian Littrell was doing his sound check. One of the drawbacks and nuisances of the day was the lack of food vendors and concessions. With 12,000 people in attendance, one tent and a stand in the woods didn't cut it. The long lines from the food vendors, ticket booths and merch tables extended well into the field near the sound tower; making navigating rather annoying. A possible suggestion would be to have more concessions available at future fests.
After our break, Rebekah went to go see Norma Jean, which to my understanding was insane, and I sat and watched Phil Keaggy, rumored to have been mentioned as the world's best guitarist by Jimi Hendrix, Eddie Van Halen and Eric Clapton. Phil Keaggy now travels solo with his guitar and looping pedals which made his set truly unique, interesting and amazing to say the least. To see this classic Christian artist in person for the first time was the highlight of my day. From songs like, "Love Broke Through," "Shades of Grey," and "What a Day," to "Nothing But the Blood of Jesus," Phil transformed the worship tent from local amateur musicians to a professional and classy venue. Only one other time tonight would I see such interest in a band or song.
Following Keaggy's set, we had another break, so instead of staying for the speaker, we went to relax and prep for the remaining shows of the night. The one difficult thing with festivals is you will assuredly have to miss a band in order to see another band. The 15 minute difference from Falling Up's early set time had been corrected, but now we wished it hadn't. Skillet would be first in the final four acts of the night on the Philly Stage. They opened with "Whispers in the Dark" into "Forsaken" before breaking into four songs in a row off of their latest record, Comatose. John played well with the audience by publicly announcing his disdain for "Skillet" as a band name. Their show was energetic and tight as usual, as you might come to expect from four of the finest musicians in the industry. Unfortunately, we missed the end of their set as we had to head over to the NY stage to check out Jars of Clay.
On the way over there, it was made known to us that the press tent for the night was ending which threw a temporary wrench into our plans. We ended up getting over to the main stage just in time to see Dan Haseltine from Jars Of Clay run on stage with the rest of the band in "JOC" outfits, which were quite funny. This was the first time I've ever seen them at a festival, but I had seen them a few weeks prior in a much more intimate setting in a tiny theater in Sellersville. Their set was fairly normal throughout their summer tour, opening with "Good Monsters" and "Work" off the new album. "Oh My God," one of my favorite songs off of Good Monsters, was sixth in their set, yet seemed odd and out of place while looking at Jars' silly sports outfits. At this point in the show, Becky and I were heading back to the Philly stage to see MXPX and watched as the entire crowd at Rev Gen was absolutely quiet and awe struck at the song's crescendo. It was one of the most attentive moments I've seen, next to Bleach's final show years ago.
We arrived just in time to see MXPX begin their set to close out the Philly Stage. Throughout the day, I heard people complain that Skillet should have closed that night, and while some of their points and ideas hold water, I had no problem with MXPX closing out. They are a huge force in the punk scene and while they might have lost popularity over the years, they have influenced an untold number of bands that are around today. They came on to the sound of "Revolution" by The Beatles and broke into "My Life Story" and "Secret Weapon." Unfortunately, we didn't stay long due to thirst and time restraints. However, expectantly, their encore and final song was "Punk Rawk Show." They are certainly a band that I would like to see again and enjoy more of their show.
I hadn't seen Newsboys since Phil Joel left the group last year. The seasoned pop supergroup opened with "Shine," which had me anxious to see what other old classics they would pull out that night. While they played quite a few songs off of Go, they didn't really pull out any classic material until frontman Peter Furler and keyboardist Jeff Frankenstein walked out onto the catwalk and sang a few lines off of "Not Ashamed" and "Entertaining Angels." "Turn Your Eyes Upon Jesus" was a pleasant surprise which led them into their worship portion of the show with "It Is You" and "He Reigns." Peter changed the lyrics to "He Reigns" by replacing "…Amazon rains" to "…New Jersey rains" which received a thunderous applause. But he would soon forget the second verse which showed even more of Peter's humanity. They closed with "Breakfast," but would come back for an encore and do their signature dueling drums and rotating drum set before closing out the night with "I Am Free."
Numerous things were going through my head during their show. The first thought was how different they seem without Phil. Jeff did a tremendous job of stepping in to fill those shoes. I believe Jeff is one of the most underrated musicians in Christian music. Duncan Phillips even had a few moments to interact as well, while newcomer Paul Colman just seemed to fit right in with the other guys. A sad thought was wondering what will happen once the Newsboys finish their run as a band. Who will be the supergroup to fill their shoes? Besides Third Day and Delirious, not many options remain unfortunately. We can speculate who it might be, but there can be no argument as to MXPX and Newsboys' artistry and influence.
One other question remains. Given that it's only one day, "Was Revelation Generation worth it?" Absolutely. Whether your musical preferences are hip-hop, hard rock, screamo, hardcore, pop, dance, worship, folk, punk or CCM, there was something for everyone. Rev Gen did an extremely good job of appealing themselves to all genres and selling the idea of a one day festival. It surpasses Purple Door's Saturday for an all around flavor of music. It is more family-friendly with attractions to occupy the kids as well. While it may seem trivial, part of the concert experience is the house music. The sound crew did a great job picking appropriate music throughout the day. MuteMath, The Listening, Guardian, and Jody Davis were among the songs that I noticed. Since this is only the second actual year they have had it, there does remain room for improvement: More food venues or a better location; Portable schedules for all in attendence; More picnic areas. If they continue to grow, these small additions will be necessary. I must give kudo's to the Grom family for not giving up after last year, and for being willing to refund tickets from last year's event. Here's hoping that Revelation Generation 2008 is as much of a success. As Ian Eskelin put it a decade ago, "this Jesus thing, it's a smash hit, it's packaged right!"
--
Kevin Chamberlin
, 9/11/07
Revelation Generation 2007 Photo Gallery
click on an image for a bigger size
Falling Up
Grits
Emery
The Almost
Norma Jean
Phil Keaggy
Skillet
Jars Of Clay
MxPx
Newsboys
*all photos by
Kevin Chamberlin
or Rebekah Baldwin, and are the property of
Jesusfreakhideout.com