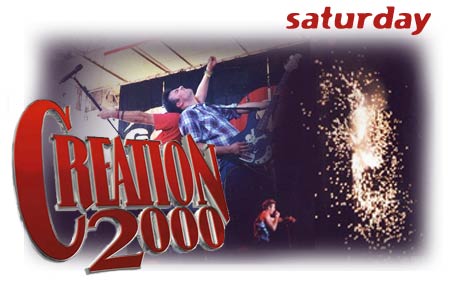 Fono, Bleach, Smalltown Poets, Joshua Harris, Five Iron Frenzy, Audio Adrenaline
7/1/00, Mt. Union, PA. at the Agape Farm.
The last day. Not only did we wake up late, but we woke up knowing this was it. The last day. Although we were in for some good concerts, this was it. As we were getting ready for work at our camp site, we could hear the boy-band pop or Plus One resonating from Main Stage. And as we were walking up to work, we could hear the corny, local rock-parody band, ApologetiX. I'm sorry, but I just can't get into these guys. There's something about taking secular songs and changing the words so they're Christian that doesn't work for me. I was happy to run down to the Fringe Stage to catch 2 songs of Fono, though. The 3-piece rock band from England seemed to put on an energetic show. I caught them performing their hit "Collide," and "Under My Skin." As I was leaving the area to return back to work, lead singer Del Currie apologized to the crowd for their lousy drums because Will McGinniss of Audio Adrenaline had come to "help." Del joked, "I don't even know how he made it to be a bassist, he has no rhythm!"
At 1 pm, Bleach played Fringe and we got to catch some of their show. They played "Static," and I think "Reasons." Lead singer Dave Baysinger introduced guitarist Sam Baird to play a song he'd been working on. Sam belted out a pop/punk love song that sounded pretty good, but just a few verses in, he stopped to fix his guitar and then said that's all he remembered. Dave covered for him, calling themselves dorks on stage while their one of their new members, Jerry, leans over and tells Dave, "Except me." I must be honest and say I was a little disappointed with their show. 2 years ago, they easily put on one of the best performances of the event, but something was missing this time around. Hopefully it wasn't the fact that only 3 starting members remain in the band, while 2 years ago they were completely intact.
We had to leave their show before it was over to head to Main Stage for our 3rd installment of the "roaming reporter" spot (yes, that's right, I forgot when on Friday we did it, so I left it out). It went really well, again. They even gave Kat her own platform to talk from. It was cool. Smalltown Poets went on directly following. We didn't stick around, but we did hear a couple songs (I pathetically can't remember which ones). The only song that stuck out was a new song off their album releasing in September, called "Firefly." It sounded like it may be a little different from their last 2 albums (which sounded exactly the same), but it's hard to tell in a live show. It appeared that they had a lot of new members, too.
We were back to work for most of Smalltown's show, but at 3:05, me and Amy headed to the Fringe to check out Joshua Harris' seminar on relationships. It was mainly about sex and keeping ourselves pure for our spouses. It was an incredible message and Josh brought his points across nicely and effectively as usual.
We hung out a bit afterwards, then went back to work for awhile. Around 5:30, because they were running late, I headed over to the Fringe to catch Five Iron Frenzy. This 8-piece ska band put on a heck of a show. They played "The Phantom Mullet," and "Giants" off their latest album, All the Hype that Money Can Buy. At one point, lead singer Reese Roper states, "We just got back from Mexico... we've been all around the globe... and we know what the next craze is, kids. We know what the next big thing is. It's not punk. No. It's not hardcore. It's not ska. The next big thing, kids... IS... the WALTZ!!" And they proceeded to waltz around stage before giving a waltz-intro to one of my personal favorites, "Blue Comb 78." They had also played "Where Zero Meets 15" and later ended the show with their praise songs, "World Without End" and "Every New Day." At one point, towards the end of "Every New Day," Reese looked as though he was about to break down. The band really poured their hearts out into these songs. It made them that much more meaningful.
Immediately following their show, I rushed over to backstage of Main Stage where Kat and Tyler Burkum from Audio Adrenaline were giving away the motorized scooter. They announced the winner and unfortunately he wasn't present to accept it. We packed up the scooter for the meantime and it was off to dinner. Although it was nice to get away from the "roughing it" of camping at Creation, we did miss Delirous?' show altogether-- sorry guys. But dinner rocked. :)
Thankfully, we made it back in time to see my favorite band, Audio Adrenaline. They opened up with "Let My Love Open the Door," a Who cover, in which lead singer Mark Stuart had Larry Norman come out and sing with him. Definitely a historical moment to witness (Does anyone remember the One Way Larry Norman tribute album from 1995? Audio A covered Norman's song "Righteous Rocker #3"). Mark sported his characteristic sleeveless shirt-- this time blue tie-dye. The continued on to sing "Mighty Good Leader," "Chevette" (a song about not being wealthy as the song of a preacher when Mark was young, but being rich in a Spiritual sense), "Underdog," and "Big House." At one point, bassist Will McGinniss came forward to talk about some hard times the band had recently gone through-- their bus driver (who they were close to) died 2 weeks prior of Leukemia, and another friend had gone through a divorce and lost everything he had. He went on to say that no matter what negative things happened, they were still living the 'Good Life' through their relationship with Jesus. They went on to sing an extra meaningful rendition of "Good Life." Tyler slammed out the opening riff of Aerosmith's "Walk this Way" before they played "We're a Band." Half-way through the song, Mark asked for 5 volunteers. They did this at their shows on their spring Underdog Tour and I had gotten picked. Like then, I didn't raise my hand and let other people do so. However, as ironic as you can possibly get, Mark pointed out someone in my direction and although I swear he picked my friend Kevin, Audio A's road manager who stood in front of me, grabbed Kat, who grabbed me, and we went on stage. We stood like idiots for a minute, trying to avoid the spotlight as Mark introduced the band members. Then a group of other guys joined us on stage. Some of them break-danced while the rest of us jumped around as the band finished the song. We returned to our spots up front and they played their last song, "It's Over," complete with exploding and spinning fireworks. But, of course, we knew it wasn't over yet. The band exited but reentered to play their latest hit, "Get Down," which was followed by "It Is Well With My Soul," which Jennifer Knapp sings with them on the Underdog album. To everyone's surprise, who joined them on stage, but none other than miss Knapp herself. It was cool seeing it performed the way the artists intended it to be. After Audio A finished, a perfect ending to a perfect week, there was a 15-minute fireworks show that went off behind the stage. A beautiful sight, although it reminded us that Creation was over.
Although on Sunday there was a morning prayer and worship the following day (which we forgot about till... um... now), we slept in and spent a few hours tearing things down and packing up to return home. Creation 2000 was an awesome experience. If you have the opportunity to go in coming years, take it. It's a week to grow closer to God, make some new Christian friends, and experience some very awesome live shows. Hey, maybe we'll see you at Creation 2001?
Creation 2000: Friday Photo Gallery
click on an image for a bigger size
Fono
-- 12:00pm Fringe Stage
Bleach -- 1:00pm Fringe Stage
Five Iron Frenzy -- 5:00pm Fringe Stage
Audio Adrenaline -- 10:05pm Main Stage
*all photos by
John
or
Amy
and are the property of
Jesusfreakhideout.com
Wednesday | Thursday | Friday | Saturday