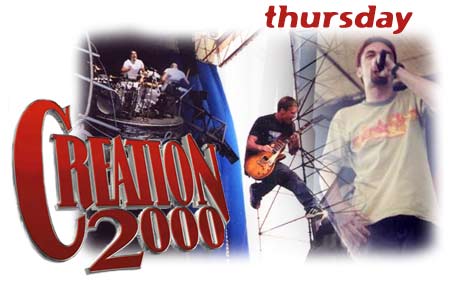 Switchfoot, Beanbag, Newsboys
6/29/00, Mt. Union, PA. at the Agape Farm.
Ah, a new day. After a meeting in the middle of the night with a frigid, hypothermic shower, we awoke to realization and comfort that we were away at Creation. Not just another day at home doing the same old thing. The Katinas lead worship around 9am. We could hear them as we got ready for work. After Pat Mesiti spoke for half and hour, comedian Mike Williams took over. At 10:45am, while working at the Forefront table, we were greeted with This Train's rockabilly/country music for 45 minutes too long.
The Fringe Stage at the other end of the Farm showcased Pax 217 at noon, who we didn't catch, followed by Relient K, Five O'Clock People, Project 86, Beanbag, and Polar Boy. Around 1 at the main stage, we got to catch Switchfoot's show for the first time. Jon, Tim, and Chad produced a really fun show to a sizable afternoon show. Opening with "I Turn Everything Over," followed by songs like "Company Car," which Jon Foreman described as being about 'every car I've never own and never will own;' "Something More," "Incomplete," "Chem6A," "Underwater," and "Let That Be Enough." They also treated the crowd to a new song, as well as Aretha Franklin's "R.E.S.P.E.C.T." They ended their performance with the title track from their last album, New Way to Be Human. Switchfoot definitely put on one of the best and most entertaining performances of the week.
We immediately fled the scene to accompany our friend and event-"boss," Forefront AC Radio Coordinator, Kat Davis for her first spot of field reporting. They announced Kat and we gathered up a group for her to interview about how long they have been attending Creation and what they thought about it. Immediately following this was a rowdy performance by Gospel Gangstaz.
It was back to work for us at the Forefront booth in the pavilion. We passed out stickers and encouraged people to sign up to win an Audio Adrenaline motorized scooter that we were going to give away before Audio A's show Saturday night.
We got the "ok" to leave in time for me to check out Beanbag at around 5pm at the Fringe Stage. Unfortunately, when I got there before 5, those hard-rocking Aussies still hadn't arrived. Word was going around that their van broke down and they wouldn't make it. I disappointingly trudged to Main Stage and within the next half-hour, beautiful sounds of angst-ridden hard rock could be heard from the Fringe Area. Beanbag had made it.
Although feeling rushed, Beanbag put on a rocking show and performed such hits at "Happy Dispatch," "Disturbed," and a couple new songs. I left before they finished playing and went to the Main Stage area where I ran into my camping buddies (Amy and Kathleen), as well as my FF friends. Josh from Pax 217, along with their DJ assisted us in shooting t-shirts off Main Stage into the crowd. Fans were treated to free Audio A and Raze threads. When we finished, they headed back and I made a quick stop back at Fringe to talk to Hunz from Beanbag and hang out there a bit. When I got there, clouds were rolling in and the wind was picking up. Polarboy had just started on the stage and it wasn't long before the sky started to open up. Luckily, and by the Grace of God, it only lasted a couple minutes before passing and never showing it ugly head again for the rest of the week.
We went back to work and got off in time to go catch the Newsboys performance. The interesting thing about the Newsboys is they're not your average band. Their showmen. They present their music in such a way that you don't totally feel like your at a regular concert, but at some kind of show or presentation of sorts. They're a lot of fun to watch. They all sported white outfits in support of the LoveLiberyDisco theme. Phil Joel, who's new solo album had just released 2 days before, sported his "fuzzy" bass with broken CDs attached. Jody Davis had his long, puffy "fro" while Peter Furler sported his characteristic lack-of hair. Jeff Frankenstein humorously wore his doctor's lab coat and Duncan Phillips looked fine with his drum sticks and rotating set. They kicked off the night with crowd-pleasers like "Reality" and "Breakfast," and lead into newer stuff like "Truth Be Known," and "Beautiful Sound." It was fun to watch from back stage, a sea of hands moving when the band encouraged crowd participation. At one point in the show, the band throw a curve ball and introduced a new Phil Joel solo song for him. The band backed him up as they played his song, "Number One." It was a definite highlight of the night. It wasn't too long before the Newsboys exited the stage leaving the crowd begging for more. They took their time going back on, they even left the stage completely to get drinks. But true Newsboys fans knew they weren't done. Besides, they hadn't played "Love Libery Disco" yet. They got the crowd going again before ending the evening with "Not Ashamed" followed by the praise chorus, "Hallelujah." When they left the stage, the main speaker came out to organize the crowd for the evening Communion service. Each person received a tiny creamer-sized container that had a wafer enclosed in the lid and grape juice underneath. It was a nice touch to end a good day.
Creation 2000: Thursday Photo Gallery
click on an image for a bigger size
Switchfoot -- 1:00pm Main Stage
Beanbag -- 5:00pm Fringe Stage
Newsboys
-- 10:00pm Main Stage
*all photos by
John
or
Amy
and are the property of
Jesusfreakhideout.com
Wednesday | Thursday | Friday | Saturday