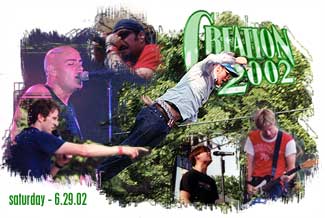 Switchfoot, Rock N Roll Worship Circus, John Reuben, Five Iron Frenzy, Bleach, Ace Troubleshooter, Newsboys
6/29/02, Mt. Union, PA. at the Agape Farm.
The fourth and final day... the saddest, being it's the last, yet usually the most exciting and packed full of must-see shows. This is true this year as the day gets off to a nice start with Rock N Roll Worship Circus leading worship at 9am and again, after Duffy Robbins spoke, at 9:55. At Noon, pop rock quartet Switchfoot kicked off the Fringe Stage and opened with their rocker "Already Take Me There." Their lighthearted set continued with the sarcastic "Company Car" and the fun "Chen 6A" before playing their more serious "Learning to Breathe." The band tossed the crowd a treat with their cover of the 80s tune "Footloose" before playing a new song from their pending fourth studio record, The Beautiful Letdown. Their anti-power pop song "Poporazzi" followed, as well as the worshipful "Only Hope." The band stepped down to let lead singer Jon Foreman perform new song "On Fire" with just his vocals and acoustic on stage. Keeping the more mellow mood alive they played "Dare You to Move" from their Learning to Breathe record and picked up the pace for "The Loser" and closed with "New Way to Be Human."
After Switchfoot's seemingly short set, the boisterous 8-piece ska band Five Iron Frenzy opened their set with the fun "You Can't Handle This." Despite the fact that ska just isn't as popular now as it used to be, there was a seemingly nice turnout for the band. Their high energy, crazy stage presence was as fun to watch as ever as they went on to perform such favorites as "Handbook for the Sellout," "Where 0 Meets 15," "Flowery Song," "Vultures," "Pre-ExGirlfriend," "The Phantom Mullet," "Farsighted," and "A New Hope." As usual, for a Five Iron show, the band ended with a couple of their self-penned worship tunes, "World Without End" and the powerful "Every New Day." Following Five Iron, we made a b-line for the Vertical Worship Tent to catch a portion of the Rock N Roll Worship Circus's 2:00 performance. This time around, RRWC performed a more upbeat set. While still performing songs like "The Undiscovered," RRWC punched up the mood some with songs like "Ride," "The Blood of Jesus," "Telephone Song," and "Come On Get Down."
At around 4pm, Columbus, Ohio's own John Reuben took his place on the Fringe Stage and appropriately opened with "I John Reu." Accompanied by a back-up rapper and DJ Manuel, Reuben's fun and goofy stage presence helped carry the show as he went into "Up and At 'Em," "Him Her He She," "Gather In," "Divine Inspiration," and the title track from his new record Hindsight. At one point, he held up a roll of toilet paper with his name and album title printed on the individual sheets and remarked, "This is what Gotee Records thinks of my new album!" With that he propelled the roll into the crowd. Reuben did well to keep the mood light and the jokes aplenty. For his song "Doin' It," he introduced it with a disclaimer. He wanted to set the record straight that it wasn't a prideful song, but a mockery of the rappers that like to have songs about themselves and "hooks" with their name in it. Following "Doin' It," he closed with the ever popular "Do Not."
At 5, the boys of Bleach kicked off their crazy rock show with "Land of the Lost" from their 1998 record Static. The band hasn't had a new record in nearly three years and have switched labels from Forefront to Tooth and Nail, so it was a joy to catch them live again. Lead singer Dave Baysinger seemed all over the place for their set. At one point he climbed the rafters on the side of the stage, dangling off the side as he sang one of their new songs from their album Again, For the First Time (due out in August). Despite the concerned looks from the Fringe Stage security, Dave leapt into the crowd and briefly surfed before being pulled out. They offered up their fun rock and roll tracks like "Perfect Family," "Once Again Here We Are," and new songs "Baseline" and "What's Wrong With Me?" A highlight was their harder, guitar driven worship song "Sun Stands Still" and new single "We Are Tomorrow," which they ended with. At 6pm, the punk quartet (with a little emo flavor) Ace Troubleshooter opened with new song "Amanda" from their recently released The Madness of the Crowds. A milder performance than Bleach's, but entertaining, Ace proceeded to put on an excellent show which included new favorites "Have It All," and "2:00 Your Time" and served as a the final act on the Fringe Stage for Creation East 2002.
At 7:15pm, Joshua Harris gave his message "Holiness is a Harvest" from the Main Stage, which we caught some of while seeking sustenance from the food court vendors. At 8:30pm, Jennifer Knapp performed while we wrapped up our required work for the week, but we congregated in front of Main Stage for one last time for the Newsboys performance at 9:50pm. With a massive crowd that was ready and willing for the Newsboys' set, the stage crew began experiencing technical problems behind the scenes. This set the start of the show back a good 15 to 20 minutes before the five piece band from Australia could open with "Givin' It Over." From the opening of their show, it was clear we were seeing a different kind of Newsboys performance. And by the end, I knew that despite seeing them numerous times over the past seven years, this was definitely one of their best -- if not their best -- live shows I've seen them do. It was less about "show" and more about the music. And while they are amazing musicians (don't get me wrong), they used to focus a lot on performance. It was nice to see less of a focus on it this time around. "Who?" followed next, along with the popular "Love Liberty Disco," and the fun "Cornelius." One of the many evening highlights came during their performance of my personal favorite "Million Pieces" which urges the listener to lay their burdens down at the foot of Jesus. To many's surprise, bassist Phil Joel began singing his popular solo song "God is Watching Over You" which the band used to lead into "Entertaining Angels." For a second year in a row, the Newsboys utilized the use of green laser beams from behind Duncan Phillips on drums several times throughout the show which cast patterns and shapes across the farm onto the tree line up the mountain. A brief cover of Keith Green's "Lord, You're Beautiful" led into "Joy" which was followed by the fun rock song "John Woo." Guitarist Jody Davis sang what sounded like an old hymn which led into the prayerful and worshipful "Lord, I Don't Know." They kept the worshipful mood going with "I Want to Glorify You, Lord" before lead singer Peter Furler stopped to greet the crowd and offer a short message. The band then closed with the ever popular "Shine." Although, predictably, the band had to return for a few more songs before the festival could end. And of course, return they did for "Fad of the Land" and the always fun and crowd-pleasing "Breakfast." But they ended the evening, and week, just right as they peformed their smash hit worship song "It Is You." The Newsboys focus was undoubtedly on worship that evening and it showed. A more matured performance, the Newsboys were the perfect closers for Creation 2002.
Creation 2002 was another great experience and a must for the Christian music fan. Camp out, get a hotel room, come for one day, stay the whole week, there are a lot of options for customizing your week to the way you would prefer to experience it. Catch Creation West this year if you're out that way. If not, make plans for Creation 2003 as soon as possible!
Creation 2002: Saturday Photo Gallery
click on an image for a bigger size
Switchfoot -- 12:00pm Fringe Stage
Five Iron Frenzy -- 1:00pm Fringe Stage
Rock N Roll Worship Circus -- 2:00pm Vertical Tent
John Reuben -- 4:00pm Fringe Stage
Bleach -- 5:00pm Fringe Stage
Ace Troubleshooter -- 6:00pm Fringe Stage
Newsboys -- 9:50pm Main Stage
*all photos by
John
, and are the property of
Jesusfreakhideout.com
Wednesday | Thursday | Friday | Saturday