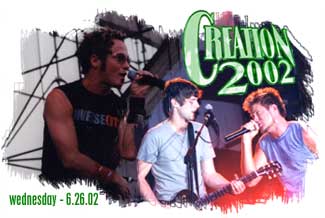 tobyMac, Audio Adrenaline
6/26/02, Mt. Union, PA. at the Agape Farm.
It's summer time 2002 and we know what that means: that's right, summer festivals. The granddaddy of all festivals is held at the end of June in the middle of nowhere in the grand state of Pennsylvania. And anyone who loves Christian music knows Creation Festival is the place to be every summer. JfH HQ packed their bags once again anticipating another great year, but some there were a few changes in plans this time around...
The majority of Creation Fest goers camp out each year on the premises. Camping extends for at least a mile across the valley that houses the festivities, with day parking beginning approximately a mile and a half away (yeah... "ouch" is right). Due to the roughness of camping, we searched all of our couches and came up with enough personal loose change to split a hotel for the week. The hotel we stayed at was a good 45 minutes to an hour away from the festival in just about the middle of nowhere. While accommodations weren't exactly luxurious, they were compared to camping out at the festival: a real shower, a real toilet, a real bed, and of course... air conditioning. Ignoring the fact that we got lost going to the hotel at least two nights out of the week, it was an improvement in the Creation experience (with the exception of having to adjust to living in close quarters with four other really fatigued guys).
Wednesday afternoon kicked off the start of what looked to be a really promising week. 6:00pm marked announcements before the first act, hip-hoppers Cross Movement opened the week. Cross Movement seemed to successfully get the crowd moving enough for an opening act, but they didn't seem to really fit the bill. Their act seemed a little off to be starting the week while their successor tobyMac proved through his performance to have been a better choice. Toby McKeehan, one third of the popular trio dc Talk, smoked up the stage accompanied by a barrage of back-up dancers and singers including DJ Maj on the turntables. Toby performed such favorites as "Let's Get This Party Started," "Wonderin' Why," "Irene," "J Train," and "Extreme Days." A highlight of his show included a medley of old disco classics including "Rollercoaster."
Eastman Curtis presented his message "Dare to Destinize" at 7:45pm before comedian Brad Stine at 8:40 and finally Point of Grace performed at 8:55. Jennifer Knapp had originally been scheduled to perform before the closing act, but was moved to Saturday and Point of Grace was scheduled in her place. Whoever made that scheduling move must have given up on trying to make schedule that made sense. Following POG, the foursome that makes up Audio Adrenaline rocked out the evening right. A gigantic red and white "LIFT" banner cascaded behind the band covering the entire backdrop specifically for the AA set. Opening with the rock worship song "You Still Amaze Me" from their latest album Lift, Audio performed one of their best shows to date. Hits like "Mighty Good Leader," "Big House, "Underdog" "Never Gonna Be as Big as Jesus," "One Like You," "Glory," and a revamped "We're a Band" kept the crowd on their toes. For "Beautiful," Mark invited a select number of fans on stage to join in the singing of the worshipful chorus. Following which he invited older folk on stage for their classic cover of "Free Ride." For the encore, they performed their hit single, the encouraging reminder of God's forgiveness "Ocean Floor," and "Get Down."
For a spin on things, the fireworks show that usually closes out the final night of Creation lit up the sky following Audio Adrenalines's show to seal the first night of the festival. Unfortunately, this meant we had a mile and a half walk back to our cars in the black of night...
Creation 2002: Wednesday Photo Gallery
click on an image for a bigger size
tobyMac -- 7:00pm Main Stage
Audio Adrenaline -- 10:00pm Main Stage

*all photos by John, and are the property of Jesusfreakhideout.com


Wednesday | Thursday | Friday | Saturday