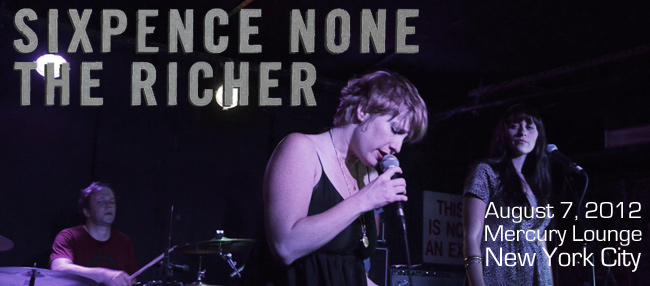 Sixpence None The Richer
8/7/12, at Mercury Lounge in New York City, NY
There are some bands that you can listen to and not really quite "get" until you've seen their live performance. This is something I've said a time or two before when writing about a concert experience, but one such artist that stands out in my mind is Sixpence None The Richer. My older brother had followed the dynamic duo of Matt Slocum and Leigh [Bingham] Nash since their humble beginnings with their debut album, The Fatherless and The Widow, but I was more into the CCM pop rock groups in my teen years. It wasn't until we attended a Sixpence show at Messiah College in 1998 that I finally "got" Sixpence. Their live show was magnetic and entrancing, and it was soon after that show that I'd needed to own their 1997 hit self-titled album. In 2002, the band released their mainstream follow-up, but it would be a year or two later that they decided to hang it up and pursue other interests. Thankfully, a few years ago, Slocum and Nash reunited, artistically speaking, and started releasing new music. Their first non-seasonal new studio album in ten years, Lost In Transition, was finally seeing the light of day on a warm summer day in August, 2012. And it was on that day that they chose to celebrate this occasion at Mercury Lounge in New York City.
While I saw Leigh Nash perform a solo show with her husband, Stephen Wilson, as her lone accompaniment on guitar earlier this year, I hadn't seen Sixpence perform a show as a band since 2003 in Bethlehem, PA. It seemed like a no-brainer, then, to make the trip to NYC to celebrate the long-delayed, long-awaited return of the band on their album release night. Nashville singer/songwriter Marc Scibilia opened the night with just his soulful voice and acoustic guitar to start the evening off right with some excellent folk/country songs. Sometimes a voice and guitar can be a little bland, but Scibilia was one of the better little-known opening acts I've seen in quite some time. At the end of the set, he announced that his latest 2012 self-titled EP was free to take home for whoever was interested (simply because he "didn't feel like collecting money"). It was a great way to open the night.
If you've never been to the Mercury Lounge, it's key to note just how small and intimate this venue is. The room was one of the smallest venues I've been in to date, lined with a padded bench on either wall and the middle being all standing room. There was no gap between the stage and the audience, either, so it was all pretty up-close-and-personal. The Sixpence guys emerged first to set up their instruments before vocalist Leigh Nash walked out donning a frilly black dress and boots. To my surprise, the band opened very low-key with a cover of Leonard Cohen's "Famous Blue Raincoat"--a song which Leigh had used to close out her aforementioned solo show in February. It was a surreal beginning to their set, but delightfully uncommon. To shake things up even more unexpectedly, they then moved right into "Between The Lines," which appeared on Leigh Nash's 2006 debut solo album, Blue On Blue. Again, it seemed surreal to see Matt Slocum on guitar and Justin Cary on bass, two other longtime Sixpence members, and yet, they were playing a song that was exclusively Leigh's. But the charming vocalist took a moment following the song to greet her audience before moving right into the band's most popular and career-defining song, "Kiss Me." Sixpence manager Ashley Wilcoxson joined Leigh on stage to provide background vocals to reproduce the vocal layering heard on many Sixpence recordings. Wilcoxson sounded fantastic and was an excellent addition to the live band's sound. She remained on stage for several songs following, as well.
Next began a string of new songs from Lost In Transition, starting with "Safety Line" and continuing on with "Radio" and "Sooner Than Later." It was great to hear the new material live and, although I've heard Leigh sing "Sooner Than Later" solo twice now, the full band sound added a lot to it. Ashley left the stage after the new material concluded, and this allowed for Leigh's vocals to take the spotlight for the beautiful ballad "Melody of You," from their 2002 album Divine Discontent. But then Sixpence returned to the new songs again, performing a wonderful rendition of "When You Call Me" and the melancholy "Be OK" (the latter of which Leigh explained that it was a song she wrote with a friend during a tough time when she wasn't sure she was ever going to be OK). Some chit chat with the modest but rowdy crowd preceded Nash's dedication of the next song to Skeeter Davis, and performed that artist's song, "End of the World" (which Nash previously recorded for an album called Sing Along With Los Straitjackets). At one point in the evening, Nash had paused between songs to mention that although fans have been asking them to play more old stuff (like prior to Divine Discontent), and despite hoping to do more of that, this wasn't going to be a night of older songs. Surprisingly, after playing the Skeeter Davis cover, Sixpence performed another Leigh Nash Blue On Blue song, "Ocean Size Love." I may be in the minority, but I probably wouldn't list it among the highlights of Blue On Blue--especially when it was the fourth performance of a non-Sixpence song of the night. It was just a little disappointing that the band hadn't snuck in a few more fan favorites (Like "Love," "Sister, Mother," "Breathe Your Name" or even "Don't Dream It's Over," since it was a cover song on Divine Discontent). The crowd cheered wildly when they followed Nash's song with "There She Goes" (their cover of The La's song) from Sixpence None The Richer, and Ashley returned to the stage one last time to support Nash with background vocals. Finally, with just the foursome on stage one last time, the band performed my favorite Sixpence song (and one of my favorite songs of all time), "A Million Parachutes." It's such a beautiful song and Slocum displayed his incredible guitar talents wonderfully as he compensated for the missing piano notes with tones from his electric. As the song drew to a close, Nash exited, leaving the rest of the guys to perform the song's instrumental finish. It was the perfect ending to a wonderful evening.
When all was said and done, I was just a little surprised to find that Sixpence had performed for just a few minutes over an hour (but the shorter set may have been because another concert needed to be set up in the venue as the Mercury Lounge's "late show"). It was a solid show with quality music and songs in an informal setting that felt really personal. It's exciting to have this band of musicians back on the road and making music again. Check out www.sixpencehq.com for the latest tour dates!
--
John DiBiase
, 8/8/12
Sixpence None The Richer Set List

01. Famous Blue Raincoat
02. Between The Lines
03. Kiss Me
04. Safety Line
05. Radio
06. Sooner Than Later
07. Melody of You
08. When You Call Me
09. Be OK
10. End of the World
11. Ocean Size Love
12. There She Goes
13. A Million Parachutes
Sixpence None The Richer
click on an image for a bigger size
**vertical images cropped for thumbnails**
Sixpence None The Richer:
*all photos by John DiBiase and are the property of Jesusfreakhideout.com