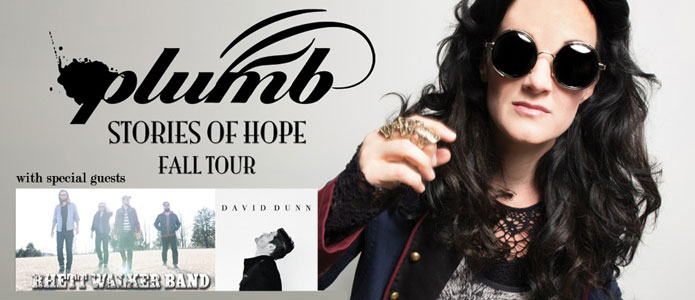 Stories of Hope Tour 2014
Plumb, Rhett Walker Band, David Dunn
10/23/14, at The Junction Center in Manheim, PA
I love fall. Each year, I can't wait for the aroma of fallen leaves, the cooler temperatures, the return of everything pumpkin-flavored (and scented), and of course, fall tours. Fall tours are easily some of the best as artists are fresh off the summer festival run and are making the rounds across the nation. And it's usually a great time on the east coast for a long drive.
Since Plumb has been back in action, she's released a new album, completed her first-ever headlining tour, joined Winter Jam, released a deluxe edition of her latest album, written her first book, and hit the road on her second headlining tour. The Stories of Hope Tour, sponsored by Food for the Hungry, unites the acclaimed singer/songwriter with newcomer David Dunn and CCM rising stars Rhett Walker Band.
One thing can be said for sure even just by glancing at the roster - it's an eclectic mix of musical styles. David Dunn has a pop-based singer/songwriter style, while Rhett Walker has a distinct southern pop and rock sound, and then Plumb has a rock/pop mixture that's emotionally charged with strong, real, and sometimes heavy themes. It's certainly a "meat and potatoes" kind of musical evening.
David Dunn opened, offering up a handful of songs from his BEC Recordings debut EP, Crystal Clear, with just himself, his vocals, occasional keyboard playing, and a drummer as support. His set's song choice was pretty chill, but it sounded great in a more raw musical dressing in the live setting than its recorded form. Dunn's soulful vocals are charming, but his long chats with the audience between songs was even more so. He's probably more chatty than most tour openers (who spend their limited alotted time playing as much music as they can), but it helped illustrate who David Dunn is as a person. I arrived during his first song, but after some talking to the crowd, he performed "Have Everything" and even went into the crowd to encourage a singalong. When one girl was too shy to sing into the mike during the song, Dunn gave her a second chance afterwards and went back out to give her the microphone. He also then shared about how he used to be a "morpher" when he was in school, changing who he was depending on which crowd he was trying to fit into, and he expressed how he found freedom in Christ to be himself despite such situations. He then closed appropriately with "Ready To Be Myself."
After a quick set change, Rhett Walker Band was up. Since their 2012 debut, Come To The River, Rhett and his band have been making waves in CCM with their inspiring, blue collar southern pop rock. While Rhett's stage presence is as reserved as his vocals, the band is still pretty good live. Rhett had just released their sophomore album only a week earlier, titled Here's To The Ones, and they opened with a new cut off of it, "Someone Else's Song." The title track from their debut, "Come To The River," followed, with their hit "When Mercy Found Me" close behind. It was their single that really seemed to stir the audience too, causing some to stand to their feet and worship along. Another new one, "Love Like Jesus," was next and then Rhett used it to springboard into sharing a word about how Jesus loves us so much despite our own shortcomings and faults and that's all that really matters. This lead into "The Mystery," a twangy acoustic song about loving your neighbor and not getting hung up on things that don't really matter. The set then wound down with a pair of upbeat southern rockers in "Dead Man" and "Here's To The Ones." Musically, RWB didn't really fit naturally into the tour lineup, but it did mix things up a bit and add diversity to the evening's soundscape. Their rock songs also had the most punch and flavor, as some of the softer ones felt too bland. But with RWB closing their set with some of their most upbeat songs, they left a lasting impression.
Another brief intermission ensued and then the stage had been opened up wide for Plumb and her band to perform. A large screen displayed right in the middle that sometimes presented lyrics, while other times had video or imagery and graphics. Tiffany walked out on stage to the tune of the edgy Need You Now opener (and one of my personal favorites), "Invisible," donning the hat seen on the album's cover. She actually didn't take center stage, however. Off to the side stood a tom drum that she beat repeatedly during parts of the song, and it aided in giving her set a dramatic start. A classic Plumb offering, "Here With Me," from her sophomore album, candycoatedwaterdrops, was a really nice surprise in the set. Then she shifted gears to the single from her beautiful lullaby album, Blink, "In My Arms." The gritty update to "Damaged" followed (the "Redemption" version), and then the singer/songwriter introduced the next song for the longtime fans and picked up a tamourine for "Stranded," also from her sophomore album. Tiffany then stepped back to let the screen illuminate with a video for Food for the Hungry in which she and her family visited Guatemala for a trip that would alter her life and priorities forever. She spoke about her experiences there, her new book, and encouraged the audience to seriously consider supporting the FH minitry. After speaking a bit more on hope, she performed the solemn "At Arm's Length," from Need You Now, complete with a video behind her showing various people depicting isolation and loneliness. She then prefaced the next song about having originally been written for her son but has come to represent her relationship with Christ, and performed "I Don't Deserve You," which saw her returning to the drums. She paused again to talk to the Manheim, PA audience about her marriage problems, revealing that her husband had walked out three years prior but that God has since healed their marriage completely. She shared about her loss of hope and how God restored it, giving her a strong desire to just be faithful to Him. This lead into a brand new song from the deluxe release of Need You Now, "Lord, I'm Ready Now." To close, she performed her current big hit, "Need You Now" (returning to the drums again), and after wrapping the album version, lead the audience in worship with the new deluxe edition bonus track alternate version of the song. It was the perfect way to end the set.
Unfortunately, the Manheim area has a noise curfew--and the Junction Center venue is an outdoor (heated) tent--so Plumb had to cut her set short this night by about four songs (including dropping "Cut" and "God-Shaped Hole"), but if you catch this tour elsewhere, you'll likely be able to hear her full set. It's a great tour and Plumb continues to put on an engaging performance. If you're a fan of her music and/or need a little inspiration and encouragement, this is the tour you won't want to miss.
--
John DiBiase
, 10/24/14
Stories of Hope Tour 2014 Photo Gallery
click on an image for a bigger size
**vertical images cropped for thumbnails**
David Dunn
Rhett Walker Band
Plumb
*all photos by John DiBiase and are the property of Jesusfreakhideout.com