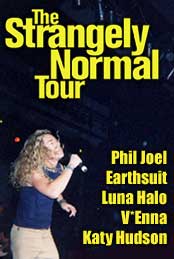 Phil Joel, Earthsuit, Luna Halo, V*Enna, Katy Hudson
2/22/01, Lancaster, PA. at LMHS Fine Arts Center.
You gotta love snow. And you also have to hate it. On Thursday night, Feb. 22 at 8 PM we rolled into the Lancaster Mennonite High School after driving through several inches of snow and four hours to see one of our favorite bands, Luna Halo. We barely made it because of the weather and confusing directions, but it was well worth risking our lives. Unfortunately for this review, we had already missed Katy Hudson and V*Enna, but we got there just in time to see Luna. This was the last show of the Strangely Normal tour. It was a miracle that we even got there, but that's a totally different subject.
Luna Halo opened with two new songs, which when we asked lead singer Nathan Barlowe and the rest of the band about them, they explained they were written two weeks prior to the concert and even one of the songs was first being played live. They then played their hit song "Superman" from their debut album Shimmer and "So Far." Nathan finished out great on "So Far," rubbing his guitar strings on the ground and playing with his distortion knobs on the floor. If you have never seen Luna Halo in concert, please do, because they are simply great live and are much better in person than on CD. They also have great stage presence. Just for kicks, at one point Nathan announced, \ "In case you just came in... we're dc Talk."
Earthsuit came on next and if you've never seen these guys play before either , you'd be in for a surprise. They opened with "Osmosis Land," one of their better and more energetic songs. They then played "White Horse," "Schizophreniac" and "One Time." "One Time" is their breakthrough song. Near the end of the song, V*Enna with their dancers, Katy Hudson and Nathan Barlowe came out and started dancing and fooling around on stage. Overall, I thought Earthsuit did very well if you like their style of fused reggae, rap and rock. Earthsuit is a band which definitely seems to be going places with their very unique sound and style. The energy in their shows is extremely high and they really get the crowd into it. Even with the relatively small confines of a school auditorium they got the people rocking pretty good. They really were able to get the crowd hyped-up and ready to see Phil Joel. I am looking forward to seeing how this band matures and progresses through the next couple years.
After a short intermission, Phil Joel came on to play. If you don't know who Phil Joel is, you may recognize him as the bass player for the Newsboys. Last year, Phil released a solo project named Watching Over You on InPop records. From watching his performance, I got the impression that that he was still getting used to being a lead singer on stage. The music was very upbeat, however, and his voice sounded really good. He opened with "Be Number One," which he has said was written when he got saved. He then played "Tonight," "God is Watching Over You," "My Generation," "El Salvador," a cover song I didn't recognize, "Author of Life," and "Together." After the show, he came back on for an encore and played "Strangely Normal." I noticed a few things that were similar in this show and a Newsboys show. One being the presence had televisions on the sides of the stage and a large projection screen in the back for images relating to the songs. If you've never seen the Newsboys, that's been a staple on their tours in the past. Overall I thought he did pretty well as a frontman of a band, but I think he's still getting used to singing lead as opposed to just playing the bass. One nice 'treat' was him playing the guitar for "El Salvador." "El Salvador" is a very moving song which talks about his and his wife Heather's experiences visiting with the children of El Salvador who are being helped by the World Vision child sponsorship program. Phil seems to really have a genuine love for this ministry and I urge you all to check out what World Vision is doing. As for his live performance, we should give Phil time, though, to make the adjustment of being the lead singer. He did well in talking with and involving the audience and getting them involved, however. After the show we were able to talk to Phil and got some inside info on this year. In-Pop records wants him to put out a CD by October, so keep your eyes open for that. He plans on keeping the same style of music with maybe a little more of a 'jazzy' feeling to it. He said that he is having trouble breaking the mold of just being the Newsboys' bass player. We also talked to Nathan from Luna Halo and were told to expect a new album from them later in the year. Their new stuff sounded really good, a little bit heavier and very guita-oriented like their Shimmer album. We were both surprised to hear that the two new songs were written only a couple weeks ago. Nathan said that they just felt like trying the new songs out for the show. Finally, we talked to Paul, the pianist and co-lead singer from Earthsuit. They're going to start writing new stuff in a couple of weeks and then recording it in a few months. Look for a new CD late this year or early next year.
Overall it was a good show. Even despite the 5 or so inches of snow on the ground, the auditorium was still packed and full of energy. We were a little disappointed to miss Katy Hudson to see how she was, but we didn't have much control over that... In the end we were both glad that we ventured out in the weather to see the show.
-written by
Kevin
and Jim P.
Strangely Normal Photo Gallery
click on an image for a bigger size
Luna Halo
Earthsuit
Phil Joel
*all photos by
Kevin
or Jim P. and are the property of
Jesusfreakhideout.com