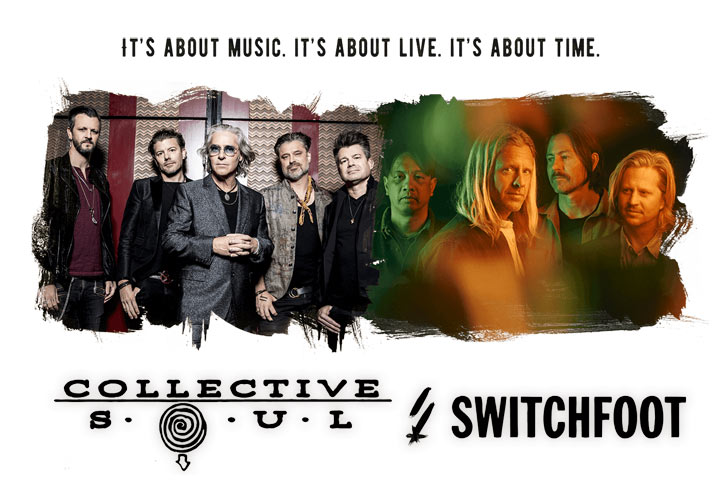 Switchfoot and Collective Soul
7/19/22, at Jacob's Pavilion in Cleveland, OH
I had the honor of shooting Switchfoot's show in Cleveland on July 19th. This was actually my 38th Switchfoot concert, and my second show of theirs I've photographed, and it was nothing short of amazing! Switchfoot is truly a special band. Not only do they put on an amazing show and are wildly talented musicians, but the guys themselves are incredibly humble and kind people. Their care and love for others is extremely evident. Switchfoot has been my one and only favorite band for most of my life and I will never stop looking up to them. (They also let me play bass on "Meant to Live" during a concert a few years ago and it made my entire life and I may never stop talking about it.) But on this particular night, while on tour with Collective Soul, Switchfoot opened up with "If the House Burns Down Tonight," followed by "Stars" and it was pretty evident the crowd was mostly Collective Soul fans who was headlining. But, Jon Foreman being the frontman he is, just took that as encouragement to be extra engaging with the audience. He was actively out in the audience giving high fives, lots of smiles, and even some hugs! It was so sweet seeing peoples' faces light up as he took time to sing to and greet a big majority of the audience, especially those in the back bleachers. Even if you are not a Switchfoot fan, it's very hard not to love Jon Foreman. You can just tell how much he loves people and wanted everyone to have a memorable night. One of my favorite things was watching grown men sprint up to Jon with a huge smile so excited to give him a high five. It's safe to say there were some new Switchfoot fans gained that night.
After the first couple songs, they went into a cover of "Sabotage" by the Beastie Boys. It seemed like this was a familiar song to a large part of the audience, and the energy both on stage and in the crowd was at an all time high. After the cover, they went into "Bull in a China Shop," "If I Were You," and "Where the Light Shines Through," followed by an acoustic version of "Hello Hurricane" with the whole band around one mic, which is always one of my favorite parts of their show. In typical Switchfoot fashion, they encouraged everyone to sing along. They kept this part of the show more low key and went into "I Won't Let You Go," followed by ramping the energy back up with a power packed trio of "Fluorescent," "Dark Horses," and "Float." Being a bass player myself, I love "Float" a little extra because the bass line is SICK and Tim kills it every time. There's also a disco ball and bubbles when they perform the song, so it's always a party. After "Float," they went into "Where I Belong," which talks about getting to Heaven and getting to meet our Savior face to face. It's an extremely powerful song and will probably remain my favorite song forever. "Where I Belong" typically signifies the end of the show, but luckily they had a couple more songs planned. They ended the night with "Meant to Live" and "Dare You to Move," which are two of their most well-known songs, and I think it was a great call for a crowd of not all Switchfoot fans. Even though they were an opener for this show, I really enjoyed that they got the opportunity to play a whole set.
Something I loved about this show - and just Switchfoot in general - is not only how much they engage with the audience, but also how much they engage with each other on stage. With the departure of Drew from the band and the addition of Boaz on guitar, I was a little nervous things would feel different, but there was still a great amount of chemistry and it felt like the same Switchfoot I've always known and loved. There is always some banter and joking around between the members on stage and you can tell they are truly best friends and love what they get to do.
If you've never seen Switchfoot perform, I'd highly recommend checking out a date on this tour or on a future tour! There's also a VIP option which I recommend because what's better than hanging out with Switchfoot before the show?
--
Megan Gorey
, 7/27/22
Switchfoot Summer Tour Photo Gallery
click on an image for a bigger size
**vertical images cropped for thumbnails**
Switchfoot
*all photos by Megan Gorey and are the property of the photographer and Jesusfreakhideout.com