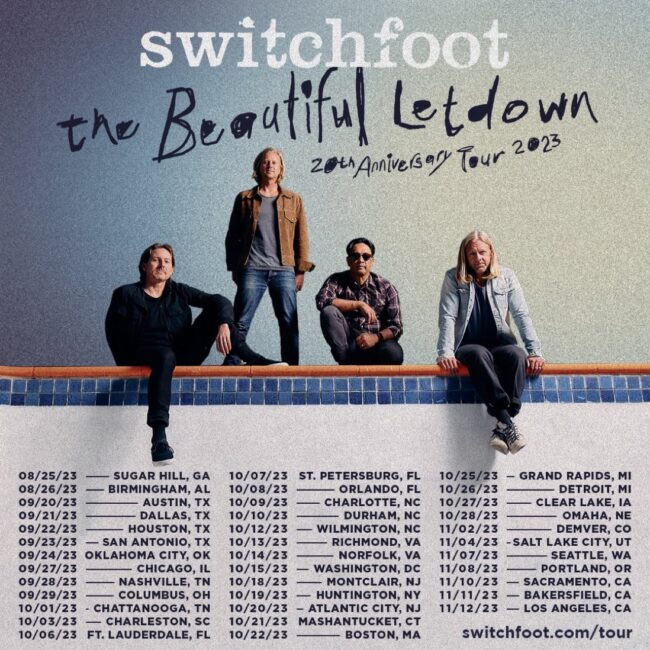 The Beautiful Letdown 20th Anniversary Tour 2023
Switchfoot
10/26/23, at The Fillmore Detroit in Detroit, MI
Something I've always loved about Switchfoot is their ability to captivate an audience. They care about their fans more than any band I've ever seen, and you truly feel drawn in and like you're a part of something bigger than yourself. While some artists don't engage with the crowd at all, you can find Switchfoot frontman Jon Foreman in the crowd and even in the balcony a few songs in, giving high fives and smiles to everyone he can reach. That man radiates joy, gratefulness, and genuineness and it's something I've always looked up to. Everyone else in the band always takes time to look out and lock eyes with the crowd any chance they get. A smile goes a long way and you can just tell they are all so grateful for those who come out to support them. They are really just a wonderful group of humans and it's been an honor to call them my favorite band all these years and to see them in concert 42 times now.
This was the 20th anniversary tour of The Beautiful Letdown! I saw this tour last month and it was amazing; I was so excited to be able to shoot photos of the Detroit date. I feel like this album has been influential to so many and the energy in the room felt amazing with fans both new and old. The Fillmore is a beautiful venue, and although it was fully seated for this show, and no photo pit (which created a little bit of a challenge), it was still an incredible night. Switchfoot played everything from The Beautiful Letdown "on shuffle," as Jon described it, and then some!
They opened up with "Ammunition," followed by "This is Your Life," "More than Fine" and "Gone." Eventually they got to the title track on the album and followed it up with a "Hello Hurricane" interlude which was a nice surprise. Next up was "Redemption," which had a sick breakdown added and just made me smile. I've heard these songs a million times, but hearing them live is always a unique experience and I love when they add a little something extra.
Next, they killed the lights and Jon played "On Fire," which has always had a special place in my heart, and everyone held up their phone flashlights which always creates a memorable moment. After "Meant to Live" (which I once played bass with them on at this same venue!), they melded an intro of "Beloved" into "Dare You to Move." Last up from the album was "24," which is one of my all-time favorites. Jon said this was Jerome's first time playing accordion on this song, and it was all kinds of magical. After finishing up all of The Beautiful Letdown songs, Jon asked if it would be okay if they played some more songs. Everyone cheered of course, and they went into "Stars" and then "Love Alone is Worth the Fight." Jon, at this point, was again out in the crowd, taking time to greet fans, including some young audience members, and taking a second to hand them a guitar pick, which was so sweet. I could just tell it made their entire life as their faces lit up. I remember Switchfoot showing kindness to me when I was a kid (and as an adult, too!), and it has always stuck with me. They finished up the night with "The Sound," "Needle and Haystack Life," and ended the show with "Where I Belong."
I really loved this tour and loved that it was some peoples' first time experiencing Switchfoot live. Seeing people happily pose for photos outside the venue, and smiling so huge when Jon came in the crowd just made me so happy. Switchfoot truly puts on an amazing, memorable, and genuine show and I love when people get to experience it, especially for the first time. Switchfoot truly deserves to be celebrated for so many years and amazing albums, and this tour did just that!
--
Megan Gorey
, 11/13/23
The Beautiful Letdown 20th Anniversary Tour 2023 Photo Gallery
click on an image for a bigger size
**vertical images cropped for thumbnails**
Switchfoot
*all photos by Megan Gorey and are the property of the photographer and Jesusfreakhideout.com