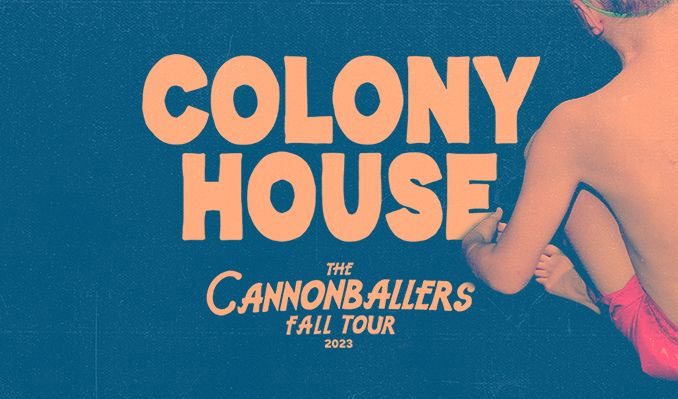 The Cannonballers Tour
Colony House
9/28/23, at Newport Music Hall in Columbus, OH
Colony House is a wonderful rock band and it's always a joy to see them, and it was even more exciting to finally photograph one of their shows! My husband and I first saw Colony House in Nashville when they were on the Tour De Compadres with Switchfoot and Needtobreathe in 2015. At that time, we didn't know much about Colony House other than that the brothers in the band are the kids of Steven Curtis Chapman. Once they took the stage, we were blown away by their set and became immediate fans and have seen them on multiple tours since. They are not only wildly talented musicians, but also super genuine and nice people. We've done VIP a few times past tours and they've always been extremely kind and humble.
My husband and I saw Colony House on the Cannonballers tour earlier this year, and were pumped to find out they would be continuing the tour in the fall as well.
Colony House took the stage with "Land Locked Surf Rock" off their newest album, and the energy was contagious in the room. Following the opener, they played songs off multiple albums new and old, including some of my personal favorites like "Silhouettes," "Learning How to Love," and "One of Those Days." After "One of Those Days," Caleb introduced a new song they would be playing, lovingly dubbed "Pay Phone" and as Caleb described it, was about how much he hates the internet. I love hearing new Colony House songs live as it is just a totally organic feel as everyone in the crowd experiences it for the first time.
Eventually, the band entered into the most bombastic part of the set which included "O Ya" and "2:20," which are so good it's hard not to smile through them. Next up, everyone left the stage except Caleb with just an acoustic guitar. He took this time to talk about Exist for Good - their partnership with Food for the Hungry, who helps meet the needs of refugees around the world. I really love when bands use their platform to spread love and help to those who need it. Caleb then went into "Moving Forward," where he is then met by the rest of the band singing around the same microphone. As the song builds, they all go back to their instruments and finish out the song. I love this song very much and dynamically it's always a high point in the set for me. Something about hearing everyone's voices paired with Caleb's guitar is just magical.
As the set came to a close, we heard some more songs including "Do You Ever Feel," which is my favorite off of the Canonballers album, and it is SO GOOD live. I love this song on the album too, but it's one that definitely stands out when hearing it live, and is a whole new level of amazing. In typical Colony House fashion, they closed out the night with "You Know It," where the lyrics "we'll be back before you know it" ring out and always makes me look forward to the next time I get to catch one of their shows.
From all the times I've seen them now, Colony House is amazing and never disappoints live. Their connection with the crowd, and also each other on stage, is contagious and their energy and talent is always out of this world. I would highly recommend catching them on a tour soon to see for yourself!
--
Megan Gorey
, 10/10/23
The Cannonballers Tour Photo Gallery
click on an image for a bigger size
**vertical images cropped for thumbnails**
Colony House
*all photos by Megan Gorey and are the property of the photographer and Jesusfreakhideout.com