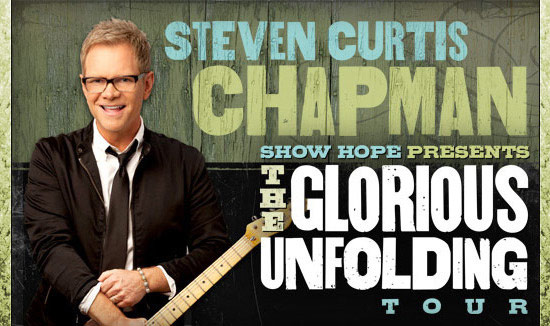 The Glorious Unfolding Tour 2013
Steven Curtis Chapman, Laura Story, Jason Gray
11/3/13, at Calvary Church in Lancaster, PA
Whether it's an actual trend or not, it's tough for me to say, but it seems to be more and more common for singer/songwriter tours to feature a few really talented artists that successfully shuffle throughout the set list each night and work together to form a unique concert experience unlike anything you can purchase on CD or DVD. And that is often some people's argument about live music: "Eh, if I want to listen to _____, I can just listen to my CD or mp3 player." And that's true to a degree... but can you listen to Steven Curtis Chapman, Laura Story and Jason Gray all singing together with some of Nashville's top players backing them up? No, you can't. That is, unless you attend The Glorious Unfolding Tour.
Steven Curtis Chapman has actually had a similarly organized tour like this before. His Songs & Stories Tour in 2011 united SCC with Andrew Peterson and Josh Wilson for a similar musical partnership that saw the artists often playing together and assisting in each others' songs. It makes for a truly unique live show, even if it means the openers usually play less of their own music during the night.
CMI Productions (a well-oiled concert promoting machine here in Eastern Pennsylvania) brought The Glorious Unfolding Tour to Calvary Church in Lancaster, PA, a venue that has hosted SCC live in concert at least two other times that I've attended. It's a great place to host a show and this event was no different. The pews were packed solid with listeners eager to see this trio perform. And they were in for a real treat. When the show began, the orchestral sounds of the "Prologue" from Steven's 1992 album The Great Adventure drifted through the sanctuary. And with an invitation to "Saddle up your horses," the night had begun. Steven Curtis Chapman, with the support of his live band, opened the night with what's arguably his career's biggest song. Before the song's finish, Jason Gray joined Steven on guitar. Steven then warmly introduced Jason and left the stage. With his acoustic and the tour band behind him for support, Jason Gray performed "Good To Be Alive" and then took a moment to gush a bit about how much of a fan of Steven's music he has been since the beginning (and how he learned to play guitar to "The Great Adventure"). Jason performed his brand new single, "With Every Act of Love," from his forthcoming 2014 release, and then shared a bit about his speech handicap (a stutter when he talks) and how God likes to use our weaknesses for His glory. Laura Story then joined Jason for just the two of them to perform "Nothing Is Wasted." The band returned to Jason's aid, along with Steven Curtis, to perform "Remind Me Who I Am."
The transition to the next phase of the set had already begun as Jason stepped back from the microphone to allow Laura Story to take the spotlight. SCC introduced her, informing the less versed in who has written which popular worship song, that Laura had penned the popular Tomlin song, "Indescribable," and left her and the band (with Jason Gray in tow) to peform the popular praise anthem for the Lancaster audience. Jason then exited, and Laura peformed "You Are Savior," and then shared from her heart about her husband's brain tumor and the trials that it has brought about for the Story family (and how God's faithfulness got them through it). After "I Can Just Be Me," Laura invited Steven Curtis to join her (while most of the band left the stage) and the two sang a duet to "Blessings" while SCC's own producer, Brent Milligan, provided cello support. It was a moving moment in the set and a highlight of the night. SCC left and the band came back for "God of Every Story," and then Steven returned to talk about his recent Cracker Barrel Country Store exclusive record, Deep Roots, and introduced Laura Story on bass as they performed a bluegrass take on "How Great Thou Art." At this point, the evening made a significant shift toward all-Steven Curtis Chapman songs and Steven took center stage to talk about how difficult it is to play all the songs people want to hear every night. An acoustic medley was his attempt at covering some of those songs, and a brilliant collection of songs were presented in rapid-fire succession: "Let Us Pray," "Speechless," "For the Sake of the Call," "Magnificent Obsession," and "The Change." Chapman then talked about how songs can act as memorials to remind us of times in our lives when God has been faithful and tied the topic in with Adoption Sunday, which this day also happened to be. He then talked about the music video for the next song and proceeded to perform "When Love Takes You In" as just himself at the piano with Milligan on cello (and the video playing behind them). Steven then shared about his organization, Show Hope, and showed a moving video about one of the orphan children it helped find a home, Jaelynn, and invited the Calvary Church attendees to help sponsor a child.


Instagram Snippet of Steven Curtis Chapman Performing "Love Take Me Over"

A comfy intermission allowed concertgoers to stretch and take some time to check out the Show Hope table or hit the restrooms, and then it was back to business for the latter half of the show. For the most part, the rest of the night belonged to SCC and his catalog of music, but he did find ways to incorporate his tour support. Opening with "Glorious Unfolding," Steven Curtis Chapman hit the ground running with his full band behind him and full-on production. The new songs continued with the highly encouraging "Take Another Step," featuring SCC at the piano. He then grabbed a guitar and stood up front for "Love Take Me Over" and "Everything I Do" before grabbing a stool and his ukulele for re-creation's "Long Way Home." He then returned to the piano, reflecting on his and his wife's 29th wedding anniversary and performed a new song he wrote for Mary Beth, "Together," with photos from their years together displayed on the video behind him. An acoustic take on "I Will Be Here" was an appropriate follow-up, and then SCC offered his usual in-concert family update by showing a photo of his family on one of the screens behind him and talking about what each one is up to today. He tied it in to the next song, a tune he wrote for his teenage daughter, Shaohannah, "Only One and Only You," from The Glorious Unfolding. Steven shared the story of "Cinderella" once again and then performed the emotional song about cherishing his daughter's childhood and preparing for their adulthood (and leaving the nest). When the song finished, the Lancaster audience rose to their feet and gave Steven a rousing standing ovation (that actually delayed the start of the next song). It was a wonderful moment and SCC was visibly touched by the gesture. The heartbreaking-but-hopeful "Beauty Will Rise" followed, including an incorporation of the new verse Steven added to "Yours" after the passing of Maria, and then blended into "I Surrender All" and closed with a prayer. This transitioned into a time of worship that welcomed Laura Story back on stage to sing lead on "Mighty To Save" while providing piano, and then Steven returned to vocals for a cover of Matt Redman's "10,000 Reasons (Bless the Lord)." Afterwards, he introduced the band, which also included Andrew Osenga, of Caedmon's Call and The Normals fame, on guitar, and performed the evening's closers, two rocking classics: "Love Out Loud" (to which he forgot a few of the words, amusingly so) and the anthemic "Dive" (which Laura and Jason provided accompaniment for as well). It was a solid finish to a night packed with music and stories.
If you're a fan of anyone on the roster, The Glorious Unfolding Tour is a show you won't want to let pass you by. Steven is still going strong musically and as a performer decades after getting his start, and the mix of new and classic SCC tunes in the same setting is just proof of it. Stir in the talents of Jason Gray and Laura Story and you've got one memorable night of live music.
--
John DiBiase
, 11/13/13


Show Finale: Steven Curtis Chapman (w/ Laura Story and Jason Gray) Performing "Dive"

The Glorious Unfolding Tour List

01. The Great Adventure - Steven Curtis Chapman
02. Good To Be Alive - Jason Gray
03. With Every Act of Love - Jason Gray
04. Nothing Is Wasted - Jason Gray & Laura Story
05. Remind Me Who I Am - Jason Gray
06. Indescribable - Laura Story
07. What A Savior - Laura Story
08. I Can Just Be Me - Laura Story
09. Blessings - Laura Story & Steven Curtis Chapman
10. God of Every Story - Laura Story
11. How Great Thou Art - Steven Curtis Chapman
12. SCC Acoustic Medley: Let Us Pray / Speechless / For the Sake of the Call / Magnificent Obsession / The Change
13. When Love Takes You In - Steven Curtis Chapman

Intermission

Steven Curtis Chapman Set
14. Glorious Unfolding
15. Take Another Step
16. Love Take Me Over
17. Everything I Do
18. Long Way Home
19. Together
20. I Will Be Here
21. SCC Family Update / Only One and Only You
22. Cinderella
23. Beauty Will Rise / Yours (New Verse) / I Surrender All
24. Mighty To Save - with Laura Story
25. 10,000 Reasons (Bless the Lord)
26. Live Out Loud
27. Dive
The Glorious Unfolding Tour
click on an image for a bigger size
**vertical images cropped for thumbnails**
Steven Curtis Chapman
Jason Gray
Laura Story
Steven Curtis Chapman
*all photos by John DiBiase and are the property of Jesusfreakhideout.com