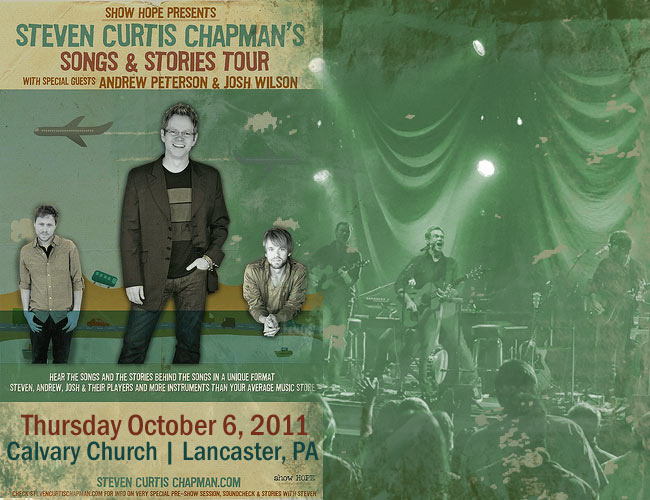 Steven Curtis Chapman's Songs & Stories Tour
10/6/11, at Calvary Church in Lancaster, PA
Last year, Steven Curtis Chapman launched his first-ever family tour and took some time off this year to record his next project, a retrospective release that revisited old favorites in a new way, titled re:creation. Now, Steven is back on the road and has enlisted the talents of fellow singer/songwriters; veteran folk artist Andrew Peterson and the up-and-coming Josh Wilson. This mix takes the music to its roots with a decidedly more acoustic base as the artists, backed by some of the most revered musicians in Nashville, team up for a unique night of music and storytelling.
The night started out with a special acoustic and storytelling session with Steven Curtis that was open only to concert goers who purchased special tickets for it. Dubbed "Soundcheck & Stories," this intimate session was Steven's way of engaging the audience on a more personal level. Everyone who purchased this ticket got a special tour poster that was hand-signed (i.e. not just reproduced with the autograph printed on it) by Steven Curtis himself, in addition to this special session. At this date of his tour in Lancaster, PA at Calvary Church, Steven emerged by himself to a group of about a hundred or more and started taking comments and questions from the audience. It was neat to hear some people share their stories of how his songs impacted their lives and families. One person asked Steven to talk about his Signature Series Taylor guitar, which the singer also happened to have on stage with him. Chapman then presented the guitar and talked about his daughter Maria and how the flower that she had drawn on the day that she died was engraved into the neck of the guitar (as well as the monumental word "SEE" that she had drawn on the back of it, a word that the Chapmans were convinced she didn't even know!). Another fan then shared a story of how she teaches her preschool children his song "Children Of God" and asked him to perform it. Steven, a little worried he wouldn't remember how it goes, graciously performed a portion of the song and did a great job on it. Another fan then expressed their love for "Miracle of the Moment," to which Steven timidly approached but then successfully performed. A few other fans made requests, but they ended up being songs Steven would be playing during the evening's full set, so he said he would save them for later.
After the "Soundcheck & Stories" session, the group was ushered out of the church sanctuary to have their tickets scanned before re-entering and finding their seats. The main doors to Calvary Church opened to the regular concert goers soon afterwards and a steady flow of people streamed into the church. It wasn't until around 7:30pm that the lights dimmed and Creation Concerts, who promoted this evening's event, made announcements for other upcoming fall shows. After a few minutes, the lights remained dimmed and the stage illuminated as Steven Curtis Chapman, Andrew Peterson, Josh Wilson and the band supporting the tour took their places on stage. The group opened with Steven's own "Live Out Loud" (with Josh taking over one of the verses) and then moved into one of his classics, "Heaven In The Real World" (for which Andrew took one of the verses). At this point, Steven introduced Andrew Peterson, who then performed one of his own songs, "The Reckoning (How Long)." Afterwards, Steven introduced Josh, saying how he was told about the singer/songwriter as having reminded people of a young Steven Curtis, and joked that he was disappointed when found that Wilson didn't have the mullet that Chapman donned in his early years. The group then supported Wilson as he performed "I Refuse," with Steven and Andrew exiting the stage for Josh to perform "Before The Morning" alone with the band. Josh's solo set continued with "Fall Apart," and then the band left Wilson all alone on stage for the singer to perform "Amazing Grace" completely instrumentally. He recorded a beat he tapped out on the guitar, a percussive shaker, and some guitar riffs and looped everything to give the song a full band feel as he performed alone. It was expertly executed and a highlight of Wilson's own performance.
Andrew and Steven returned to perform a few selections from Peterson's catalog next. Andrew then dedicated the next song to anyone who had been dragged unwillingly to this evening's show and performed the amusing but sincere "Many Roads." Peterson talked very openly and personally, but injected a great deal of wit and humor when he spoke in between his songs. His presence was an added bonus to the evening's festivities. "Many Roads" was followed by Peterson sharing a story about growing up in southern Florida and how his mother, the wife of his preacher father, had worked at Florida State Prison and would share the Gospel with inmates when no one was looking. He then shared about growing up and meeting his wife and how he had the misconception that marrying would end any and all adventures in his life. This all led up to the song "World Traveler," which he had written for his wife and their experiences through their sixteen years of marriage and traveling around together. For this song, Steven remained on stage while Josh left. Afterwards, he shared another story about his wife and how after their fifteen-year anniversary, they got into a big fight and he went downstairs and wrote a song about her. It was refreshing how honest Peterson was being about the song's inspirations, all the while injecting a charming humor into what would otherwise be a heavy topic or situation. He performed "Dancing In The Mine Fields" next, for which Josh rejoined the band, and then they began performing one of Steven's newest songs, "Do Everything," from re:creation.
At this point, Andrew and Josh left the stage for Steven to have the spotlight. He sat perched on a stool as he broke out a ukulele and talked about another new song, one about his life's journey, titled "Long Way Home." Steven then took some time to talk about adoption and his heart for it, as well as the organization he and his wife Mary Beth started called Show Hope. He then performed "When Love Takes You In" as just himself at the piano, while a video played in the background that showed pieces of the concept music video for the song, as well as real-life families who have been touched by the miracle of adoption (as Steven likes to call it). After the song was finished, he talked more about Show Hope some more and shared a story about one of his little girls, Stevie Joy, and then showed another video about a family who had adopted a child with the help of Show Hope. Chapman then brought out a local family who had adopted with the aid of Show Hope and then also introduced a little boy from China who had been helped by the Chapmans' facility in China called Maria's Big House of Hope.
After an intermission in which Chapman had urged the audience to check out Show Hope table out in the lobby and consider sponsoring the organization, the lights went out and the stage was filled once again with the Songs & Stories Tour artists. One thing I noticed about the music this evening was, while Steven didn't necessarily specifically play the "re:created" versions of his classics, all of the music this evening was done acoustically; I didn't see a single electric guitar on stage (aside from a mini one hanging next to Wilson, which he used at the start of the night, but I'm not quite sure that counts) and this more stripped down presentation, coupled with the story-centric approach, made for one really intimate night of music. When the guys relaunched the second half of the night's show, they opened with Steven's own "The Great Adventure." Afterwards, Chapman announced that it was "story time" and turned the mike over to Josh Wilson who shared a love song he wrote for his wife of two years, titled "Always Only." The guys sat on stools for this segment, giving it even more of an acoustic set feel, which SCC dubbed as "a taste of Nashville." Josh then left and Andrew began talking about his wife Jamie again, and how that if a songwriter is ever stuck and in need of songwriting inspiration, they should look no further than family. As he began playing the intimate "Planting Trees," he haulted the song and announced "It's in 5-4 so don't try to clap," eliciting laughter (and absolutely no clapping) from the crowd. The lovely song was capped as a trilogy of songs for these artists' wives as Andrew left the stage and Steven Curtis, alone with his band, remained to sing "I Will Be Here." At this point, Chapman introduced his band of musicians which, to my surprise, consisted of many well-known Nashville names. Ken Lewis was on the drums while producer Ben Shive sat at the keys and a master of many instruments, Brent Milligan, performed bass, standup bass, and an array of other instruments. It was great to actually see these guys in action -- names that I previously had only seen in a number of album credits over the years. He performed "Lord of the Dance" next, with some pretty impressive fast guitar playing, and then offered up a mix of stories and song segments as he performed some of "Fingerprints of God" (inspired by his daughter's insecurities when she was a pre-teen) and the infamous "Got 2 Be Tru," which has become a fan favorite (for the latter, Lewis provided a steady kick drum beat while Chapman played his acoustic and provided the first verse and chorus). SCC then talked more about his daughter Maria and the inspiration for the song "Cinderella," candidly adding that he recently made the same mistake again of rushing his children to bed instead of enjoying the moments he still has with them while they're young. He performed "Cinderella" with his band backing him up, as he sat playing the piano and singing the emotional song. The concept music video played on the screens bookending the stage during the song as well. He followed it with the heartwrenching "Heaven Is The Face" before moving into the more upbeat, but just as emotional "Yours." Through this string of songs, it ultimately follows Steven's story over the past four years - from before Maria passes, to her passing and then through the wake of it. Before he sang the closing verse of "Yours", that he added after she died, he paused to share from his heart about walking through that trial and said some encouraging words to the Lancaster audience. He then prayed and finished the song. He quickly moved into "Blessed Be Your Name," to which Andrew Peterson and Josh Wilson joined him for as he sat at the piano. They continued the worshipful moment with "How Great Is Our God" before Chapman asked everyone to stand as he closed with a rousing rendition (not the more sedated "re:created" version) of the fan favorite "Dive." It was a wonderful way to close an excellent show.
Fans of anyone on the Stories & Songs Tour billing would do well not to miss this tour. It's one of those events that goes beyond the traditional concert experience to really create something special and unique. To see the collaboration and the integrated sets really brings an intimate sense of unity to the evening, and it doesn't hurt that the singer/songwriters present are extremely talented at what they do. Definitely check out the Songs & Stories Tour, it's one of the best you will see this fall!
--
John DiBiase
, 10/7/11
Songs & Stories Tour
click on an image for a bigger size
**vertical images cropped for thumbnails**
Steven Curtis Chapman: Soundcheck & Stories (Pre-show)
Steven Curtis Chapman / Andrew Peterson / Josh Wilson:
*all photos by John DiBiase and are the property of Jesusfreakhideout.com