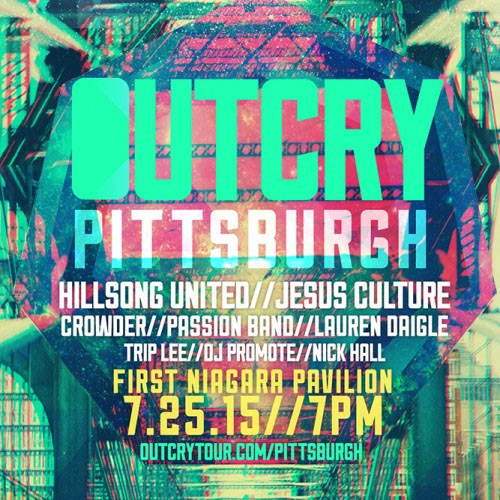 The Outcry Tour
7/25/15, at the First Niagra Pavilion in Pittsburgh, PA
Outcry came out of nowhere. I would later learn that this is a vision four years in the making, but the response to the unexpected twelve city tour has been massive. Boasting one of the best lineups of the year, Outcry is a tour with a mission statement: to champion the local church and its work in glorifying the name of Jesus Christ. Every aspect of this show feels like it's the beginning spark of a greater Jesus movement in America. Outcry is partnered with the Reset Movement (Reset2016.com), an organization looking to congregate thousands of believers on the National Mall next July to lift up a unified voice, asking Jesus to reset this generation. This theme would be prevalant, woven throughout every performance of the evening.
Trip Lee kicked off things as myself and many others were still filing into the arena. I missed most of his set, but he did seem to have the people going and was a high-energy way to kick things off. Lauren Daigle came out next, opening with her breakthrough hit, "How Can It Be." I was excited to see her for the first time, and while her set was short, she put on a great performance thanks to her powerful, soulful voice.
After a brief statement by Reset 2016, the first church of the night was represented - Passion. Led by Kristian Stanfill and Brett Younker, the Passion church out of Atlanta has become really well known over the years, thanks in part to their massive annual Passion Conference and subsequent live album. Their latest album, Passion: Even So Come featured Stanfill heavily, and many of those incredible songs were well represented here. The Passion Band kicked things off with the joyfully triumphant "Shout Hosanna" before running through some cover songs of fellow Passion alum's Chris Tomlin and Matt Redman. Stanfill and co. ended their set on perhaps the most appropiate song of the night, "Even So Come." For an entire show devoted to shaking the affections of The Church, this was the first really powerful worship experience of the night; "Like a bride waiting for her groom, we'll be a church ready for You. Every heart longing for our King, we sing even so come."
Speaking of Passion, Crowder was up next with his now well-known back porch setup featuring Kenny Rodgers. Much of Crowder's set was the same from The Rock and Worship Roadshow this past March, but as far as I'm concerned, Crowder is a welcome addition to any concert lineup. Favorites "I Am," "How He Loves" and "Come As You Are" were all present along with the customary end-of-set hoedown.
After a word from Compassion International and a brief intermission, Jesus Culture took the stage. The church was represented by Chris Quilala and Kim Walker-Smith this night and they immediately launched into "Sing Out" from their album, Unstoppable Love. While Jesus Culture had fewer songs than some of the other acts, in a fashion familiar to their style, each song was extended into a longer, more worshipful experience. I wasn't timing the songs, but most of them had to extend to around the ten-minute mark. Quilala and Walker-Smith also gave moving, ernest performances of other JC standards, like "Unstoppable Love," "Holy Spirit" and "Your Love Never Fails," before closing the set with a cover of "One Thing Remains." Jesus Culture was a great way to kick off the second half of the show, marked by a more "churchy" atmosphere, and they served as a perfect lead in for Hillsong UNITED.
After a few words, Joel Houston led the crowd in communion and prayer before closing out the show with his fellow bandmates. At this point, the night was getting pretty late and I began to fear that UNITED's set would be cut woefully short as is common with these types of megatours. I'm happy to report that I couldn't be more wrong. UNITED opened with one of the standout tracks from Empires, "Here Now (Madness)," before turning up the energy with a cover of Young & Free's "This Is Living." Their set was very Empires-heavy, which was more than fine with me. (If you haven't heard the album yet, get on it!) We were of course treated to mega-smash-super hit "Oceans" to the delight of everyone.
All in all, there was zero disappointment with this show. They boasted a massive lineup, all centered around The Church, and delivered in spades. My main complaint with tours like WinterJam and The Roadshow is sets being cut so short to accomodate all of the talent, and Outcry was just the opposite. Aside from the openers, every act got adequate (or extended) time to perform. While a five-hour concert event may be excessive for some concert goers, I would've been game for another few hours. This show played to all of my likes. The tour promoter shared with everyone that Outcry stemmed from a vision he was given. He also insinuated that this wouldn't just be a one-off, and Outcry would be touring again next year. I pray that they do.
While there aren't many dates this year, I can say that this show is well worth a long road trip to catch. The lineup it boasts is unparalleled, and it provided the most worshipful experience of any show I've attended this year!
--
BJ Smith
, 7/30/15
Set Lists:
Trip Lee
-Manolo
-Robot
Lauren Daigle
-How Can It Be
-Come Alive (Dry Bones)
-First
Passion
-Shout Hosanna
-Our God
-I Draw Near
-10,000 Reasons
-Even So Come
Crowder
-How He Loves
-I Am
-Lift Your Head
-Hands Of Love
-Come As You Are
-I Saw The Light -> I'll Fly Away
Jesus Culture
-Sing Out
-Your Love Never Fails
-Holy Spirit
-Unstoppable Love
-One Thing Remains
Hillsong UNITED
-Here Now (Madness)
-Relentless
-This Is Living
-Say The Word
-Heart Like Heaven
-I Touch The Sky
-Empires
-Let Hope Rise
-Oceans
-The Stand
The Outcry Tour 2015 Photo Gallery
click on an image for a bigger size
**vertical images cropped for thumbnails**
Crowder
Jesus Culture
Passion
Hillsong UNITED
*all photos by BJ Smith and are the property of the photographer and Jesusfreakhideout.com