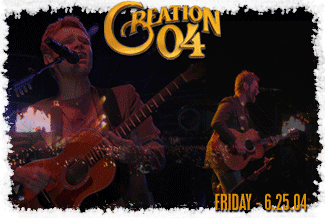 TobyMac, Steven Curtis Chapman
6/25/04, Mt. Union, PA. at the Agape Farm.
Friday offered one of the weaker lineups for the festival run, which gave us the much-needed chance to sleep in. We aimed to catch Pillar's 2PM show on the Main Stage and arrived with a few minutes to spare. But as we walked from parking over to Main, we could hear the distinct sounds of Pillar's show considerably before their 2PM showtime. And just as we reached the front of the stage, the band was finishing up the final verses of their last song to end their set. Perplexed, we heard rumors that Big Daddy Weave couldn't make it that morning and it moved up all of the sets. Oddly enough, following some announcements, 12 Stones filled in the 2PM slot that Pillar was scheduled to use. What made this more confusing is they weren't supposed to go on after Pillar but before them at 1PM. Needless to say it was an unfortunate schedule blunder that wasn't too cool. We opted on skipping 12 Stones and resumed aiding EMI in passing out stickers but focused on catching actor Stephen Baldwin's message at 3PM.
Stephen Baldwin, best known for roles in films like The Usual Suspects, Bio Dome, and Flinstones: Viva Rock Vegas, offered his testimony from the Fringe Stage Friday afternoon. It was a pleasure to hear him tell about how he was saved only about two and a half years earlier through his wife receiving Jesus first. Baldwin drew what was probably the largest crowd I'd ever seen at the Fringe Stage. The crowd spread as far at the hill reached. His message was intriguing and a definite highlight of the week.
The afternoon sets offered Out Of Eden, Jeremy Camp, Starfield, Grits, Cross Movement, Downhere, Holland, and Seven Places. We missed most of the shows for one reason or another and by the time the evening came, the sky had grown dark unusually early drawing fast winds. Sometime after 8:30PM, the skies opened up and the rain fell hard across the Agape Farm. TobyMac was scheduled to perform at 9PM, and we'd hoped to catch the set, but we sought refuge from the downpour inside the Creation Music Store instead. To our surprise and utter disappointment, the night was not delayed and we had to miss all of Toby's set as they didn't postpone it at all and allowed the show to go on. Toby offered his classic solo set with tracks like "Irene", "Extreme Days", the old school medley featuring mainstream hits like "Rollercoaster" and "We Are Family", and even the dc Talk favorite "In The Light". He also performed at least one new cut from his pending Fall sophomore release Welcome To Diverse City.
The evening headliner hadn't played Creation in years and it was a delight to experience his return. Paducah, Kentucky-bred Steven Curtis Chapman closed out the evening, offering hits from his three most recent projects, All About Love, Declaration, and Speechless. He opened with the fun yet convicting "See The Glory" and ended the song with choruses from "Open The Eyes Of My Heart". Chapman, a veteran of CCM, was very comfortable on stage but was as personal as ever with his audience, cracking jokes whenever he had the chance. From "All About Love", he pressed on through to "Jesus Is Life" and to the classic "Lord Of The Dance". He kept his set upbeat and lively and threw a real treat to fans when he introduced to the audience the title cut from his new record All Things New, releasing in September. From there, he talked more in-depth about his family and adoption. He talked about his recent adoption of Stevie Joy and announced he and his family were going to be returning to China soon to adopt their sixth and final child, Maria. He took a seat at his piano and performed his adoption-inspired ballad "When Love Takes You In" and then picked the pace back up for "Magnificent Obsession" and "Speechless". He riled up the crowd nicely with his hit pop/rocker "Live Out Loud" before saying goodnight and exiting the stage. Needless to say, the audience wouldn't let it rest and Steven came back out to perform one last hit, "Dive".
Steven and Paul Baloche came out after Steven's set to lead the festival in worship for the candlelighting service. This is always an incredible sight to see. At past Creation Festivals we've had the pleasure of being able to witness the candlelighting from on the main stage. This wasn't the case at all this year, but we relocated further to the back of the audience to get a good view of the candles being lit. Always a pleasant reminder that, as Christians trying to make it through a sinful world that hates Jesus, we're not alone...
- written by
John DiBiase
Creation 2004: Friday Photo Gallery
click on an image for a bigger size
Pillar -- 1:00pm Main Stage
Stephen Baldwin -- 3:00pm Fringe Stage
Steven Curtis Chapman -- 10:25pm Main Stage
Candlelighting -- 10:25pm Main Stage
*all photos by
John DiBiase
, and are the property of
Jesusfreakhideout.com
Creation 2004 Review: Wednesday | Thursday | Friday