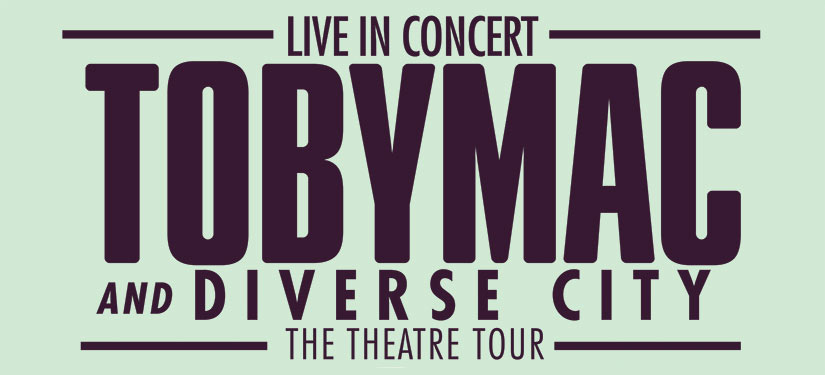 The Theatre Tour
TobyMac and Diverse City, Ryan Stevenson, Cochren & Co.
11/9/18, at Santander PAC in Reading, PA
TobyMac has been touring extensively solo for almost two decades now. Granted, when one calls TobyMac "solo," one must consider the fact that Toby McKeehan travels anything but completely on his own. (You probably never see a Toby SOLO tour, in the same vein as Steven Curtis Chapman's latest tour.) Since his early days apart from DC Talk, TobyMac has been traveling with an impressive entourage, which has since been dubbed the Diverse City band. Their members--like most live bands--have rotated some through the years, but the core members of Timmy Rose, Todd E. Funk, Dave Wyatt, DJ Maj and GabeReal have been with Toby for the long haul. With TobyMac's latest tour, he switches things up a bit, too, forsaking the arena setting for a more intimate one, setting out on a fall theater tour.
Upon announcing details of the tour, it was tough to imagine what a more "intimate" TobyMac show might look like. And fans might worry it'll just be a stripped-down acoustic tour... something many fans of his big, energetic performances might not be too keen on. The evening even kicks off with two other solo acts, artists who are signed to Toby's own record label, Gotee Records. His newest signing, Cochren & Co. kicked off the night, with just Michael Cochren himself performing while seated at a piano. His set was kept to just three songs, including his debut single, "I Want To Go To Church," and "Grave." Cochren proved he's got a voice to showcase, but the songs weren't anything that stood out much. Upon hearing a recorded snippet of his single, I felt like Cochren sounded like a more CCM AC radio version of NEEDTOBREATHE's southern rock sound (minus the rock), but I didn't get that NEEDTOBREATHE vibe at all from his live show. Still, it may be interesting to see where Cochren & Co. go from here.
One of Gotee's most popular signings in recent years, Ryan Stevenson, was up next, and he performed his most recognizable pop hits. With an acoustic guitar and some keys and drums for support, Ryan's set was modest and intimate. After opening with "Lift You Up," he performed "Child In Your Arms" and then talked about Romans 8:28 before performing "No Matter What." He then took a funny side trail where he talked about some songs his his 6 and 8 year old boys wrote and asked him to play live... so he did. It was easily the highlight of his set. "The Gospel" was next, and then he talked a bit about how he worked as a paramedic before getting into music and closed with "Eye of the Storm," inspiring many in the audience to rise to their feet and sing along with his hit song.
Before Toby took over, Jason Barton of the band 33 Miles came on stage to talk for Food for the Hungry. He gave a really inspiring talk about his experience with the organization, visiting Ethiopia with his family, and how much FH touches the lives of those most in need. A 15 or so minute intermission then proceeded before the main event.
When TobyMac and Diverse City opened their set, they did so in full-on acoustic form. The band, in part, sat around on stools and performed stripped-down versions of hit "Me Without You," new song "Overflow," and other fan favorites "Thankful for You," and "Steal My Show." Toby then asked if they should do the whole night like this or go big, and of course the audience cheered for the full production. For the rest of the night, the band went full-swing, with DJ Maj coming out to join the gang for "Light Shines Bright" and "Backseat Driver." For new song "Edge of My Seat," Toby talked about our posture in life, and how important it is to approach each day anticipating God is going to use us and do something big. They even mixed a little bit of "Lose My Soul" in before the song's end. Ryan Stevenson joined the band on stage for "Speak Life" (which he had helped write with Toby), and then "Love Broke Through" stirred the audience's emotions with an intense video displaying behind the band of a police line trying to hold back a riot. Afterwards, DJ Maj helmed an old school mix that merged "Funky Jesus Music" into "Diverse City," "The Slam" and then "Boomin'" for a real energetic treat. Live footage from shows gone by also displayed behind the band (which also served to remind me how much more energetic Toby's shows used to be. They're still a blast, but I'd forgotten how crazy they used to get!)
Everyone took a seat for the slower "City On Our Knees," and Michael Cochren came back out to contribute some piano playing. Toby then took a moment to talk about diversity and worked in his song "Family" before returning to "City" to end the song. "Made To Love," complete with a trio of horns, was next, followed by "The Elements" (with the music video in the background), where Toby made his way to the balcony to sing from. After returning to the stage, he talked about the storms of life and "the elements" before moving into his newest single, "Scars," followed by "I just need U." Completing a run of new songs from his latest record, The Elements, they performed "Everything" (with the horns again), and then performed the infectious "Move (Keep Walkin')" from This Is Not A Test. The band then closed with the energetic "Till The Day I Die," complete with the waving of a large white flag.
It's hard to imagine a TobyMac concert without an encore, and to bring the set list to roughly 20 songs (it's substantially more if you count all of the bits and pieces of other songs), they returned to perform "Eye On It" and "Feel It," the latter of which saw them invite some kids from the audience on stage to dance along with the band.
While this tour is certainly a deviation from the norm for TobyMac and Diverse City, it also felt more unique and special. The band can still bring down the house with a big show -- whether acoustic or with full production -- and this tour was no different. Sadly, this run of The Theatre Tour is over, but hopefully they'll be doing another string of these shows in the near future. His next tour is slated to be a return to the Hits Deep Tour format, but if you can catch one of these smaller theater shows sometime, you'll be getting a unique TobyMac experience you won't be able to get any other way.

-- John DiBiase, 11/26/18
TobyMac Set List
01. Me Without You (Acoustic)
02. Overflow (Acoustic)
03. Thankful for You (Acoustic)
04. Steal My Show (Acoustic)
05. Lights Shine Bright
06. Backseat Driver
07. Edge of My Seat
08. Speak Life
09. Love Broke Through
10. Old School Medley: Funky Jesus Music / Diverse City / The Slam / Boomin'
11. City on Our Knees / Family
12. Made to Love
13. The Elements
14. Scars
15. I just need U.
16. Everything
17. Move (Keep Walkin')
18. Till the Day I Die

Encore
19. Eye On It
20. Feel It
The Theatre Tour Photo Gallery
click on an image for a bigger size
**vertical images cropped for thumbnails**
Cochren & Co.
Ryan Stevenson
TobyMac
*all photos by John DiBiase and are the property of the photographer and Jesusfreakhideout.com