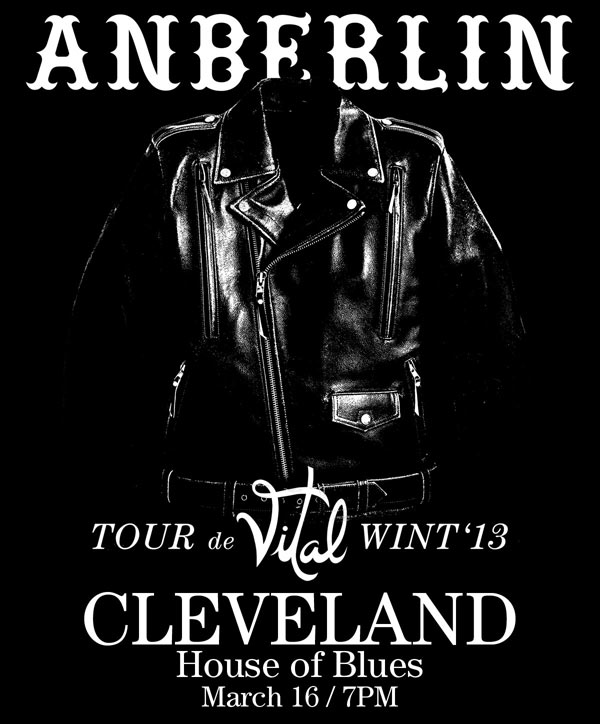 Tour de Vital
Anberlin, Paper Route
3/16/13, at House of Blues in Cleveland, OH
Ever since alternative rockers Anberlin released their sixth studio record, Vital, in October 2012, the Florida boys have been quite busy indeed. From shows all over the country and overseas, it seemed fitting that they finally do a proper, full U.S. headlining tour, something they haven't done in quite some time. Over the course of February and March 2013, they covered over 23 cities across the States. I was fortunate enough to catch their show in Cleveland at the House of Blues, and Anberlin definitely put the "rock" in "Cleveland rocks" that night.
After they ushered everyone inside the venue, it was about an hour or so before the opening act, All Get Out, emerged on to the stage to start their set. While these guys seemed pretty into what they were doing, the vibes I was getting from the rest of the crowd around me were less than enthused. I don't know if All Get Out was just having an off night or not, but nonetheless, they played about 6 songs before their set was finished.
After a semi-quick set change, the stage was prepped for Paper Route. I personally had not listened to Paper Route a whole lot before this show, but I've heard nothing but great things about them. Paper Route put on a lively performance, and they played a lot of songs off their newer album, The Peace of Wild Things. Vocalist J.T. Daly was very energetic and gracious while on stage, thanking the audience after every song. Paper Route played about 8 songs total, and they closed their set with J.T. hopping upon a drum set and going to town on it, strobe lights flashing and all. Although I was not completely familiar with their work prior to this show, their energetic and genuine performance definitely won me over. Paper Route's set was fun and enjoyable, and was a great way to get the crowd amped for the night's headliners, Anberlin!
After another set change, Anberlin finally took the stage. Opening with "The Resistance," off of their Universal Republic debut, New Surrender, the rockers continued with a flurry of hits, old and new, and even some more obscure tracks, like "I'd Like to Die," a B-side off of Dark is the Way, Light is a Place. They played tunes such as "Paperthin Hymn," "We Owe This to Ourselves," "Never Take Friendship Personal," and "Unwinding Cable Car"; and concert staples such as "Feel Good Drag," and "Godspeed." Of course, they also incorporated several of Vital's tracks like "Little Tyrants" (a crowd favorite), "Someone, Anyone," "Modern Age," and "Other Side." They closed their set with "Self Starter," off of Vital, and the night's festivities concluded with Stephen Christian jumping into the audience to crowd surf for a few moments. After leaving the stage, Anberlin was cheered back for an encore, in which they played (to the audience's greatest surprise), the eight-minute "Fin" from their hit, Cities. Between the grand instrumentals and haunting vocals, it was the absolute perfect way to end their set.


"I'd Like To Die" by Anberlin, live 3/16/13
(video by Cortney Warner)
In general, the band was on fire that night. Christian, Joey, Deon, and Nate gave high energy performances, and Stephen was bouncing all over the stage, even taking time to shake hands/high-five the crowd surfers that would come over the barricade. Speaking of the crowd, the audience that night was also top notch. I was standing about center mid-front, but by the time Anberlin started playing, I was pushed up to the front of the barricade because the people behind me were moshing and dancing. Even Stephen said that he wasn't used to seeing the Cleveland crowd this rowdy and excited. (Thankfully, I believe everyone left with very few, if any injuries.)


"Fin." by Anberlin, live 3/16/13
(video by Cortney Warner)
Having seen Anberlin a few times prior to this show, it seems as if they've been really hitting their stride as of late (they've always been great, but the past few times they've been exceptional). Not only are they touring a great album, but also their live shows are some of the best I've seen in recent years. If Anberlin's hitting up your area in the future, do yourself a favor and get tickets to their show. It's bound to be a night of great music and entertainment.
--
Cortney Warner
, 4/8/13
Tour de Vital
click on an image for a bigger size
**vertical images cropped for thumbnails**
Paper Route:
Anberlin:
*all photos by Cortney Warner and are the property of the photographer and Jesusfreakhideout.com