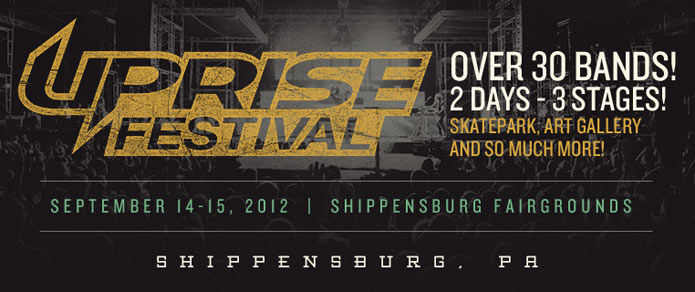 Uprise Festival 2012
9/14-15/12, at Shippensburg Fairgrounds in Shippensburg, PA
Some things just get better with age and one thing's for sure, Uprise Festival in Shippensburg, PA is one of them. Anyone who attended the festival last year can attest to the fact that some production problems lead to a lot of delayed show starts and sets that were shortened because of it. However, with a new production company working with the Uprise team, 2012 ran about as smoothly as it could have, making it [arguably] the best year of the festival yet.
For the past couple of years, Uprise has expanded to a 2-day festival, adding a Friday night line-up to the mix. And, seemingly, with each year, the attendance and the scale of the festival has grown considerably. A large catwalk seems to have become a staple of the Uprise stage setup in recent years too, and it's something that works well to include the audience in the on-stage action. On Friday night of the festival, however, the Main Stage is typically the only active stage out of the four separate locations you could find music at Uprise throughout the weekend. However, this year, unless you followed the festival super closely--along with any of these individual artists--you might not have known that the Rockstar Stage was actually open this evening as well. The paper booklet programs handed out at the festival gate when you entered had absolutely no info about the Rockstar Stage having any musical activity on Friday night, while the website info differed. At 7pm, hardcore music fans could find I, The Breather performing, followed by The Devil Wears Prada. It was actually a great idea, giving festival goers alternatives to the lighter music playing simultaneously over at Main Stage, but on Saturday night, the stage closed early to force everyone else to watch Main Stage. In any case, it was a neat idea, and something I hope is carried over into future years of Uprise.
When I arrived at Uprise and settled myself in, I caught a little bit of indie pop band We Are Leo kicking off the night at Main Stage at 5:30. This batch of young guys had a good stage presence and seemed to be a fine choice for new talent to open the night, but I found their overuse of autotune with all of their songs (purposefully) to be too gimmicky. It wore thin pretty quickly, too. By the time they asked the audience how long they'd been listeners of Christian music and then proceeded to cover dc Talk's rendition of "Jesus I Just Alright," I was kind of autotuned out.
I surveyed the festival grounds a bit and returned just in time to hear a little of Tony Nolan's 6:05 talk. And after a short break, Essential Records rock act Red took the spotlight to get the evening's main serving of music off and running. With the stage loaded with Red's gear in addition to the forthcoming headliners, the stage seemed a little cluttered for the guys (but, alas, that is just part of the festival machine), but it didn't stop Red from putting on an energetic show. Front man Michael Barnes made good use of the catwalk to interact more with the audience, and it served to unite the crowd with the show more. They opened with "Feed the Machine" from their most recent record, Until We Have Faces, and performed other fan favorites that included "Lost In You," "Already Over" and the closer, "Breathe Into Me." Before the guys performed the mellower "Not Alone," one of the twins took a moment to reflect on their home state of PA and how RED can't take credit for saving souls; only Jesus can.
A set change ensued and I took another walk around the Shippensburg Fairgrounds, which is when I discovered the RockStar Stage was active. I stuck around to watch The Devil Wears Prada obliterate the stage with their angsty metal. And while I love bands like Project 86 and Disciple, TDWP falls into the category of just too growly and screamy for my personal taste. It was to the point where, when I got back to Main Stage and Jeremy Camp's set was underway -- whose AC radio flavor isn't really my bag either -- I found his music refreshing. But love him or hate him, Camp puts on a great show and his brand of worship music is often a cut above the norm. Songs he performed while I was there included "We Will Wait," "I'll Take You Back," and "Tonight." Jeremy then took a moment to relate a story from his own life about his little daughter having asked him how she could please him, and he talked about how it affected his view of how we hope to please God. He then performed "This Man" and "Beautiful One," "Speaking Louder Than Before," and "The Way," before talking about the power of Jesus' blood and closing with "Overcome."
For many, the moment they'd been looking forward to all day would finally come with the 9:10 set from Switchfoot. The guys burst open their set with the Vice Verses lead-off track "Afterlife," and kept the rock flowing with hit single "Meant to Live" and Nothing Is Sound single "Stars." "The War Inside" followed, and then vocalist/guitarist Jon Foreman took a moment to talk about the night... before hopping down from the stage into the audience. While in the midst of the crowd, Foreman played "Restless" as the rest of the band remained on stage. He soon returned to the stage with his bandmates to finish the song and launch into "Your Love is a Song" -- complete with harmonica -- from Hello Hurricane. The guys then picked up the pace again with the fast rocker "Mess of Me" from the same album, and "Dark Horses" from Vice Verses. The set began to wind down with "Dare You to Move," so I left the stage area to stand in line at the CURE tent where a crowd was forming for Jon Foreman's late night acoustic set. They were only going to allow so many people inside the tent and I wanted to be sure not to miss it. From the tent (which blocked my view of the stage, sadly), I could hear the guys closing their set with the emotional "Where I Belong" and another rock number, "The Sound."
Soon after Switchfoot finished, they let people start filing into the tent where a few couches and chairs surrounded a small elevated stage, with the rest being standing room. I grabbed a spot in front of the stage (behind a couch) and waited with everyone else for Foreman to show. PA artist Talain Rayne started things off with a three-song set. With just a piano, he opened with "Lemon Bright" and continued with "Twinkle Lightly" and "Sixteen." He was just as tickled to be opening for Jon as the rest in attendance was to see the San Diego artist perform.
Soon, Jon Foreman came into the tent and handed a pen and paper to the audience and asked the fans to make up his set list for the night. He then opened with the lovely "Learning How To Die" from one of his solo EPs and continued with the classic Switchfoot ballad "Only Hope." He then debuted a brand new Fiction Family song called "Just Rob Me," and then debuted a new solo song, "The Day Is Dawning (First Light)." Throughout his set, Jon joked about how nice the audience was and eventually added that most acoustic sets are on city streets with at least one person watching that makes him think they want to kill him; he then added that he didn't feel that way about anyone here. He also added that he didn't know until Switchfoot arrived at Uprise that he was on the bill to perform a solo set, but he admitted he was happy to do it. For "Resurrect Me," he invited a fan up on stage to play guitar on the song while he played harmonica. The fan did a stellar job, even impressing Foreman himself. Jon played another new song afterward, titled "Joy is Your Birthmark," and then excitedly played a cover of "Wouldn't It Be Nice" spontaneously. To close, Foreman performed "Your Love is Strong" and then thanked everyone before exiting. It was a fun and candid set, and a highlight of the evening!
After Jon's show, the festival was shut down for the night, so we headed out, eager for the next full day ahead...
SATURDAY
As we walked through the gate on Saturday, music had already begun around the Fairgrounds. The Rockstar Stage was already active with the sounds of Wolves At The Gate, who coincidentally, had replaced To Speak Of Wolves when they couldn't attend. I made my way over to Main Stage where Reilly and Mikeschair had already played and former TobyMac, Diverse City Band member Shonlock was beginning his set. Shon's music isn't too far off from Toby's own style, but with a more distinctive urban sound, he and a full band accompanying him worked well to provide the Uprise mid-day crowd with an energetic set. But they would soon relinquish the stage to heavy rock outfit Disciple who were poised to make sure no one was still sleeping. Shon and his band performed cuts from his album Never Odd Or Even, including "Bet Ya House," which they opened with, "Simple Man," "Party" (which appeared on a Hip Hope compilation by "Diverse Citizens," AKA TobyMac's band), "Q2GO," "Something In Your Eyes," and "Monsta."
Meanwhile, the small Wired Stage was also underway -- a stage I wouldn't even manage to get to at all due to the busy-ness of the day -- which opened at noon with Skyhawk Drive and would feature artists like We Are Leo (for an encore performance), Next 2 Nothing, The Vespers, Joy Ike and Dominic Balli throughout the day until after 5pm. It's a great, intimate stage that acts as a small amphitheater, where bands like House of Heroes and Ivoryline played last year. Tooth & Nail's Nine Lashes was over at Rockstar, followed by Flatfoot 56, all while Disicple offered up a ferocious set to their Main Stage crowd.
Disciple has been one of those bands that I love more with each time I see them live. I knew of them before they signed to INO for their self-titled album, but I never fully appreciated them until they released Scars Remain in 2006. While their line-up has changed a lot over the years, their hearts and vision have not. And with a new album on the horizon for a November 13th release, I was interested to see if they'd play anything new from it. They opened with "Watch It Burn" from the latest release, Horseshoes & Hand Grenades and then continued with "Game On" from Scars. The ironically titled, blistering "The Ballad of St. Augustine" followed before they slowed things down for "Invisible" and the brand new light rock single "Draw The Line" (which I'd later find out, thankfully, doesn't represent the whole musical vibe of the new record. It's good, but not your usual face-punching Disciple rocker). A soundbyte from the film Braveheart preceded the anthemic "Battle Lines" and a brief message from vocalist Kevin Young. He talked about a friend who had been battling cancer and how their song, "Shot Heard 'Round The World," was written inspired by his persevearance. Kevin talked a bit more again and then played the lead-off song from Horseshoes, "Dear X, You Don't Own Me," before winding their set down with the heavy "Scars Remain" and the anthemic "Rise Up" from their self-titled album.
JFH presented a brief sponsor spot from the stage just after Disciple finished (ahem... it was me and I was terribly nervous; the stage isn't my comfort zone), and indie worship band The City Harmonic was next. I caught some of their set -- which I really enjoyed; I found their live show more compelling than their recordings (but I suppose the same could be said for many artists). Some of the songs I happened to catch were "Yours," "Spark," "Coming My Way," and their hit, "Manifesto." At one point, I ventured over to Rockstar stage to check out Icon For Hire. Now, I also have never seen Icon For Hire live before. I wasn't impressed with their aptly titled debut, Scripted, but I thought I'd give them a shot and check out their live show at least. Unfortunately, I was less than thrilled with their live show too. Ariel's vocals seemed a bit hoarse from song one and her vocal style was offensively squeaky. But the band did make up for their lack of musical prowess with a high energy set -- something I observed seemed to win over their audience who weren't at all bothered by anything that was irking me. Still, I had had enough with most of the first song, and ventured over to where the Artesian Well Art Gallery tent was. This was a location I'd really only ever heard about but never really found myself stumbling upon. The tent was a decent size and contained an array of different kinds of art projects. And while festival-goers perused the artwork, live acts performed all day inside the tent in the corner. At the time I was there, spoken word artist Chris Bernstorf had apparently just finished and J.B. Raynor was performing. It seemed like a nice little venue for folks looking for more low key musical performances and to celebrate our artistic sides.
Meanwhile, Building 429 performed at Main Stage, and I managed to make my way over there long enough to catch them performing their career-defining song, "Glory Defined," before front man Jason Roy shared from his heart about God moving obstacles and answering prayer. They then performed "I Belong," and I soon found myself in a predicament when it came time for Project 86's 3:45pm Rockstar Stage set and Peter Furler's 4:10 Main Stage set. I knew they'd overlap some, and when Project's set got off to a frightfully late start, I had to cut my enjoyment of their set much shorter than I wanted to in order to see some of Peter Furler's pseudo-Newsboys* set (*not a diss) over at Main. Project opened powerfully with the lead-off track from their latest album, Wait For The Siren, "Fall Goliath Fall," before continuing with the fan favorites "The Spy Hunter" and "The Butcher"--both also personal favorites. "Evil (A Chorus of Resistance)" was next, followed by "Me Against Me" from their popular 2000 Drawing Black Lines release. At that point, in between songs, I made the difficult decision of leaving one of my most anticipated shows of the weekend to go back to Main Stage. And when we wandered over there, Peter Furler and fellow former Newsboy Phil Joel were performing the Newsboys classic "Entertaining Angels;" it was truly music to my ears. Their set was a real joy for any original Newsboys fan, even as Furler mixed in some of his own, newer solo songs to give it a personal touch. After "Entertaining Angels," they performed two staples from Newsboys' set from the past few years, Matt Redman's "Blessed Be Your Name" and Newsboys' "He Reigns." But after that, Furler took a moment to play one of his own tracks, the Steve Taylor-esque "Closer," which included a rousing guitar solo from former Superchick guitarist (and now-Audio Adrenaline guitarist) Dave Ghazarian. Furler then offered up a drum solo of his own before unleashing the Newsboys classic "Breakfast" and closing with Newsboys' rousing cover of "I Am Free" (for which, Building 429's guitarist joined the band). We then had our final sponsor spot on stage for the night before Thousand Foot Krutch prepared to rock the Uprise crowd. Meanwhile, metal act Oh, Sleeper was performing at Rockstar before that stage's headliner, Underoath, would play one of their final festival shows (unbeknownst to this reviewer and the Shippensburg crowd) at 6:40.
Newly independent rock band Thousand Foot Krutch self-released a brand new album earlier this year, titled The End Is Where We Begin, which has proven to be one of their most successful albums yet. But an independent status hasn't slowed these guys down one bit. They opened with "We Are," the lead-off song from that album, before playing the fan favorite "Move." Another new one, "Sparks Fly," followed, as well as another fan favorite, "Rawkfist," giving a nice balance between old favorites and new soon-to-be's. The slower, more melodic "Be Somebody" was next, and then the anthemic "War Of Change." But to the enthusiasm of their audience, "Falls Apart," from The Flame in All of Us, followed, with the title track from The End Is Where We Begin close behind. Another rocker, "Light Up The Sky" was a great set addition, and then the Canadian rockers closed with "Fire It Up" from the stellar Welcome To The Masquerade.
After speaker Tony Nolan gave an inspiring message, it was time for the second-to-last act of the night, Sanctus Real, to present their encouraging pop rock set. I'd been looking forward to their show that day, but I was only able to catch part of it as a semi-lately scheduled interview with TobyMac had to take place during the core of their set -- or not at all. Thankfully, I got to see most of Sanctus' set -- whether in the audience or waiting nearby for Toby -- and the guys, to my surprising, opened with "Everything About You" from their 2004 album, Fight The Tide, before continuing with "The Face Of Love," from the 2006 album of the same title. From the beginning, it was clear that their set was a bit more skewed in favor of their softer rock songs, as opposed to their faster, more upbeat songs they started out playing. The slower "These Things Take Time" from Pieces of a Real Heart followed, along with "Whatever You're Doing (Something Heavenly)" from We Need Each Other. They then debuted a brand new song, titled "Promises," from their upcoming 2013 album, Run, which beared a classic pop rock Sanctus sound. "We Need Each Other" then followed, and vocalist Matt Hammitt hopped off the catwalk into the crowd to encourage some singing along. Guitarist Pete Provost then moved over to provide keys as they played "Keep My Heart Alive" and then back to guitar for the love anthem "Don't Give Up." And around the time they played "I'm Not Alright," we had moved out of ear shot from their set (although I did noticed they played "Lead Me" too at some point). We met up with the legendary TobyMac for the interview around that time. Of course it was a thoroughly enjoyable chat with Toby, one that ran into mere minutes before he was supposed to take the stage.
By the time we made it back outside, it was starting to get chilly with the sun being down and the final act of Uprise 2012 was moments away from beginning. If there's one thing you can be sure of about TobyMac, it's that he does not disappoint when it comes to the magnitude of his live show. The man has an expansive--and impressive--entourage, and he's likely to deliver close to 20 songs in a given set. Very few artists do this. With a massive stage setup, Toby and the Diverse City band opened with "Made To Love," one of this former dc Talker's most popular solo songs. For "No Ordinary Love," Group 1 Crew's Blanca Reyes emerged on stage to sing along, much to everyone's surprise. Vocalist Nirva Ready wasn't in attendance tonight, so Toby enlisted the help of Blanca for the duration of his show. It was unexpected and, although Nirva is an essential part of his live show (and was missed), Blanca is a great talent and has a wonderful stage presence. For the next song, Toby and several of the members of the band marched around the stage with drums (as Toby clanged a pair of large cymbals) before they launched into "Showstopper" and "Tonight." The Solomon Olds (from Family Force 5) penned "Catchafire" was next, and then the gang slowed things down for the soulful contemporary track "Lose My Soul" and the reggae flavored "Break Open The Sky." Toby and his band made full use of the stage and catwalk during their set, especially for their most upbeat songs, which continued on with "I'm For You," "Diverse City," and one of my favorites in "Boomin'" (which saw the gang jump-kicking and hopping around the stage). DJ Maj, who was perched up high on a towering platform that displayed a screen in front of it as he sat behind his turntables, then performed a solo of his own, mixing popular tracks from artists like Adele and other familiar artists, while Toby changed his outfit and made his way into the audience on a separate stage, accompanied by guitarist Tim Rosenau and GabeReal. This separate set of acoustic performances was super candid and laid back, as Toby opened up with "One World" and "Hold On" before admitting that they didn't know how to play much from his brand new album Eye On It just yet, but took a stab at doing part of "Forgiveness" (They did even have to restart it, but it wasn't a big deal. I actually appreciate such candor). They then performed the fan favorite "Gone" before Toby recited 1 John 1:5 and played the iconic Charlie Peacock song that dc Talk made so popular, "In The Light." To my delight, Toby even mixed in the rap from the rare 1995 "Jesus Freak (Gotee Bros. Freaked Out Remix)" for a highlight of the set. (I get a kick out of any old school treats Toby McKeehan can serve up.) After "Get Back Up," Toby made his way back to the stage for "Me Without You," crowdsurfing his way back, actually, and singing all the way. After the new hit single, they performed the party anthem "Funky Jesus Music" before leaving the stage. But anyone who knows Toby, even remotely, knew the night wasn't quite over yet. Toby and his band came back out for him to introduce the band as they performed their classic old school medley. The "Diverse Citizens" song came first, melding into "Play That Funky Music," "Roller Coaster, "Freak Out" and "We Are Family." Toby then slowed things down for his pop hit "City On Our Knees," and then took the opportunity, while standing out on the catwalk, to turn it into a worship medley, moving right into "God of This City" and "There Is No One Like Our God." Finally, Toby offered up a prayer before closing with the crowd-pleasing -- and for me, smile-inducing -- dc Talk gem, "Jesus Freak." And, quite honestly, no one does it better than Toby and Diverse City -- well, since dc Talk stopped playing it together, that is.
With the wrapping of TobyMac's show-stopping (quite literally?) set came the end of Uprise Festival 2012, which just may be the festival's best year to date. It was an exciting, entertaining, fun, and thrilling weekend with music for just about every possible music fan represented in some form. It's really become one of our favorite festivals to attend (if not our favorite!), and one we look forward to each year. Hopefully we'll see you at Uprise Fest 2013! Visit www.uprisefest.com for all the details.
--
John DiBiase
, 10/23/12, 11/5/12, 11/8-11/9/12
Uprise 2012 Photo Gallery
click on an image for a bigger size
**vertical images cropped for thumbnails**
We Are Leo: Main Stage
Tony Nolan: Main Stage
Red: Main Stage
The Devil Wears Prada: Rockstar Stage
Jeremy Camp: Main Stage
Switchfoot: Main Stage
Talain Rayne: CURE Tent
Jon Foreman: CURE Tent
Shonlock: Main Stage
Disciple: Main Stage
The City Harmonic: Main Stage
Icon For Hire: Rockstar Stage
J.B. Raynor: Art Gallery Tent
Building 429: Main Stage
Project 86: Rockstar Stage
Peter Furler: Main Stage
Thousand Foot Krutch: Main Stage
Sanctus Real: Main Stage
TobyMac: Main Stage
*all photos by John DiBiase and are the property of Jesusfreakhideout.com