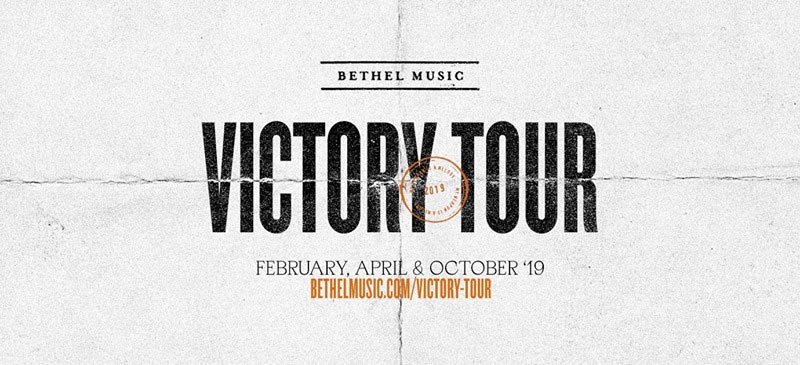 Victory Tour
Bethel Music, Phil Wickham
10/8/19, at the Fillmore in Detroit, MI
On October 8, Bethel Music's Victory Tour came to the Fillmore in Detroit for a sold out show. Although I'm not always an avid listener of their music, nor do I know much about their actual church, I do enjoy their songs and have even played quite a few of them on weekends at my own church. I was excited when I saw their tour would be stopping in Detroit and didn't really know what to expect walking in. I think it's pretty cool to see a worship band step outside the walls of their own church and bring their gifts to different cities around the globe, especially right in the middle of Detroit. I don't attend a whole lot of Christian concerts, but I have been to the Fillmore Detroit many times and was interested to see the dynamic change as they welcomed a night of worship and transformed the setup into a fully seated venue.
Opening up the night was Phil Wickham who came out on stage with just an acoustic guitar and a big smile. It seemed as though the audience was a bit hesitant to stand at first, but he got everyone engaged in his set pretty quickly. Phil opened up with "Til I Found You," and played a few more well-known songs, like "This is Amazing Grace" and "Heaven Song." Compared to Bethel's set, which felt a bit heavy at times, Phil's was pretty lighthearted which I enjoyed. He played what felt like just a couple songs, and I did wish his set was a bit longer. Phil Wickham is such a talented writer and performer and I really enjoyed how it felt like he just radiated joy throughout his set.
The break between Phil Wickham and Bethel Music was not very long at all and, before I knew it, a countdown appeared on the large LED video wall on stage. Bethel Music came out full of energy and opened the night with "Raise a Hallelujah," which is off their Victory album that came out earlier this year. Immediately, everyone in the crowd was on their feet with hands raised. The stage was packed with a large band and a ton of energy. Throughout the night, I heard a lot of familiar songs, like "Lion and the Lamb," "Stand in Your Love," "King of my Heart," "Reckless Love," and "No Longer Slaves," which were all performed with such passion. I also heard some newer songs I wasn't too familiar with but still really enjoyed listening to. I was happy that the lyrics to every song were displayed on the LED wall behind them so, regardless if someone had heard the songs before, they could still sing along. Other than the lyrics, there were also really beautiful visuals behind the band as they played. As I looked around, the venue was completely packed and it seemed like almost every hand was in the air. Often there were intentional breaks in between songs for moments of reflection and worship, or laying hands on others in prayer or healing, which could be intense at times and not something I was used to. About halfway through the set, the band exited the stage and there was an intermission to talk about Compassion International and the importance of sponsoring, and even adopting, children. After the break, part of the band came out to do an acoustic set. Most of the audience sat down and enjoyed the more laid back format. After a few songs, the band rose from the stools they were sitting on and the rest of the band came back out. They jumped into the energetic song "Ain't No Grave," followed by a few more songs that concluded the night.
Overall, I really enjoyed the worship night with Bethel Music and, for sure, God was there working. As someone who doesn't attend a whole lot of events like this, it was a good change of pace for me and seeing a whole venue completely filled with fellow Christ followers was pretty awesome. I would recommend trying to attend a date on this tour and experience it for yourself! Both Phil Wickham and the Bethel Music's band are such talented and passionate individuals that made for a really impactful night.
--
Megan Gorey
, 10/12/19
The Victory Tour 2019 Photo Gallery
click on an image for a bigger size
**vertical images cropped for thumbnails**
Phil Wickham
Bethel Music
*all photos by Megan Gorey and are the property of the photographer and Jesusfreakhideout.com