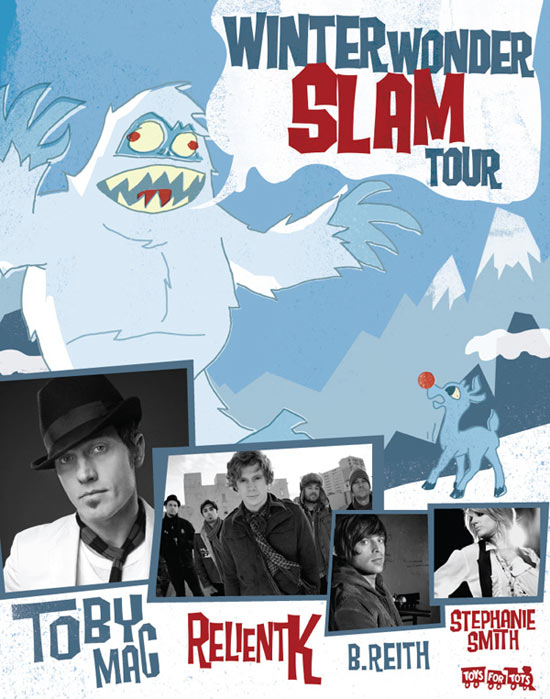 TobyMac, Relient K, Stephanie Smith, B.Reith
11/20/09, at Hammerstein Ballroom in New York City, NY
For a few years now, TobyMac has presented the annual Winter Wonder Slam Tour - a mix of some of the hottest contemporary Christian rock, pop, and hip hop acts with a little Christmas cheer thrown in for good measure. This Fall marked the first opportunity we had to experience the tour, as we trekked to the bustling New York City to see the tour's second performance of its 2009 run.
The Hammerstein Ballroom is an often lauded venue for its setup and appearance. With an open floor area for standing room and a few tiers of beautiful balcony space, the size of the venue allows for what appears to be not a bad seat in the house. The show began a bit earlier than its 7:30 start time with independent act Doubledge, locally from the Bronx, who were added on to this specific spot of the tour. The band performed a few of their original songs, but offered too much of the typical edgy-but-pop rock sound that bands like Creed, Kutless, Seventh Day Slumber, and so many more have all done for years. While their lyrics showed their hearts and passion were in the right place, they added a slight generic feel to the evening, but this was remedied with Winter Wonder Slam's official opening act.
New Gotee Records hip hop/R&B/pop artist B.Reith was the Winter Wonder Slam 2009 opener, fresh off of the Fall Creation Festival: The Tour. On that run, B.Reith brought out with him only a DJ to accompany him. This time, for the Winter Wonder Slam Tour, B. had a little more of a band for support: "Garfield" on drums, and "Snoopy" on bass. Reith tried to tone down his on stage energy just a little to compensate for the added live band, and altogether changed the dynamic of his show. After being introduced in person by TobyMac (Toby supplied Reith with an intro video on the Creation Tour), He opened again with "Comeback Kid," before singing an ode to New York and displaying a piece of tape stuck to the bottom of his sneaker that read "I Heart NY." It was an instant crowd pleaser. "I Know" from his debut album, Now Is Not Forever followed, and then B.Reith wrapped up his short set with the acoustic-based "Mess" (for which he picked up a guitar for), and "Old School," which was featured on his debut EP, The Forecast.
When the lights went dim, the large screen behind the bands lit up with a clip from the film Elf. The scene, which was when Will Ferrell as Buddy the Elf declares that "I like smiling. Smiling's my favorite," was a fun surprise for the audience while we waited for the next act to begin. Band member GabeReal, from TobyMac's backup team Diverse Citizens, came out to introduce the next performer, and Gotee pop rock artist Stephanie Smith was soon opening with "Pieces Of My Heart," from her new self-titled EP. The young singer, backed by a full live band, possessed a good stage presence and tried to work the crowd a bit. The title cut from her debut album, Not Afraid, was next, followed by another new one, "Back To Innocence." Smith then paused to emphasize her love for rock music (which she did maybe a little too much during her set?) and launched into a cover of The Arrows' "I Love Rock 'N' Roll," and then followed it up with her own "Love Out Loud," which she used to mix in a portion of Argent's "God Gave Rock and Roll to You."
The next Christmas movie clip that showed between sets was from the stop-motion animated Rudolph The Red-Nosed Reindeer classic, particularly the scene where Yukon Cornelius comes face-to-face with the Bumble. Ohio pop punk rockers Relient K then opened their set appropriately with their gem of a rendition of "Sleigh Ride." Their own animated music video for the song showed behind them as they performed it, and once the song ended, the video footage switched to a live feed of the guys on stage. They then moved into the fan favorite "Who I Am Hates Who I've Been," before pausing to talk to the audience. Frontman Matt Thiessen and guitarist Matt Hoopes talked a little about their latest record Forget And Not Slow Down, and encouraged the audience to give the record - which displays a little bit of a different sound for the band - a chance because they really enjoyed making it. RK then performed the title track from the new album, followed by "Therapy." Relient's "Forward Motion" and "Falling Out" were next before the guys brought out a string of holiday tunes starting with their take on "We Wish You a Merry Christmas," as well as their originals "I Celebrate The Day" and "Merry Christmas, Here's To Many More." The stage setup for the guys was a little festive. The gear behind bassist John Warne had a web of Christmas lights draped over it, while a lawn ornament of Santa Claus stood next to the drum set and was illuminated about halfway through their set. A nice addition to their set list was "The Lining Is Silver" from last year's Nashville Tennis EP, and they then closed with another fan favorite, "Be My Escape." While Thiessen was seated at his piano and using a mic stand mounted atop the wooden case, the stand collapsed. Thankfully, one of the band's techs came running out to hold the mic for him while Thiessen finished "Be My Escape" with a snippet from "Have Yourself a Merry Little Christmas."
A longer set change followed as the stage had to be cleared of the opening acts' gear before the TobyMac entourage would emerge. The lights dimmed again and as the music began to slowly build anticipation, large lights at the back of the stage lit up to spell out "TOBYMAC." And with that, Toby and his band, Diverse Citizens, came out to the sounds of "Let's Get This Party Started." But while the track is an oldie - from his first solo project, Momentum, Toby wasted no time introducing the audience to new music from his forthcoming February 9, 2010 release, Tonight. He performed "Showstopper," a song that sounds destined to be a live favorite. McKeehan followed it with "I'm For You" and "No Ordinary Love" from his current record, Portable Sounds, and moved right into "J-Train" without a second to breathe. Toby then slowed things down considerably for "Made To Love," pausing to encourage the audience and adlib additional praise to our Father before the song's end. Another cut from his debut, "Irene," was next, before Toby gave the spotlight over to his band as they mixed portions of their song "Party" (from Hip Hope 2008) with freestyle rap solos from Shonlock and GabeReal. Nirva then got a chance for a singing solo with "Awesome God," before Gabe asked Toby to give the audience something old school. With that, Toby tore into the standout rap solo from DC Talk's "Jesus is Just Alright" to conclude the run of solos. It was an awesome new addition to the set.
TobyMac and his impressive entourage then broke into another fan favorite with the highlight "Boomin'" before McKeehan stopped to talk to the audience and share from his heart. He talked about when we need to return to Christ that we don't have to chase after Him, but that He will meet you where you're at each time. It became a good segue into "Lose My Soul," which ended in a few choruses of the Christmas verses, "Come Let Us Adore Him." Another highlight, "Gone," was next followed by "One World," and then the TobyMac band's theme song, "Diverse City." Toby took this time to introduce the band, including the newest member for this tour, Byron "Mr. Talkbox" Chambers, who was a worthy addition to the incredible assembly of talented musicians on stage. Each playing member gave a bit of a solo, and mini odes to Michael Jackson's "Thriller" and "Beat It" were thrown in for fun. Toby then introduced another new one, "Funky Jesus Music," before breaking out the classic "Old School" medley that features "Play That Funky Music," "Rollercoaster," "Freak Out," "That's The Way," and "We Are Family." At the song's close - and surprisingly, their set pseudo-finale - Toby named multiple skin colors and church denominations as all being part of one family. It was a great reminder to the audience, and especially such a melting pot as New York City, that we need to treat each other like family.
When Toby and his band left the stage, the room went dark and the sceen at the rear of the stage illuminated once again with a clip from a Christmas film. The scene from A Charlie Brown Christmas when Linus tells Charlie what the true meaning of Christmas really was a great and appropriate clip to show. And when the stage lights came back on for backlighting, setting a somber mood, Toby began singing his latest single, "City On Our Knees." The video switched over to clips of tragedies and poverty, beginning - a little awkwardly - with images of New York City after the September 11th terrorist attacks. It was a poweful way to get the message across. The band then broke into a new version of "Burn For You," which was a neat change of pace. However, a new take on the DC Talk track "Jesus Freak" opened the song with Toby's first rap verse, giving the song a much different feel. It was awesome, as usual, to hear the song live again, but the rearrangement didn't flow quite as well. And just as it looked like the evening was finished, every band and artist that performed in the night came back out on stage for a unique take on "Winter Wonderland," by singing "Winter Wonder Slam" instead. It was a fabulous finale, and a great way to unite everyone for the close of the evening.
After finally getting to experience the Winter Wonder Slam Tour, I'm quite glad that I did - and it makes me wish I could have seen previous runs of the tour. Hopefully we can catch future installments of the Winter Wonder Slam Tour, and if it rolls into your town, it's a good way to hear some solid new music and ease into the Christmas frenzy with a wonderful show.
--
John DiBiase
, 11/30/09
B.Reith Set List

01. Comeback Kid
02. I Know
03. Mess
04. Old School
Stephanie Smith Set List

01. Pieces Of My Heart
02. Not Afraid
03. Back To Innocence
04. I Love Rock N Roll
05. Love Out Loud/God Gave Rock N Roll To You
Relient K Set List

01. Sleigh Ride
02. Who I Am Hates Who I've Been
03. Forget And Not Slow Down
04. Therapy
05. Forward Motion
06. Falling Out
07. We Wish You a Merry Christmas
08. I Celebrate The Day
09. Merry Christmas, Here's To Many More
10. The Lining Is Silver
11. Be My Escape
12. Have Yourself a Merry Little Christmas
TobyMac Set List

01. Let's Get This Party Started
02. Showstopper
03. I'm For You
04. No Ordinary Love
05. J-Train
06. Made to Love
07. Irene
08. Diverse Citizens (Interlude)
09. Boomin'
10. Lose My Soul/O Come Let Us Adore Him
11. Gone
12. One World
13. Diverse City
14. Funky Jesus Music
15. Old School Medley
Encore
16. City On Our Knees
17. Burn For You
18. Jesus Freak
19. Winter Wonder Slam
Winter Wonder Slam 2009 Photo Gallery
click on an image for a bigger size


Doubledge:

B.Reith:

Stephanie Smith:

Relient K:

TobyMac:

*all photos by John DiBiase and are the property of Jesusfreakhideout.com