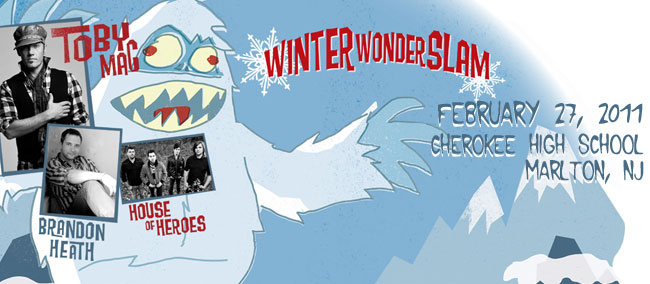 Winter Wonder Slam Tour
TobyMac, Brandon Heath, House of Heroes
2/27/11, at Lenape Performing Arts Center, Cherokee HS in Marlton, NJ
In the fall of 2009, I finally got the chance to experience TobyMac's Winter Wonder Slam as it took a break from its usual West Coast run to visit our corner of the East Coast. This year, the tour made another East Coast stop and ventured into the Philadelphia area, stopping at Cherokee High School in Marlton, NJ. The event was actually booked and hosted by Philadelphia Eagles player David Akers, who wanted the night to be an outreach to the youth of his area.
After the high school auditorium, named the Lenape Performing Arts Center, filled up quite nicely, Ohio rock band House of Heroes kicked off the evening's festivities. Armed with an energetic rock set, the foursome were ready to help wrap the tour up on a high note. This was the final night of the 2011 Winter Wonder Slam tour and most tour finales are rather "anything goes" when it comes to pranks and silly antics on stage. But all went rather smoothly for most of the night, as House of Heroes performed "Elevator," "So Far Away" and "Somebody Knows" from their newest album Suburba before closing with "In The Valley of the Dying Sun," from their acclaimed release, The End Is Not The End. At this point, frontman Tim Skipper announced that they had prepared something extra special for the final night of the tour and launched into a cover of Journey's "Don't Stop Believin'," which was epically executed. The band was also joined by some stage crew and members of other bands dressed in high school drama team style garb they obviously found lying around back stage. It was a rousing rendition and one the audience clearly enjoyed.
As the set change was underway, GabeReal from the Diverse City band came out to emcee a bit and tell Black History month facts and jokes before also talking about this being the last night of the tour. When things were all set, Brandon Heath's entourage emerged to support the singer for his set of the night. As popular as Heath has become, it still felt like a stylistic mismatch to have House of Heroes - a young rock band - followed by an acoustic/pop singer/songwriter, still followed by the high energy rock/rap/pop hybrid of TobyMac and his band. Last year Toby, House of Heroes and Skillet united for one powerful evening of music. It was a more inspired line-up for sure. And this isn't to knock Heath by any means. While his music is tailor made for radio success, his live performance proves he's got the voice and talent beyond what can be captured in a studio session. And it certainly doesn't hurt that he surrounds himself with a strong band of musicians to back him. Brandon opened with the title track from his latest album, Leaving Eden and followed it with "Your Love" and "Stolen," also from the new record. At this point, Brandon took a moment to reflect on how he hadn't been back in a high school setting since he graduated his as a student, and reminisced about losing a talent competition back in the day (and considering where he is now). Appropriately, he moved into "I'm Not Who I Was" from there, with the audience joining in singing along. Afterwards, he talked about his parents divorcing while he was in the eighth grade and how he had met a girl named Cherish at the time, who went on to teach him his first guitar chord. He also shared about how, thanks to the ministry Young Life, he had accepted Jesus into his life at the age of 16. "Love Never Fails," from What If We, was next and then the singer put down his guitar to be able to roam the stage much more freely with just a mike in hand for "Might Just Save Your Life." Heath took some time afterwards to talk about dreams and inspirations, and talked about Akers bringing the tour to this school for an outreach. He followed it with "Wait and See" with just him and his acoustic, with the rest of his band sitting this song out. As Brandon's set began to wind down, he performed his biggest hit "Give Me Your Eyes," for which the other bands (including Toby) came out dressed in wigs and random outfits to prank Heath. Afterwards, he ended with "Just One."
Before TobyMac's headlining set, Eagles Placekicker David Akers took center stage to share his heart for ministry and talk about his testimony and how his football career and faith became intertwined. It was an inspiring message and it was really neat to see a local pro football star getting real with fans. During the intermission that followed, David mingled with the audience a bit and even passed out professional photos of him on the field.
After the intermission, the main event kicked off with a bang. TobyMac opened with the title track from his new album, Tonight. Surrounded by his usual entourage - which consists of eight members, not including Toby himself - a TobyMac show is always a flurry of energy on stage. And despite Toby being no spring chicken, it's just awe-inspiring to see how frenetic and exhilarating his shows can be. GabeReal offered a little beat box accompaniment on "For You," which followed the opener, and then DJ Maj displayed what he could do for the introduction to "Showstopper." Without missing a beat, "Showstopper" merged into "The Slam," and Toby kept the music flowing swiftly as the lights then dimmed, the "Flight 92" intro played, and "No Ordinary Love" succeeded it. The team turned it into a sort of medley with "Ordinary..." merging into "J-Train" which then merged into "Diverse City." This seemed as good a time as any for Toby to stop to catch his breath. He talked about love and God's love and tied it in nicely to his radio hit "Lose My Soul." Toby then paused to say that when he was performing around Christmas time, he realized that a particular holiday song they were playing was also a straight-up worship song, and he proceeded to lead the audience in a few choruses of "O Come Let Us Adore Him." "Made To Love," with some additional refrains of "Everything's Gonna Be Alright" preceded the usual band introductions, which tied in various Michael Jackson covers (like "Billy Jean" for B Haley on drums, "Smooth Criminal" for Toddie Funk on bass, and "Thriller" for Dave Wyatt on keys). Toby then stepped aside to give the spotlight to Shonlock, Gabe and Nirva for individual solos from each of them. "Boomin'" was next, and the closest thing to "prank night" pranking that was done was someone off-stage began pelting Toby and his band with little orange earplugs. DJ Maj was then given a little solo time and offered up a beat/remix while B. Haley and Byron ("Mr. Talkbox") Chambers stepped down front (from the stage background riser) to dance. Shonlock then took center stage to perform a portion of his own solo material, a new song called "Something In Your Eyes." But the show kept moving really quickly as a video from Toby's son Truett - AKA "TruDog" - displayed on the screen behind the band. All of this was sort of done as a distraction as Toby, guitarist Tim Rosenau and GabeReal set up in the middle of the auditorium to offer a special acoustic set. On previous tours, a little stage has been set up behind the audience, but given the layout of a high school auditorium, it didn't really work for their usual approach. For this set, fans gathered in close as the trio performed a pretty intimate little set. They started with "Catchafire," which happened to feature a special appearance by NJ local MOC who appeared on the studio recording of the track. An acoustic version of "Gone" was next and then Toby sang "Happy Birthday" to a nearby fan. He performed the American Idol phenomenon "Pants on the Ground" before getting more serious for the encouraging "Hold On." Toby then read some scripture to introduce the DC Talk cover of "In The Light." As they started "Get Back Up," Toby traveled back to the stage and was joined by Brandon Heath (who was now sporting a David Akers Eagles jersey) to sing along. They then closed their impressive set with "Funky Jesus Music." An encore can usually be expected from a Toby show, and this time Toby and his crew emerged once again for a moving performance of "City On Our Knees." McKeehan even incorporated Bluetree's "God Of this City" into the mix and "There Is No One Like Our God" for a real worshipful moment. Finally, however, and without disappointing the fans who were expecting it, TobyMac closed with "Jesus Freak" once again. It was a stellar performance and a highlight of the evening as usual. They then wrapped it all up with a few choruses of the oldie "Na Na Na Na Goodbye," with all the bands and crew joining them on stage. The frenzy ended with water bottles being sprayed everywhere and Toby riding on a crew member's back like a cowboy would a bull. Pure craziness.
With another tour under their belts, TobyMac and Diverse City band still offer one of the best performances around. High energy and a diverse array of music styles and talents all contribute to creating a truly memorable concert event. If you haven't seen these artists live yet, be sure to remedy that next time they come your way on tour.
--
John DiBiase
, 3/12/11
Winter Wonder Slam Tour
click on an image for a bigger size
**vertical images cropped for thumbnails**
House of Heroes:
Brandon Heath:
TobyMac:
*all photos by
John DiBiase
and are the property of
Jesusfreakhideout.com