Man Alive, House of Heroes, The Showdown, Skillet, Monday Morning, tobyMac, The Kick, Copeland
7/1/05, Cornerstone Festival, Bushnell, Illinois
Three reasons why I woke up Friday morning with a smile on my face: House of Heroes. Or maybe it's one reason composed of three words? Or perhaps it's the fact that House of Heroes is a three-piece band that makes music like nobody's business? However you want to look at it, the fact remained that my favorite band was playing on this most glorious of days. It didn't hurt that The Kick, and Copeland were playing that day as well. Them, and many other bands I love. Thursday was the pre-game show…Friday was Monday Night Football.

But before I can go any farther, I must address the sad occurrences that preceded the events of the day. A family emergency caused our good friends the Rosses to make an abrupt departure from the festival. I had not found out about the ordeal until late the night before; but the next day, it was decided they would indeed be leaving. We said our extended goodbyes, and they were on their way. But we gained one, in the form of Amanda Heath, who was traveling with the Rosses. Since she couldn't just run off to distant states with the family she came with, she stayed with the Turners during the remainder of the festival, and we got her back to Tennessee.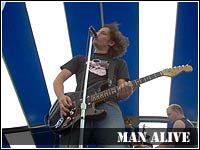 At 2PM, my whole crew headed over to see the much-hyped-by-me Man Alive. I had caught their set back home in Nashville a couple of weeks prior. They played straight up punk rock. Kind of what would happen in MxPx and Hangnail clashed. They have a class to them that few punk rock bands can claim. One listen to "Give Me a Sign," and, trust me, you'll be hooked. (Hey! There's always a reason!) They're actually from Israel, remarkably enough. They're another band I strongly suggest checking out.

Unfortunately, I could only stay for about three songs, because House of Heroes was set to play in the Decapolis tent (Encore 2). I really can't explain to you why it is that I love them so much. All I know is that when I am asked what kind of music I'm into, I can simply hand you a copy of What You Want Is Now from House of Heroes and say, "That is everything I like about music… summed up in under an hour." Beautiful. Tim, A.J., and Colin took the stage for what would be the second time I had seen them live (The first time was at GMA week, so it probably shouldn't count). They began with "Fast Enough" from their self-titled album that released in April. In fact, all but one track ("The Drugs the Drugs" from What You Want Is Now) were from their self-titled album.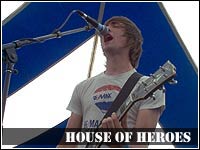 All three members of the band sing vocals, and it's amazing to watch it in action. Whereas most bands have a hard time recreating live the vocal layering that most people like to label as "over production" on albums, House of Heroes has three able-bodied men up to the task. It was most apparent during "Friday Night," where the band members literally took turns singing the chorus as the songs progressed. They ended their set with "Mercedes Baby" and said goodbye.

Besides the never ending supply of hardcore bands set up just about everywhere, and the ever-present supply of dust that fills your lung with each and every breath you take while at the festival, another staple of Cornerstone is the lack of cell phone service. I may have said nothing else matters while you're at Cornerstone, but, c'mon, I have a life! And the cursed lack of cell phone service was totally cramping my style. That staple was accompanied by people throughout the weekend in "blackmail" poses, just to get service because "If I stand with my head tilted up and my left arm extended outward with my lower arm hinged at a 90 degree angle, I get one bar!" But I found that if I went up to the entrance of Cornerstone (A considerable walk), I got service and was able to make some phone calls, because I have a life. So…that's what I did.

I also took some time to hand out my CD, which I had finely crafted. I didn't even have cases for them. But I brought about twenty-five of them to Cornerstone and placed them in my camera bag. Then I handed them to anyone that had a Five Iron Frenzy shirt on, as that band is my hero, and heavily influenced the musical direction of my…music. I found Reese Roper (Former vocalist for Five Iron and lead man for Roper) and told him of his impact on my life. I was even able to give him one of my CDs. The two-minute conversation was one of the most meaningful of my life.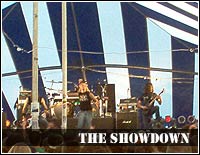 At 7PM, Jordan and I headed over to the HM Magazine Stage to see our favorite metal band The Showdown play. Unfortunately, we only were able to stay for a few minutes, because Skillet was playing the main stage at 7:40PM. Once you had factored in the fact that The Showdown started a bit late, and it took fifteen minutes to walk to the main stage, it equated to only three songs of The Showdown glory. The Showdown is the only metal band I listen to, and it was nice to finally see them live. They play in Nashville all the time (They are from Tennessee), but for one reason or another, I just so happen to miss every single one of those shows.

But as I said, we stayed for three songs and then moved on to the main stage to see Skillet. They were the first "hard" band that I was ever able to get Jordan into, and now he listens to more hardcore than I do, so it was nice to finally see them with him. It was his first time seeing them, too (my second).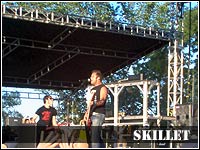 Once you have been watching shows from the tent stages all day, the main stage just seems large, impersonal, and lacking. And Skillet's set especially seemed to reflect that. They played a good set, but you just could not get over the fact that everything was so massive. Perhaps it was just Jordan and myself that thought this, but it was a downer. Regardless, it was great to see them live again. They played many songs from Collide, as well as "Alien Youth" and "Best Kept Secret" and others.

After Skillet, Jordan and I regretted missing the rest of The Showdown's set, and it only got worse when Calista Turner and Amanda Heath came running back to the campsite, ranting and raving about this band they had seen on one of the teeny tiny stages. Kingsdown was the name of the band. We put in their EP, and immediately I wanted to find the band and purchase a copy. Emotion-laced, piano-lead emocore. It's better than almost everything out there, I guarantee you. I strongly suggest everyone look into them. One day they'll be big. The funniest part was the fact that they screamed, but Amanda and Calista (advocates against most all screaming) did not care. They, in fact, defended it! "He put so much emotion into his performance," they said of the lead singer. We walked all the way to the other end of the festival grounds to find one of the band members, from whom I purchased their EP.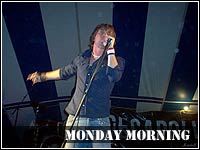 Afterwards, Amanda and Calista and I walked over to Decapolis Stage to see Monday Morning. We made up approximately 30% of the audience, and Monday Morning was quick to admit their dismay. But I tried to make up for it by screaming that I had been a fan for years, which I have. I also asked them to play "Amazed," but they were too busy playing new songs. All were good, and I'm excited to hear the new album.

I walked back over to main stage to find part of my crew, who wasn't there. But another portion of them was, so I watched one or two songs of tobyMac's set with young Donny Turner. I have seen tobyMac play before, and I was excited that Donny finally got to see him live, considering his love for Toby.

By the time I left it was probably 10:20PM, and The Kick started at 11PM. Anybody who has heard The Kick can understand my considerable excitement. What's funny is their ridiculously large fan base, when you observe the fact that they're really nothing more than a local band out of Orlando, FL. Sure they tour, but for the most part, they simply play local shows. And every time I see them live, they have "sold out" of their CDs. Still, they're a remarkable rock n' roll show. By the time I got to Encore 1, I was unable to find anybody. So I watched The Kick's set all by my lonesome. But they were so good that I barely noticed. The Kick is so nonchalant, you'd think they were just a bunch of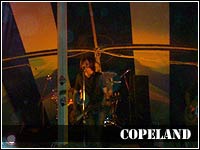 friends that said, "Heck…let's start a band and play a show." The lead singer stated "Man, we're so good!" after almost every song, and repeatedly told the audience to "shut up!" when he wanted to say something. The obvious show highlight, though, is the traditional playing of "All the Way." If you haven't heard it, do yourself a favor.

They finished, and I then found my brother and sister in the back. However, I ended up watching Copeland by myself, for they wished to stay in the back. Copeland…can words describe my excitement? Again, you may call me a poser, but I just got into them after buying In Motion (but at least I went back and picked up Beneath Medicine Tree)! They took the stage and played one of the best shows I've ever seen. They bucked ever-growing trends, and simply played what the crowd wanted to hear. The majority of their set came from Beneath Medicine Tree. At one point, Aaron Marsh asked the audience to scream out their favorite song from their first CD. They played "Brightest," "Take Care," "California," "Pin Your Wings Down," "No One Really Wins," and others before making their exit. But, the audience wanted more, so they came back out and played "Priceless," and then said goodnight. On to Saturday... -- Josh Taylor, 8/05