Forever Changed, The Myriad, Chasing Victory, The Roosevelts, The Wedding, Brandston, Jars of Clay, Paramore
7/3/05, Cornerstone Festival, Bushnell, Illinois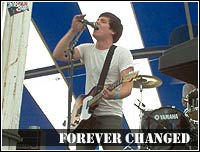 The Turners had departed late the night before, and it was down to my family and Amanda. At 2PM, we went and saw Forever Changed at the Indoor Stage. They happen to be another band I highly suggest checking into if you have not already. They played tracks from their Floodgate Records debut The Need to Feel Alive. I'd seen them live just a few weeks ago at RCKTWN for the first time, and it was nice to see their amazing live show again. Before the set was over, the guys of Chasing Victory attacked the stage and helped Forever Changed in the playing of the 80's song, "Working For The Weekend."

Anyway, Forever Changed announced that Chasing Victory would be playing a last minute show on one of the very small stages in a couple of hours. This was exciting for me, because I had missed their set the night before due to the whole "Switchfoot playing at the same time" thing.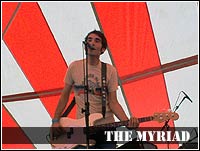 Amanda and I goofed off until 4:10, when The Myriad began to play. I had hardly heard them at all, but it became obvious quickly that these guys were the Christian version of Muse. I really wasn't sure how I felt about that. On the one hand, I absolutely love Muse, but on the other hand…I absolutely love Muse. And another band playing identical music was just kind of…odd. Still, The Myriad played a great set, and I've become quite a fan.

I missed a bit of their set, however, because I went over to check out Chasing Victory. They played songs exclusively from their soon-to-be-released album They Call This Abandonment. I didn't stay for long, though, because I had a really hard time enjoying them without my good friend Ethan, who happens to be their biggest fan. After the set, I even got a picture of the guys of Chasing Victory holding a sign that I made that said "Chasing Victory Loves Ethan."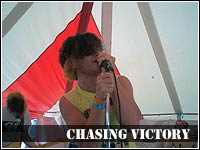 Afterwards, I got back together with Amanda, and we headed over to the Rock for Life Stage to see The Roosevelts play, a local band from the Nashville area. Their music is along the lines of The Huntingtons, who incidentally played their final show at Cornerstone that weekend. The Roosevelts played a good set, though I am only familiar with one of their albums, so I didn't know any of the songs at all.

Amy, Jordan, and I left a bit early to make it over to Decapolis Stage to see The Wedding play. I really like The Wedding. On one hand they're just your average pop/punk band, but on the other, they're…not. And you can't really explain what makes them special, you just know they're great. So, I got to see them for my third time. They played favorites like "One Eye Open," "Morning Air," "Wake the Regiment," "Move This City," "Water under the Bridge," and others. It was an energetic set, and the crowd was really into it throughout the entire forty-five minutes.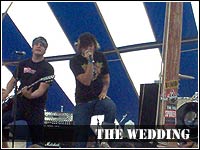 I parted ways with my siblings and met up with Amanda over at Gallery Stage to see Brandston. I saw them last year when they were on tour with Further Seems Forever, and I was very excited to see them again. I had not bought their CD the last time, but I made up for it this time. However, that meant I was unfamiliar once again with their music. Still, they played a great set, regardless of whether you knew the material or not.



We had all been nonstop for about six hours at this point, so we went back to the campsite and got some dinner before heading out to the last show I was really excited about of the weekend… Jars of Clay. I've listened to them longer than I can remember, but I had never seen them live,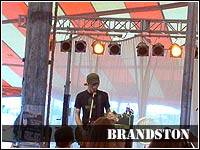 so you can understand my excitement at the prospect of seeing some of the all times greats in CCM history. Lead singer Dan Haseltine took the stage, armed with nothing but a cassette, which he held near his ear and close to the microphone; and from the distorted rhythm, sang "They Will Know We Are Christians by Our Love" from their latest disc Redemption Songs. Once the full band was in play, they played some oldies, such as "Flood," "Faith Like a Child," and "Love Song for a Savior," as well as new fare, such as the hit "God Will Lift Up Your Head." But not too long into the set, Ashley Cleveland joined the band, and they proceeded to play many different songs from Redemption Songs that she supplied background vocals for. It kind of frustrated me, though. I can understand taking advantage of having Ashley Cleveland there, and there is no doubt that Redemption Songs is a great album, but come on…there's so much Jars of Clay history to explore, and they barely scratched the surface. Still, it was absolutely amazing to see them live at long last.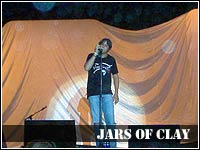 After the set, I was unable to find anybody, so I walked over to the camp of some people I had met a few days before. I sat around and helped them eat food that they didn't want to pack, and goofed a round. They were cool kids, and I had a blast hanging out with them. But around 11:30, I got a call letting me know that Paramore was fixing to play the Rock for Life stage. I said my goodbyes and left. Hopefully I'll see them again next year.




Paramore is a local band from Franklin, Tennessee that I saw live last year when they played a show with Roper. It was girl-fronted rock done right. So, needless to say, I was excited to see these local kids again. They were pumped, because their debut CD was getting ready to release, and they were excited to play the new material for the few that had gathered to see the last show of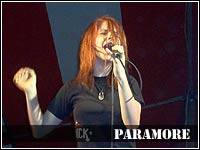 Cornerstone. Unfortunately, the set did not start until around 11:30 as I said, and it was scheduled to begin at 11:00, so they were only able to play four or five songs. Those included "Woah," "Pressure," and a few others.

Cornerstone was one of the best times I have ever had. Hands down. Music has been my life for longer than I can remember, and to finally be completely immersed in it was too beautiful to put into words. If you have not had the pleasure of a Cornerstone Festival experience, I can assure you it is well worth the money and effort it takes to get there. Cornerstone Festival '06 cannot come soon enough. -- Josh Taylor, 8/05