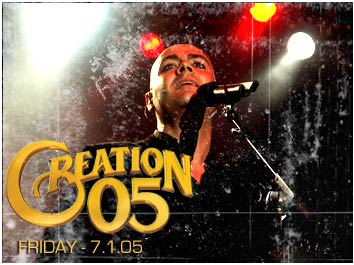 Family Force 5, 4th Avenue Jones, Thousand Foot Krutch, Disciple, John Reuben, Casting Crowns, Mat Kearney, Newsboys
7/1/05, Mt. Union, PA at the Agape Farm
Due to traffic and feminine grooming (fellow married guys know what I mean), we arrived a little later to Agape Farm than we'd desired on Friday, missing half of Family Force 5's electrifying Noon show. Offering the best "crunk" rock has to offer, the five-piece masters of funk moved the crowd with their intriguing show, leaving quite an impression. When their set had finished, performing will-be hits like "Earthquake," "Kountry Gentlemen," "Numb," and "Drama Queen," the stage emcee announced that South African act Tree63 wouldn't be able to make it for their 4PM scheduled set, with Family Force 5 returning for an encore set instead.
Shortly after Family Force 5, hard rock band Disciple came out for one of the highlight shows of the day. Opening with "Rise Up" off their brand new self-titled record, the crowd just ate up their energetic set. They played a lot of cuts from their new record, including their current number one hit single "The Wait Is Over." After an encore, they left the stage to make way for another great show...
One of the more underrated new groups in Christian music came up next at 2PM. LA-based 4th Avenue Jones rocked with their exciting blend of styles they call "hiprocksoul." Unfortunately, Pillar was performing in the exact same time slot on the Main Stage while 4th Ave played on Fringe, leaving them with a diminished audience. The six-piece band opened with "Fabulous Dramatics" from their new Gotee Records release Stereo, and followed smoothly with their amusing performance of "Sorry" and deliciously upbeat and prayerful "Take Me Away." They didn't let up, continuing with "Concentration," "Monumental Continental," and a rousing pair of impressive solos from guitarist Timmy Shakes and violinist Gailybird. Closing with "Unhappy Birthday" and their single "Stereo," the crowd screamed for more. Lead vocalist Ahmad Jones encouraged the crowd to make some noise as they performed a personalized cover of Nirvana's "Smells Like Teen Spirit."
At 3PM, Bob Lenz gave a message entitled "Angry At God?" on the Fringe Stage while the rest of the festival shut down for the afternoon speakers. At 4PM, instead of Tree63 who couldn't make it, Family Force 5 returned for an encore performance to rival their earlier set. There seems to be a new band that is exceptionally well-received almost every year at Creation that gives fans excitement in sort of "discovering" a new artist. Family Force 5 seemed to be this year's pleasant surprise for many. At 4:50PM, Canadian rockers Thousand Foot Krutch went on. They moved the crowd with ease, opening with the heavy and catchy cuts "Faith, Love, and Happiness," "Quicken," and brand new song "Absolute." The band stuffed their slot with as many TFK hits as possible, including "Phenomenon," "Step To Me," "This Is A Call," a new song called "Move," the old favorite "Puppet," "Bounce," and hit "Rawkfist."
Ohio born and raised John Reuben performed at 5:50PM on the Fringe, letting his band take center stage briefly before joining them for new song "Follow Your Leader." This was John's fifth (or so) time at Creation East and he performs it like a pro. Offstage, John's personality is so laid back and collected, and it's still amazing to watch his onstage transformation. Reuben knows how to move his audience and get them drawn in and he does it exceptionally well. Fittingly, he performed "Move" next, followed by the crowd pleasers "I John Reu," "Do Not," "Gather In" and the newer party song "So Glad." Tossed into the mix, the aggressive "There's Only Forgiveness" was a real live treat, which preceded a Matt-Thiessen-less rendition of "Nuisance," the fun nonsense of "Doin" and finally the new rocker "Out Of Control."
The lineup at Fringe was real solid. It was probably the best bunch of artists one could find at Creation all in one day, making for one really great afternoon of music. Meanwhile, Main Stage had seen a 5:40PM set from Superchick and a 6:25PM show from Jeremy Camp, which we missed due to our positioning at Fringe. At 7:10PM, there was Worship on Main with Christopher Wright, followed by another message from Bob Lenz entitled "Yahwey." At 8:40PM, Beach Street's flagship artist Casting Crowns performed, opening with their runaway hit "If We Are The Body," and proceeded to mix up their set to include songs from their debut and their forthcoming sophomore release Lifesong.
At a little before 10PM, a surprising sound drifted from Main Stage... Mat Kearney's "Bullet." Sure enough, I ran hurried over to see him standing alone with a mere spotlight illuminating him. With just him and his guitar, Kearney followed up "Bullet" with "Undeniable." Before finishing the song, he freestyled a verse for his Creation audience which was received with mass applause. After "Undeniable," Mat walked off stage and it was only a few short moments before the famous Aussies, Newsboys, walked on.
It was announced that the entire Newsboys set would be recorded for an upcoming Live DVD to be released in February with their next album. The guys opened with "Joy," immediately getting the crowd going. During their next song, "Million Pieces," I went down front for photos where one of Creation's press staff ran up to me and other photographers around to inform us that the power was about to be cut during the Newsboys' set. I was surprised that, upon finishing "Million Pieces," that they went right into "Entertaining Angels" without stopping. But upon its completion, the show was stopped. An announcement was made about a transformer failing and needing repair and that the show needed to be halted for thirty to forty five minutes. A good chunk of the audience filed out, either to go to the vendors or perhaps turn in for the night. It was sad to see people leave instead of sticking it out. Much of the audience that remained tried making the best of the wait, even singing worship songs without musical accompaniment. The DVD taping camera crew taped some of the members from the band backstage during the break as they got ready to go back on, which could make for some interesting bonus footage. At 11PM, the Newsboys came back without anything said, jumping right into "Blessed Be Your Name," "Amazing Love," and "He Reigns." The audience was ready to worship and it was great to see it. Lead vocalist Peter Furler gave a brief message next while the band took a seat on the stage behind him. Peter gave a truly inspiring word on salvation and challenging believers to live justified. It was perhaps the most powerful message I've ever heard him give. When he finished, the band came back out for a fun rendition of "Shine" before they left the stage. An encore was inevitable, and they started with "Breakfast," followed by a brand new song (probably titled "I Am Free"), before closing with "It Is You." Although short, their set was a festival highlight.
The band quickly exited and retreated to their trailers, but the night wasn't over yet. Candles were handed out to the crowd and stage crew for the annual candlelighting ceremony and founder Harry Thomas read scripture as the entire Main Stage grounds began filling with tiny candle flames. It's truly a powerful sight to see and a wonderful end for the evening...
On to
Saturday
... -
John DiBiase
, 7/8/05
Creation 2005: Friday Photo Gallery
click on an image for a bigger size
Family Force 5 -- 12:00pm Fringe Stage
Disciple -- 1:00pm Fringe Stage
4th Avenue Jones -- 2:00pm Fringe Stage
Family Force 5 -- 4:00pm Fringe Stage
Thousand Foot Krutch -- 4:50pm Fringe Stage
John Reuben -- 5:50pm Fringe Stage
Casting Crowns -- 8:40pm Main Stage
Mat Kearney -- 9:55pm Main Stage
Newsboys -- 10:10pm Main Stage
Candlelighting -- Main Stage
*all photos by John DiBiase or Amy DiBiase, and are the property of Jesusfreakhideout.com
Creation 2005 Review: MAIN | Wednesday | Thursday | Friday | Saturday