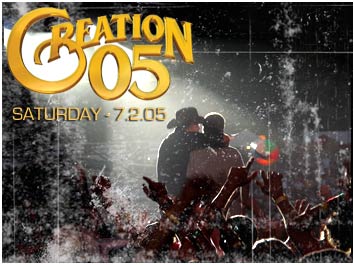 House Of Heroes, Hawk Nelson, Joy Williams, Audio Adrenaline, MercyMe
7/2/05, Mt. Union, PA at the Agape Farm
Saturday is always sort of a bittersweet day each year. It's the fourth and final day of being among 140,000+ believers, seeing some of your favorite artists in Christian music all day every day, and the last day to be breathing in large quantities of dirt and sweating from sunup to sundown. We overslept that morning, causing us to be late even worse this time. We had hoped to arrive early enough to catch The Myriad's opening set at noon on the Fringe Stage, but instead got there after 1PM, after the House of Heroes show that already begun. As we walked over to the stage, we could hear the song "Serial Sleepers" drifting through the crowds. The band had just played Cornerstone festival the night before for the first time and were playing their debut set at Creation. We arrived before the conclusion of "Serial Sleepers," which was succeeded by "The Drugs The Drugs" from their indie release, followed by "Pulling Back The Skin," "Buckets for Bullet Wounds," "Suicide Baby," and ending with "Mercedes Baby" from their Gotee debut. The first and only other time we had seen them perform live was at GMA week, where they had only played a couple of songs. It was nice to see a longer show by them, and they were a nice addition to the festival lineup.
At 2PM, our friends in Hawk Nelson opened up their set on the Fringe with their popular song "California." The pop/punk band did exceptionally well for having just lost their drummer and having to perform with a temporary one. Their fun and catchy set continued with "Letters To The President," "First Time," and "Right Here," keeping up the momentum of their rock show. Following "Someone Else Before," and the edgier "Like A Racecar," they played their sensitive ballad "Take Me," a powerful song of prayerful surrender to God. They followed it up with "Long And Lonely Road," "Things We Go Through," and "Every Little Thing."
The rest of Saturday was quite nontraditional. At 4:30, we attended a press conference for Audio Adrenaline and then waited around until after 5PM to conduct an interview with band members Mark Stuart and Tyler Burkum. Afterwards, we wandered the festival grounds a bit before catching some of Joy Williams' Main Stage set at 6:15.
As a surprise twist in scheduling for this year's Creation fest artist lineup, Audio Adrenaline was not an evening headliner. While they did have the second-to-last spot for the night, MercyMe was a first-time closer in their stead. Nonetheless, AudioA performed at approximately 8:55PM, debuting new material from their pending new record Until My Heart Caves In, opening with "Clap Your Hands." What unfolded was one of the best shows of the week, as their setlist mixed up some old favorites with some soon-to-be ones. "Worldwide One," the song the band has used for their lead-off song for the past two years, was next, followed by "Mighty Good Leader" and the crowd-pleasing hit "Big House." The mood shifted to the more serious from there as they performed their missions theme "Hands & Feet," followed by the sensitive and reflective "Ocean Floor." The guys debuted another new song, a pop/rock ballad called "Starting Over" that served as a reminder to believers that through Christ's forgiveness, we can start fresh each time we fall. The old school rock anthem "We're A Band" preceded the title track from their new record "Until My Heart Caves In," before they invited some fans on stage for the upbeat radio hit "Beautiful." "Get Down" served as the band's final song, but an encore was expected. They returned for their new radio single, the worshipful "King," which left the audience with the proper mindset for the remainder of the evening.
We caught up with the band very briefly after the set, and stuck around for a few minutes of MercyMe's slot to snap some photos, before departing from Creation East 2005. It was sad to leave, but it'd been a great, satisfying week (despite the problems we had getting there). I urge anyone who can get the chance to experience Creation Festival to do so. It may not just be the highlight of your Summer, but the highlight of your life!
So until next time... g'night! -
John DiBiase
, 7/9/05
Creation 2005: Saturday Photo Gallery
click on an image for a bigger size
House Of Heroes -- 1:00pm Fringe Stage
Hawk Nelson -- 2:00pm Fringe Stage
Audio Adrenaline - Press Conference -- 4:30pm Press Tent
Joy Williams -- 6:35pm Main Stage
Audio Adrenaline -- 8:55pm Main Stage
MercyMe -- 10:10pm Main Stage
*all photos by John DiBiase or Amy DiBiase, and are the property of Jesusfreakhideout.com
Creation 2005 Review: MAIN | Wednesday | Thursday | Friday | Saturday