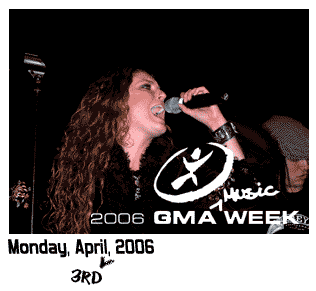 Monday really got the ball rolling for media. We started bright and early with a 10:30AM interview with BEC pop rock band Mainstay at the Renaissance Hotel. JFH staff Nashville area resident Josh Taylor joined us for the entire day, turning our little 'terrible twosome' into a 'triple threat' (Yes, that's a joke). Following Mainstay, Josh directed a Q&A with Mono Vs Stereo's metal extravaganza The Showdown. The rockers talked about their newest undertaking and the progressions between their debut A Chorus Of Obliteration and the forthcoming sophomore record. Josh was a real trooper for conducting his first ever in-person interview (Yay, Josh!).
After a brief break, we piled into a room with The Afters to talk to them about their debut I Wish We All Could Win and the band's success in the mainstream with their song "Beautiful Love." The soon-to-be 2006 New Artist Of The Year at the GMA Music Awards were a joy to talk to and the first in a strong trio of afternoon interviews. Just a half hour later, at 12:30PM, we met up with the delightfully personable Jeremy Camp to talk about his new record in the works, Beyond Measure, as well as his wife's pending debut solo project Don't Wait and his involvement with it. Jeremy shared with us that his wife was due later that month with their second child, but was in transit to meet him in Nashville in case the baby would be born early (and quite interestingly, we found out the baby was born just two days after our interview with Jeremy as she ended up going into labor the day after we talked with him!).
At 1PM, we reconnected with our boys in Hawk Nelson on the eve of the release of their second album, Smile, It's The End Of The World. Halfway through the interview, however, someone rudely yanked two of the guys out of the room for what we'd later discover was a double-booked interview (Can we say "poor planning?" Poor planning). It was still great to talk to Jason and Jonathan, but it felt odd to have lost Daniel and Aaron because of overlapping schedules. Nevertheless, the interview was a blast and sealed our afternoon of interviews, giving us plenty of time to hit up the Opry Mills Mall before the evening's must-see showcase.
And just like last year, this must-see event was none other than the Gotee Records showcase at the Exit/In. Last year, the setting was more intimate with a lot more modest turnout and a more relaxed lineup of artists (which inevitably closed in a ferocious fashion). Label co-owner TobyMac emceed the evening, with the opening artist being Pennsylvania-based pop/punk act Last Tuesday. Although entertaining to watch from start to finish, their music was less than impressionable, making for a somewhat weak start to the night's festivities. New rock act Fighting Instinct only slightly improved upon the opening spot. My first experience seeing the band live was in February when they opened for Family Force 5 late at night in a club in New York City. Their set then was less than impressive as the trio seemed bored at best. At the Gotee showcase, the guys seemed much more into the music and put on a more memorable performance.
Things really started to come alive when Ayiesha Woods, accompanied by a full band, shook the stage. Last year, Ayiesha's set was modest to say the least, just featuring her on piano with her brother on percussion. The two were in attendance once again, but with an entourage backing her up, Ayiesha put on a truly memorable performance for the first real highlight set of the night. Pop/rockers Storyside B followed, offering up their brand of daytime radio friendly rock for a performance that easily bested their recordings. But more importantly was Sarah Kelly's performance that followed suit. Mixing up more rock-driven tunes with a tender, heartbreaking piano ballad tossed into the mix ("At About Midnight"), Kelly presented possibly the more wowing set of never-before-heard tunes of the night. With one of the most powerful voices in music alone today, Kelly's set was flawless, only whetting the appetite of onlookers for her long awaited, much delayed sophomore release (now looking at an August 15th street date).
Oddly enough, The Showdown followed Sarah, widening the eyes of the unsuspecting and screaming the faces off of everyone within twenty feet of the stage. If anyone had managed to slip into a coma somehow during the course of the night, The Showdown surely had woken them up. Although impressive, their set was starkly out of place. And when vocalist David Bunton leaned forward to rip the tie out of one innocent female bystander's hair (only to wear it on his wrist for a few minutes before tossing it back at her), it only seemed more apparent that the band didn't really belong at this particular showcase.
The night came to a ferocious climax when Family Force 5 came out, opening with their newest single "Replace Me." Last year the band was mostly unheard of, and within a year's time had built up quite the fanbase, winning over many (including ourselves), so that a good core of the showcase's audience was actually there to see their brief set. This was proven when a quarter of the "sold-out" attendance cleared out upon the close of their set with "Earthquake." A longer set change didn't help either, prompting Toby to return to announce the final performance being Grits.
Although Grits are veterans of Christian hip-hop and remain a force to be reckoned with in the said genre, Family Force 5 is a difficult act to follow no matter who you are. However, Coffee and Bonafide gave their all for a rousing finish to the evening.
And one thing must be said about Nashville late-night night life... is there nothing in the city open late to eat at besides fast food?
On to
Tuesday
... --
John DiBiase
, 4/12/06
GMA Week: Monday Photo Gallery
click on an image for a bigger size
[random images]
Last Tuesday -- "Gotee New Artist Showcase" @ Exit/In
Ayiesha Woods -- "Gotee New Artist Showcase" @ Exit/In
Fighting Instinct -- "Gotee New Artist Showcase" @ Exit/In
StorySide:B -- "Gotee New Artist Showcase" @ Exit/In
Sarah Kelly -- "Gotee New Artist Showcase" @ Exit/In
The Showdown -- "Gotee New Artist Showcase" @ Exit/In
Family Force 5 -- "Gotee New Artist Showcase" @ Exit/In
GRITS -- "Gotee New Artist Showcase" @ Exit/In
*all photos by John DiBiase or Amy DiBiase, and are the property of Jesusfreakhideout.com
GMA Week 2006 Review: Sunday | Monday | Tuesday | Wednesday