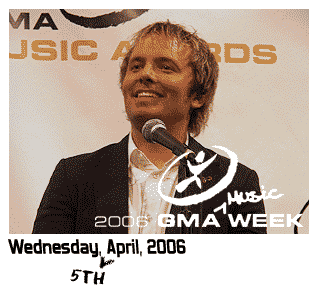 Wednesday is when all good things come to and end for GMA Music Week. This year (as opposed to last), we had nothing work-related on the radar except for the week's grand finale, The GMA Music Awards at night. However, we did have the pleasure of sharing lunch with a friend from Word Records at the delightful Wild Horse Saloon (had to get our fill of that place one last time before going back home).
Last year, we'd learned the hard way that it truly is essential to arrive at the GMA's as early as possible if you're attending the press room. Upon taking our seats in a much more spacious, much more accomodating press room than last year, it was a treat to be able to see some live footage of a dress rehearsal taking place on the monitors. Presenters jokingly improvised winners as they practiced their highlighted awards ceremony moments and worked on their scripted jokes to get a feel for how the night would go. For someone like me who'd been a Doves watcher for years, it was neat to see how things worked behind the scenes a bit.
This year also returned to the original ceremony format of a pre-show segment where a majority of the awards were handed out ahead of time, while the taped version of the show was created later and featured more artist performances. This year was also the first time I really noticed that the taping to air the show at a later date allowed room for bloopers. So when presenter Rebecca St. James had to announce Kirk Franklin's performance not twice but three times to get the segment right (first someone walked in front of her, the second time, Kirk's team played the wrong song), it was interesting to catch the event in its more raw form.
As always, the winnings were mixed results. I won't bore you with my thoughts on who should have and shouldn't have won (and it's rather moot anyway), but it was nice to see some who definitely deserved it take some honors home. And while the ceremony is televised into the press room for us to follow along with between press conferences, it still proposed a problem when something crucial would happen on the screen and the sound would be turned off for an artist coming in for questions. This especially was frustrating when Mac Powell, Mark Hall, David Crowder, and Jeremy Camp surprised Steven Curtis Chapman with a special tribute and the sound was shut off for a Q&A with The Crabb Family. I'm sorry, but this is simply bad timing. Perhaps, considering you can spend a good eight to nine hours in the press room during the night, there could be special segments where press is allowed to see moments like that instead of forcing a press conference on them. After all, press IS covering the event and the artists, are they not?
After the festivities released us from the press room after midnight, we were honored with a chance to attend an after-party to spend some final GMA Music Week moments with new friends. It was the perfect cap to a great week.
While GMA Music Week was officially finished, we stayed an extra day and had the pleasure of seeing Family Force 5 once again at 12th & Porter, a bar in downtown Nashville. And with that deliciously raucous show serving as our grand finale for the trip, is there any better way to end it? Ha, no. So until next year...
*The End* --
John DiBiase
, 5/7/06
37th Annual GMA Music Awards Press Room Photo Gallery
click on an image for a bigger size
Chris Tomlin -- Winner of: Worship Song Of The Year ("How Great Is Our God")
KJ-52 -- Winner of: Rap/Hip Hop Album (Behind The Musik)
Relient K -- Winner of: Rock Album (Mmhmm)
Leonardo -- Winner of: Spanish Album (Leonardo)
Blind Boys Of Alabama -- Winners of: Traditional Gospel Album (Atom Bomb)
John Morgan -- Performer (President Bush impersonator)
Ed Cash -- Winners of: Producer Of The Year
Matthew Ward (of Second Chapter Of Acts)
Christa Wells -- Winners of: Songwriter Of The Year
Martha Munizzi -- Dove Nominee
Israel Houghton -- Winner of: Contemporary Gospel Recorded Song ("Not Forgotten")
Dave Ramsey -- Author
Natalie Grant -- Winner of: Female Vocalist Of The Year
Grits -- Dove Nominee
Shirley Caesar
The Crabb Family -- Winners of: Southern Gospel Album
Steven Curtis Chapman -- Winner for: Special Event Album (Narnia)
Brian Littrell -- Winner of: Inspirational Recorded Song ("In Christ Alone")
Mark Miller of Sawyer Brown -- Performer
Mark Schultz -- Winner of: Long Form Music Video (A Night Of Stories & Songs)
Andre Crouch -- Winner of: Praise & Worship Album (Arriving)
Building 429 -- Presenters
The Afters -- Winner of: New Artist Of The Year
Cindy Morgan -- Presenter
Third Day -- Winner Of: Pop/Contemporary Recorded Song ("Cry Out To Jesus")
Jars Of Clay -- Presenter / Winner for: Special Event Album (Narnia)
Kutless -- Winner for: Special Event Album (Narnia)
Rebecca St. James -- Host / Winner for: Special Event Album (Narnia)
Kirk Franklin -- Host / Winner for: Urban Album / Urban Song
Rebecca St. James with Kirk Franklin -- Co-Hosts
Casting Crowns -- Winners of: Group of the Year / Pop/Contemporary Album (Lifesong)
Chris Tomlin -- Winner of: Male Vocalist / Artist Of The Year, & more...
David Crowder -- Winner of: Rock/Contemporary Album, Rock/Contemporary Song & more...
*all photos by John DiBiase and are the property of Jesusfreakhideout.com
GMA Week 2006 Review: Sunday | Monday | Tuesday | Wednesday