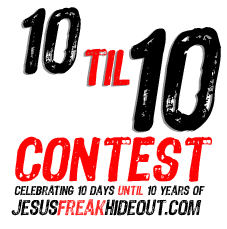 [ 18 WINNERS - Prizes EACH DAY for 10 days!]
On August 13th, 1996, The Jesus Freak Hideout was birthed. Ever since that day, the JFH has been bringing the latest in Christian pop, rock, and beyond to your web browser on a daily basis. We celebrated our 10th birthday by giving away special prizes EVERY DAY for 10 days leading up til the big day on August 13, 2006! Each day, we announced a new prize and a little fact about JFH's history to commemorate the past decade. Fans were also given the opportunity to share a little bit about their experiences with the JFH ministry.



Click on the days link below for a JFH fact on each page (10 in all), and to read thoughts about JFH from our lovely visitors!


DAY 01, Aug. 04: (1) Kids In The Way t-shirt, (1) Flatfoot 56 t-shirt, (1) Autographed Fireflight Poster
DAY 02, Aug. 05: Autographed copy of Red's End Of Silence CD
DAY 03, Aug. 06: Autographed Pillar Where Do We Go From Here CD
DAY 04, Aug. 07: Autographed Third Day "Wherever You Are" t-shirt
DAY 05, Aug. 08: Pre-Release of Krystal Meyers New record Dying for a Heart
DAY 06, Aug. 09: Pre-Release of Sarah Kelly's New record Where The Past Meets Today
DAY 07, Aug. 10: Autographed copy of Day of Fire's Cut and Move CD
DAY 08, Aug. 11: Autographed Third Day Where You Are Special Commemorative Gold Edition Set
DAY 09, Aug. 12: Complete Audio Adrenaline CD Library (11 CD's) and Rare AA t-shirt
DAY 10, Aug. 13: Pre-Release of Jars of Clay's new record Good Monsters and a JFH t-shirt!
In addition to our *true* JFH Facts, here are 10... FAKE JFH Facts!
Top 10 FAKE JFH Facts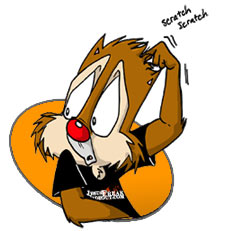 JFH FAKE FACT #01: JFH writer Josh Taylor once told John, "You'll never amount to ANYTHING!" The next day, John started JFH and asked Josh to write reviews. Josh declined since he was only eight years old.
JFH FAKE FACT #02: Everyone on the JFH staff is, in one way or another, related to each other.
JFH FAKE FACT #03: Rejected names for JFH include - "Big House," "Like It, Love It, Surf It," "AudioA Freak Hideout," "Hideout Bound," and "Jesus Freak Hangout"
JFH FAKE FACT #04: JFH was once sued by Disney for its use of a chipmunk named "Chip" as their mascot. To settle the dispute, JFH agreed to give all Disney movies glowing reviews regardless of how bad they may be, and to change Chip's name to "Lloyd."
JFH FAKE FACT #05: John married his wife Amy because she was the site's biggest fan.
JFH FAKE FACT #06: The song "Jesus Freak" by dc Talk was inspired by this website.
JFH FAKE FACT #07: Many CCM artists, including Carman and members of Petra and MuteMath, have asked to be staff members of JFH at one point in time.
JFH FAKE FACT #08: A feature film about the story of how Jesusfreakhideout.com was started is currently being made into a feature film by DreamWorks. Although no director is attached to the project yet, Tom Cruise is in talks to star in the leading role as John DiBiase.
JFH FAKE FACT #09: An all-metal tribute album is currently being recorded to commemorate the past ten years of the Jesus Freak Hideout.
JFH FAKE FACT #10: A full-featured Jesus freak Hideout theme park is being planned for a 2011 opening somewhere in Eastern Pennsylvania where JFH is based out of. The park will open in time for the site's fifteenth anniversary. Audio Adrenaline is already scheduled to reunite for the park's opening ceremony with Bleach making their quarterly reunion as well.





*JFH Birthday Photo Gallery*
| | | |
| --- | --- | --- |
| Jars Of Clay | Sarah Kelly | Nevertheless |
| Leeland | Leeland | EleventySeven |
| Fireflight | | |
| | | |
| --- | --- | --- |
| Krystal Meyers (2005) | Krystal Meyers (2005) | Krystal Meyers (2005) |
| Audio Adrenaline (2004) | JfH's Jess & John Reuben (2004) | JfH's Josh Taylor (2004) |