On August 13th, 1996,
The Jesus Freak Hideout
began. Ever since that day, the JFH has been bringing the latest in Christian music to you every day. In honor of 25 years of the site in 2021, we're taking a look back over two-and-a-half decades of music. A few of the JFH team rolled up their proverbial sleeves and deliberated over a top album pick for each year from 1996 to 2020. Check out the countdown, starting with 1996, below...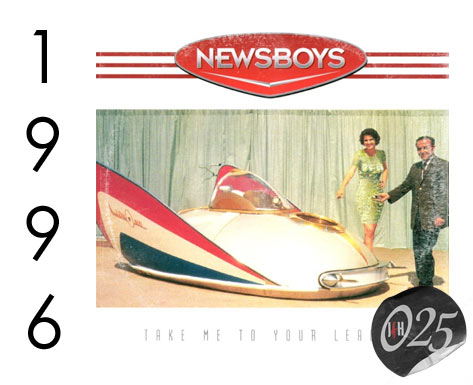 1996

Is this the pinnacle of CCM? I think an argument could be made for just that. While my personal favorite album of all-time also released this year, it wasn't hard to vote for this album as the best of 1996. The Pete Furler/Steve Taylor combo was on point and this album produced some of the biggest songs of my youth. And while there is definitely some 90s CCM cheese here, this album holds up with some really rocking tunes. That and "Lost the Plot" is likely the best Newsboys song ever written.
-
Michael Weaver
The best Newsboys album of any era---yeah, I said it. "Lost the Plot" is worth the entire price of the album alone. Add in the jangly title track, the dancy "Reality" and the youth group staple "Breakfast" and you have an overall great album of the 90s.
-
Josh Balogh
I second Josh's sentiment. This was the Newsboys at the height of their career. It's pop, it's rock, it's accessible yet artistic and even poetic. It's a truly memorable album that still rocks and leaves an impact 25 years later. (And I have to say picking a favorite album of 1996 is super difficult. With other contenders like Audio Adrenaline's
bloOm
, Common Children's
Skywire
, PFR's
Them
, Poor Old Lu's
A Picture of the Eighth Wonder
,
Skillet
's debut, and even Eric Champion's
Transformation
, it certainly says something that
Take Me To Your Leader
takes the cake!)
-
John DiBiase
Visit JFH's Newsboys page for more information about them.
JFH 25: Top 25 Albums From 1996 to 2020
1996
|
1997
| 1998 | 1999 | 2000 | 2001 | 2002 | 2003 | 2004 | 2005 | 2006 | 2007 | 2008 | 2009 | 2010 | 2011 | 2012 | 2013 | 2014 | 2015 | 2016 | 2017 | 2018 | 2019 | 2020