After being impressed with the summer single, "Vinedresser," I began looking forward to the full-length debut from metalcore act
Altarheart
. The powerhouse song was an indicator that something strong was on the horizon. Thankfully,
Deny Thyself
lives up to the singles and proves itself to be a worthwhile listen.
Though the album is overall inspired by the words of Jesus in the book of Matthew, the concept of the album is centered around the Garden of Eden. The anthemic and djenty album opener, "From the Dust," starts from Adam's perspective, acknowledging God's hand forming him from dirt, and then the listener is taken through the story of the Fall and God's promise of restoration (even those who haven't read the book of Genesis will likely be familiar with the story). The interesting thing about the album is that it's not simply a retelling of the story set to melodic metalcore. Instead, the lyrics are also made applicable to us in our own time. "Haze," for instance, doesn't sound too dissimilar from 21st century culture ("No wrong, no right / whatever is right in my eyes / can you delay my demise / we're like beasts of the earth with worse intentions / aking all that we need just to feel the sensation").
But the most important part of the story, of course, is not man's failure, but God's continual love and mercy, which we see throughout the album, as He calls us back to Him, like in "Naked," where He beckons, "Come to Me, oh weary one / come to Me / who told you you were naked? ... to feel the grip of death around your neck no more / oh weary one / to hear the Lord in the garden and hide no more." "Barren" and "Endurance" both display a longing for God's forgiveness, which He clearly responds to, and the two closing tracks finally bid farewell to the snares of Satan ("Death Valley") and choose the Lord, who covers our nakedness ("Clothed"). It's an album that runs that gamut from desolation to redemption, and it does a fine job of it.
It also does a fine job of hitting hard and heavy. In my previous review of "Vinedresser," I made comparisons to bands like Symphony In Peril and Still Remains. These are also apt comparisons for Deny Thyself as a whole. It fits very well into the general "melodic metalcore" category, but it can also be fast and intense, which really seems to be Altarheart's bread and butter. In fact, the heaviness and the quality of the album almost seem directly proportional to each other. This is especially noticeable in some of the slower and more melodic portions, as some flaws become a bit more glaring. Some of the lead guitar lines are a little out of sync, and the clean vocals have a tendency to be a bit pitchy and off-putting. Some of the cleans work really well, such as the chorus of "Haze," but more often than not, they become distracting.
However, knowing that Deny Thyself is the debut album of a one-man band, it's understandable that it has some issues. And those issues are pretty minor, all things considered. The pros of the album far outweigh the cons, and with some time and effort to work out those kinks, Altarheart could become a staple in the independent metal scene. If you don't mind your metalcore having some rough edges, I'd recommend taking Deny Thyself for a spin.
- Review date: 10/27/23, written by
Scott Fryberger
of Jesusfreakhideout.com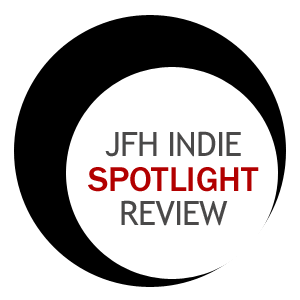 Record Label:
None

Album length:
11 tracks: 40 minutes, 46 seconds

Street Date:
November 10, 2023

Buy It:
AmazonMP3
From the Dust (2:18)
Lent (3:08)
Haze (3:25)
Paradise Lost (2:56)
Naked (3:53)
Barren (5:38)
Endurance (4:23)
Vinedresser (3:56)
Side Effects (3:20)
Death Valley (3:50)
Clothed (4:00)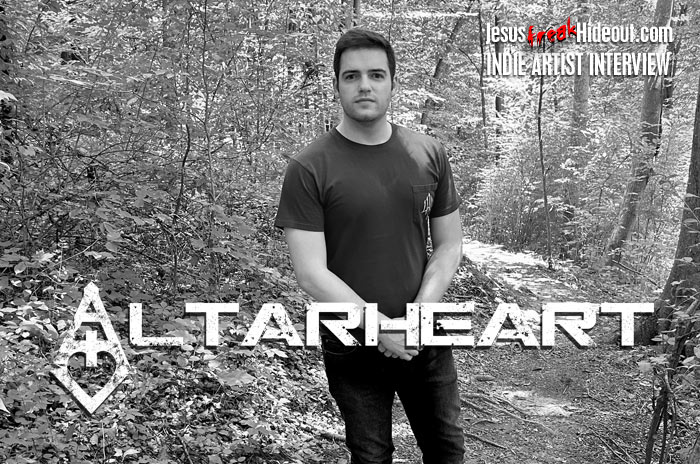 Jesus Freak Hideout (Scott Fryberger): To start with, can you give us a brief history on how Altarheart came to be?
Anthony Thomas: I've been writing and recording music myself for about three years, but Altarheart is less than a year old. I decided to just go all in on a concept and try to run with it!
JFH (Scott): 2. Who are some of the artists that influence your music? And who are your favorites that don't necessarily influence it?
Anthony: Musically, I'm heavily influenced by Demon Hunter, Confessions of a Traitor and The Overseer, while lyrically I'm influenced by Everything in Slow Motion/Hands and Rival Choir. I'm a big fan of Comrades, Dens and Wolves at the Gate. I would love to incorporate more of those sounds in my music, but I'm trying to mostly play to my strengths. I'm a music nut, and lately I'm listening to a lot of metal and post hardcore from Solid State and Facedown.
JFH (Scott): What made you want to write a concept album based on Adam and Eve?
Anthony: I've always had a fascination with Creation, but more recently I have been fixated on sin and how it damages our view of God and our connection with Him. The album idea came from Matthew 6:24. In order to deny ourselves we have to deny our sin, so I wanted to go back to the beginning of how we got in this sinful state. I feel like the fall is something we can all relate to.
JFH (Scott): Do you anticipate Altarheart being specifically a conceptual project, or do you hope to write standalone songs/albums too?
Anthony: I think my albums will always have a theme, but I don't envision strict concepts from here on out. I like the idea of the lyrics telling a story, but I will likely have them as more of a first-person change of heart throughout an album, not a literal story, if that makes sense.
JFH (Scott): How long did you spend writing and recording Deny Thyself?
Anthony: I've been writing some of these songs for about two years. Death Valley, Lent and Endurance all underwent major retooling. Others like From the Dust and Haze came very quickly. I had a root idea of what I wanted the album to be about, and then started writing songs solely around those chapters of the story.
JFH (Scott): Are you shopping around to any record labels? If not, do you have any desire to do so in the future?
Anthony: Not shopping around at this time, but I am definitely open to it. The music industry is in a unique place right now, and I'm just trying to be smart with where I put my resources.
JFH (Scott): What do you hope listeners will take away from the album?
Anthony: I'd like listeners to take away that despite our natural rebellion against God, He loves us and wants us to come to Him. I hope those who hear this can let go of any guilt or shame and turn to Jesus. In addition to that, my song "Barren" is about the struggles my wife and I have experienced trying to have children. If anyone listening resonates with that, I hope that song as well as "Endurance" can be an encouragement to keep going.
JFH (Scott): Where can people find you online?
Anthony: I'm active on Youtube and Facebook (@Altarheart). I try to post often and I've rolled out some music videos. My music is on all streaming services and Bandcamp. You can find all my links here! https://linktr.ee/altarheart
JFH (Scott): Do you have anything additional you'd like to add or share?
Anthony: Thanks for the opportunity! I plan to release more music this upcoming year, likely a few singles or an EP. I have some new stuff I'm really excited about.