The 1990's featured some really good music, with genres that had never really been heard before. Honestly, it feels like a resurgence of those unique sounds might be on the horizon. An excellent example of this is Canadian indie band Once by Fire with their latest album, Goodbye Scarlet.
The album begins beautifully with the raw "Refuge Tonight." Gentle electric guitar opens the track and it instantly sets the tone for vulnerability. Plus the vocals of Robin Kitchen perfectly complement the sound and emotion of the track. Songs like "Goodbye Scarlet," "Take Cover" and "Brilliant Deception" introduce a more aggressive sound that will inspire a bit of a righteous rock-fist to emerge from the listener.
Showing a softer side to the band is the acoustic driven "Ever By Your Side." Kitchen's voice is beautifully blended with soft harmonies that are strategically placed and never once feel overdone. Lyrically, it is a simple plea to God to never not be near Him. "Remember My Name" and "Man of Sorrows" continue with a bit of that acoustic rawness and really are some of the strongest tracks on the release.
The album concludes with the haunting "My Only." It has a sound that is reminiscent of the opening track but with a more mournful sound as Kitchen reflects on the sin that put Jesus on the cross. It is melancholic, lamenting, but overall hopeful in the truth of the gospel; it's a beautiful way to conclude an overall excellent album.
Without a doubt, the greatest thing about this album is the nostalgic rawness of the recording. Listeners shouldn't expect an over-produced, clean recording with auto-tuned vocals and 10 million synth layers. Goodbye Scarlet is pure, unadulterated grunge. If you miss the musings of artists like Alanis Morissette, Joan Osborne, or Fiona Apple, this album will fill your heart with gladness. I highly recommend pulling out an old pair of raggedy jeans, a loose shirt, a hacky sack, that one unopened can of Surge, and listening to the Once by Fire's album.
- Review date: 8/4/14, written by
Ryan Barbee
of Jesusfreakhideout.com
JFH Staff's Second Opinion
One of the most frustrating things about most modern music is the oversanitation of the sound of the instruments. Instead of letting the fuzz of the guitars rule the amp or the sound of the drums ring out like you're right there in the room, the sound seems to usually get filtered far too much in the production process. Once By Fire's
Goodbye Scarlet
hearken back to the age of garage rock. While it might be a bit too rough around the edges for its own good at times, Robin Kitchen's soulful vocals capture a similar feel to that of Jennifer Knapp, while the music calls back to the mid-to-late 90s rock era. Music listeners longing for the sounds of old will find Once By Fire especially refreshing. Robin's vocals never falter, but the production of the music doesn't always do her justice. And I can't help but wonder what
Goodbye Scarlet
would have sounded like with just a hint of polish (i.e. a 90s rock album on a major label, like Skillet's self-titled debut or Grammatrain's
Lonely House
). Still, there's something charming about this duo, especially for those whose first love was mid-90s rock and roll. Modern music listeners probably won't appreciate
Goodbye Scarlet
, but those looking for some soulful rock will at least want to give these two a chance. You may find something here to remind you just what made you love raw rock music to begin with. Highlights include "Remember My Name" and "Man of Sorrows." - Review date: 8/9/14,
John DiBiase
of Jesusfreakhideout.com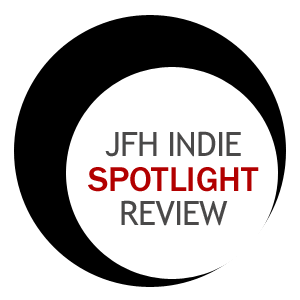 Record Label:
None

Album length:
12 tracks: 50 minutes, 58 seconds

Street Date:
March 15, 2014

Buy It:
iTunes
Refuge Tonight (4:32)
Goodbye Scarlet (3:18)
Take Cover (3:29)
God Walks In (5:17)
Ever By Your Side (4:55)
Brilliant Deception (4:20)
Remember My Name (4:05)
The Blacklands (4:10)
Man of Sorrows (4:55)
Press On (3:09)
Strong One (3:47)
My Only (5:05)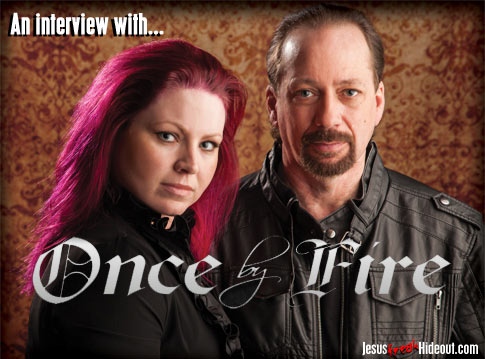 Jesus freak Hideout (Ryan Barbee): Let me first say, the album is awesome! So what's the story behind the band name, Once by Fire?
Robin Kitchen: The meaning of 'Once by Fire' is two-fold, referring to both the baptism of the Holy Spirit mentioned in Matthew 3:11 ("I indeed baptize you with water unto repentance: but He that cometh after me is mightier than I, whose shoes I am not worthy to bear: He shall baptize you with the Holy Ghost, and with fire") and the transformation the earth will go through, mentioned in 2 Peter 3:10 ("But the day of the Lord will come as a thief in the night, in which the heavens will pass away with a great noise, and the elements will melt with fervent heat; both the earth and the works that are in it will be burned up").
JFH (Ryan): What's the inspiration behind the sound of Goodbye Scarlet?
Robin: My first inclination is to respond with "the Holy Spirit," because He's the ultimate inspiration, but I'm not certain that's the technical answer to this question... With regards to my writing process, mostly I played my guitar as it came naturally until a certain progression piqued my interest and then I would sing along, as that came naturally, until I heard something pleasant in the mixing of the two. Once I had the main progressions and the general idea for the lyrical melody recorded together, I would listen repeatedly for lyrical inspiration - placing strands of words to fit the timing, in keeping with whatever message I had already chosen for the song in question.

I tried to write lyrics that I felt would be edifying to listeners in the same season as myself, or that will serve as reminders of key Biblical truths. I hope I conveyed some food for thought, too.
JFH (Ryan): What song on the album is your favorite and why?
Robin: My personal favourite on the album is 'My Only'. I love it because it's a declaration of sorts, a promise of fidelity to God in a world filled with idols. I would say it's the song that I put the most emotional intensity into. We also enjoy that it ramps up in intensity from beginning to end.
JFH (Ryan): Are there any future plans for more albums?
Robin: As much as we're able to predict the future, we are planning to record at least one more album. I'm working on some new songs now, but at the same time trying to assess what my musical strengths really are, so I can write accordingly. I also co-wrote what we consider to be some really good songs with a guitar player we worked with years ago, and we're planning to record some of those for the next album, too.
JFH (Ryan): Your sound is undeniably reminiscent of the beautiful sounds of the 90's. Is that intentional?
Robin: Admittedly, Brian and I both feel the 90s had a big influence on our musical styles. The advent of grunge was monumental in our eyes. If parts of the album come across as such, I am thrilled. We would like to head more in that direction, with a harder sound, but there's definitely still a place in my heart for the narrative of folk as well.
JFH (Ryan): What artists/bands are you most inspired by? What are you currently listening to?
Robin: Before I was familiar with any Christian music, I would say U2 influenced me the most, as did Pearl Jam (the 'Ten' album, specifically). When I was first introduced to Third Day and Jennifer Knapp (the 'Lay it Down' album), they also impacted me greatly.

If you asked me to go and pick out something I love to listen to in any season, it would probably be something by Sent by Ravens or NeedtoBreathe. I wouldn't say musically we're a great deal like NeedtoBreathe, but I respect and enjoy their work very much. Sent by Ravens is (was) just powerful, and I always feel inspired by them.


The past couple of days, I've had Flyleaf's 'Again' playing in a loop in my head - that's what I've been listening to most recently.
JFH (Ryan): What has God been teaching you lately?
Robin: The last message I heard that resonated with me, about a week ago, contained a reminder to get back to reading my Bible daily. I was very consistent in that for some time, but have wandered from regular practice and subsequently felt like I'm losing some perspective. Through someone I trust, God recently encouraged me to habitually fix my eyes on Him again. Without a doubt, my life is better when I make time to immerse myself in scripture, but regrettably, at times, it seems I underestimate the importance of doing this.

I've been contemplating man's free will a lot lately, and how, despite God's sovereignty, sin nature determines so much in this world. God has been impressing on my heart that the reason we can enjoy peace as believers is that He has promised to weave all events into a better outcome than we can imagine.

I've also been learning that He is a good father, and that so much can be understood about Him when I remember this fact. A good father will not cave to our wishes, at the risk of being misunderstood, when He knows there's something better for us. It seems like I'm always learning to trust Him more, but I guess that's the essence of dying to self - to decide to stop struggling and be still.