Life Church Music
is a collective of singers, musicians, and creatives based out of a Milwaukee local church. They have two live worship albums released in 2016 and 2018, and a five-track EP titled
In Peace or Pieces
which dropped in January of 2022. Here, they return with a deluxe edition titled,
In Peace or Pieces, I'm Complete
. In addition to the original tracklist, this edition adds two previously released songs, a stripped-back version of "Victory Sound" and an instrumental track of "In Peace or Pieces." For an idea of their sound, think of the contemporary worship vibes of Hillsong Young & Free and Elevation Rhythm.
With the aforementioned artists in mind, they kick the EP off with the synth-heavy dance groove of "Never Be the Same," and follow it up with more synths and the mid-tempo song, "Victory Sound." By song three, "Love Welcomes Me," we've established a solid paint-by-numbers start, but as far as true standouts go, I'd direct your attention to "Holy, Holy" and the title track. Both have lyrical meat (especially the lyric-heavy "Holy Holy") to chew on, and some musical nuance that differentiates them from the other songs. "In Peace or Pieces" ebbs and flows while also featuring a bed of ambient guitar and a build to the bridge that works. In addition, the stripped-back version of "Victory Sound" is superior to the fuller sound of the original as its more simple arrangement allows the weight of God's faithfulness to be driven home. Everything else melds into the sound of the day with synths and luxurious runtimes that take the slow burn route leaving it largely same-sounding.
Ultimately, though there are a few standout songs, In Peace or Pieces I'm Complete falls victim to sounding like many other artists in the same space. Like most in the genre, there was more to offer when they offered less. Although I understand the desire to have all their most recent best songs in one collection from a marketing standpoint, the deluxe edition here offers little to the more succinct artistic statement and track order of the five-song version. All that to say, there's been improvement since the inception of the group and there are two to three songs I'd recommend. This one won't be for everyone, but fans of artists like Elevation Rhythm, Local Sound, and Hillsong Young & Free should find a track or two for their worship playlists.
- Review date: 8/27/22, written by
Josh Balogh
of Jesusfreakhideout.com
JFH Staff's Second Opinion
Worship Collective
Life Church Music
, out of the Milwaukee, WI area, is back with their third album.
In Peace or Pieces, I'm Complete
is a collection of singles and alternate versions of previously released songs. Musically, the group sounds and feels like it falls somewhere between acts like Planetshakers and Bethel Music. While nothing here is quite as electronic and dance-y as Planetshakers, it's also not as straightforward and as safe as Bethel. The sound is basically a slightly more modernized and balanced version of today's most popular worship groups. There are plenty of electronic moments throughout, but it's all wrapped in a package that makes it accessible and relatable to a larger scale audience. It's actually sort of refreshing and nice to hear something familiar with a new take or spin on the sound. Any one of the songs on this track list could be added into a church's rotation without feeling out of place, but a couple of them -- like "Love Welcomes Me" and "Holy Holy" -- particularly stand out. I especially like how the lyrics of "Holy Holy" progress from God's creation, to Jesus coming down from Heaven, to the crucifixion and resurrection, to our entrance to heaven and eternity with our Father. It's a great overview of our faith while worshipping all that our Creator and Lord has done for us, finally ending with: "
When the earth and heavens are redeemed every knee will bow before the King. And eternity will the begin; Holy holy we will sing again.
" If you're looking for some modern worship music with a slightly different twist,
In Peace or Pieces, I'm Complete
would be a great place to go for a listen. - Review date: 10/10/22, written by
Michael Weaver
of Jesusfreakhideout.com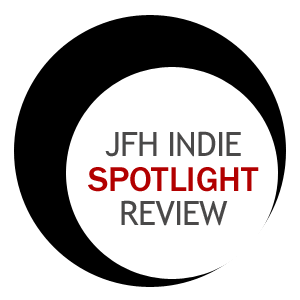 Record Label:
None

Album length:
9 tracks: 46 minutes, 9 seconds

Street Date:
July 22, 2022

Buy It:
iTunes

Download It:
AmazonMP3
Now That I've Met You (5:04)
Victory Sound (4:59)
Love Welcomes Me (4:52)
Holy Holy (5:28)
In Peace or Pieces (6:13)
Victory Sound (Deconstructed) (4:40)
Anchor (4:37)
In Peace or Pieces (Devo Instrumental) (5:57)
Only Yours (4:20)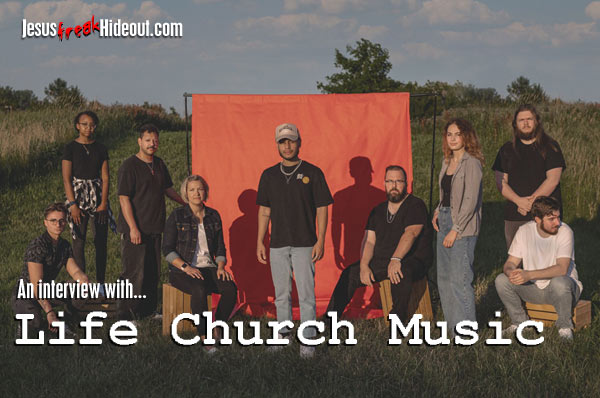 Jesus Freak Hideout (Josh Balogh): Can you give a brief history of Life Church Music and their music output?
Nando Herrera: We are a church worship team, so our story is not the "typical band" story. This wasn't the dream of 5 friends in a garage. This is an expression of a collective of people in a local church. In 2014, we started toying with the idea of taking the experiences and moments in our church's history and turning them into songs. We began writing songs for specific services and events and in response to what happening. Those moments became songs and those songs became our first live album Greater Things. And we were honored that Spotify liked one of the tracks off that album, "The Anchor", enough to put it on some big playlists. That really resonated with our story. We are "little guys" in the grand scheme of church worship bands. But we strive to deliver the best with what we have! And it worked out really well. So, naturally we did another album. And once again, we saw some success with one of our songs. And by this time, we started being asked by other churches about our songs, our process and our story. And we were asked to come out and serve other churches. That was the goal! We wanted to be a resource. We wanted to be an inspiration for other "little guys" who are just trying to be the best with what they have. In 2019, we made some cool connections and started dreaming about a studio EP. We came up with a plan to release something huge that would lead us into another live album. And just as we finished pressing the record button, Covid happened. We had no choice but to suspend our efforts and focus; and a project was left unfinished. By the time the world began returning to some semblance of normal, nearly a year had passed. We knew we had to get songs out, so we started working on the songs again and literally released them as we finished them. It was all over the place. It was not a fun time to try gain momentum again. But once we started hearing and seeing success stories from the song, we decided to return to the original dream and release the album we originally dreamed of. In July, we finally were able to release In Peace or Pieces I'm Complete and share the message we had been dreaming about for years. The album title is symbolic and definitely a call back to all the years of work getting things up and running again. Right now we are in the process of working on a live album.
JFH (Josh): Who were you listening to as you were developing the album? What is your favorite Christian album to come out in 2022 so far and why?
Nando: We worked with lots of producers and writers for this album. So, we listened to a lot of music. Some classic bands like Switchfoot, Coldplay, U2, UNITED to newer pop albums that happened to release as were writing. We referenced Justin Bieber more than I'd like to admit. Other bands were LANY, The 1975 and Glades to name a few.
JFH (Josh): What books, other musicians, theologians push you in your craft as an artist?
Nando: We all have different inspirations. Some of the folks on our team love pop artists, some love worship artists, some love crazy genres of music you didn't know existed. It's pretty eclectic. I (Nando) personally am a huge fan of Jon Foreman, Joel Houston and Phil Wickham. I think these 3 guys are brilliant!
JFH (Josh): What was the thought process behind re-releasing these songs as a deluxe edition with and a new track order?
Nando: It wasn't exactly a re-release. More of repackage. We felt like things got a little muddy on our end as we were wrapping up these songs. We released singles for about a year! We spent so much time releasing singles, we realized we lost sight of the story that the songs were supposed to tell collectively. So, we took all those singles and a few new songs and made sure we had something tangible that told the story. Truth is, as were releasing songs on Spotify, we kinda neglected our home. So, we also wanted something that we could print on a CD to give to our congregation, and any of our fans anywhere we lead worship. If the story is about people serving the local church, then we needed to make sure we had something we could physically and tangibly put in someone's hand. It's hard to say, "this is our story" when you have half a dozen different singles. This album was our plan since 2019, we just weren't able to release it when we originally wanted or how we originally wanted.
JFH (Josh): What has been the most interesting place you've ever done a worship set?
Nando: Actually, just this summer, we were asked to be a part of a fundraising event at a sunflower field farm. They literally, mowed out an area where we set up a small stage and performed at sunset with 6 foot sunflowers, as a backdrop, as far as the eye could see.
JFH (Josh): What's next for Life Church Music?
Nando: We are in the pre-production of a live album scheduled to be released in early 2023. We plan to go bigger than ever with this project! It will have a few singles, live video and more resources than ever to equip the local church. Definitely stay tuned for that one. And we also plan to try something with our next generation of worship leaders. Perhaps a new youth band will branch off if we are already doing. But I'll stay quiet on that one until another day.
JFH (Josh): What else would want our readers to know either about you as a band, or this project specifically?
Nando: I talked a lot about moments in our church and the experiences we were having that served as the catalyst for our team to release music. But this project gets a little more personal. A lot of the lyrics and themes are more personal. You may not catch the deeper story on the first listening, but as you look through the lyrics, you may catch a glimpse of very personal stories found in each song. We got real honest, while keeping the themes congregational. We hit on the topics of shame, self-worth, identity and personal struggles a lot on this album. But every song was contrasted with a response of worship and faith. That's where the concept of "in peace" or "pieces" really comes through. It's an album about the juxtaposition of the heart, and how faith has to fit in the complexities of life. We really hope it blesses you!