Schuyler Kitchin
is a singer/songwriter from the Boston area of Massachusetts. Armed with the backing of indie label Immensity Records, Kitchin's debut album
solstice
is a lovely ten-track record that takes influence from some of the heavyweight songwriters of today and could pretty easily go toe-to-toe with them.
solstice is very folksy and indie at its core, with lots of acoustic instruments (including cello, viola, and violin), and a healthy dose of terrific-sounding brass on multiple tracks (such as album highlight "Unless A Seed"). It's the kind of album one might like to listen to on vinyl and alone in the early morning. How much cozier can you get than hearing Kitchin's grandfather reading an excerpt from a poem while an orchestra plays a gorgeous melody in the background (one that reminds me of Coldplay's hit, "Fix You")? Even when the album picks up the pace and brings in some rocking electric guitar, like in "Gerasene," it doesn't disturb the mood, instead sounding like a completely appropriate moment for the record. Kitchin's use of a large number of instruments on his debut is bold, but it's accomplished well and everything fits together nicely.
As with the folk genre in general, solstice is big into storytelling. The opening and penultimate tracks, "solstice" and "Equinox" shed some light on a theme of the album, which equates the dreariness of winter with the dark periods of life we all walk through as we wait for spring. "Equinox" also calls back to "Unless A Seed," both of which make reference to the fact that a seed only produces fruit once it has died, much like Christ has required us to die so we can be born again ("I hear there's healing out here in the wilderness with God / but it feels like operation / lie in stillness on the table / that is all there is to this / you will wake up when you're able / but first you have to die / you've been holding on to ruins / like a seed within a shell / to come to life you must be buried"). solstice relies heavily on imagery and parable, and the number of cross references between songs is delightful. The more you explore the lyrics, the more treasure there is to be found.
It's always exciting when an up-and-comer delivers an album as strong as solstice. And a debut, at that! Schuyler Kitchin is a clearly gifted artist, and he puts his instrumental, vocal, and lyrical talents on full display, using them all for the glory of the Lord. This is an easy one to recommend, particularly for fans of artists like Jon Foreman, Tyson Motsenbocker, and John Van Deusen.
- Review date: 4/29/23, written by
Scott Fryberger
of Jesusfreakhideout.com

Record Label:
Immensity Records

Album length:
10 tracks: 37 minutes, 28 seconds

Street Date:
March 10, 2023

Buy It:
iTunes
Solstice (1:31)
The Wreckage (4:45)
Surgery (4:25)
Unless a Seed (feat. Imer Santiago) (2:35)
Images (3:45)
The Lighthouse & the Sailor (4:28)
Gerasene (5:15)
North of Boston (feat. Davy) (3:30)
Equinox (3:26)
Thou Art With Me (3:43)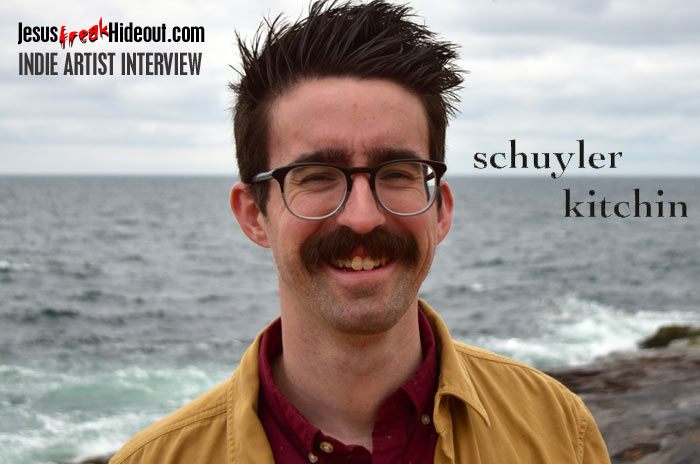 Jesus Freak Hideout (Scott Fryberger): solstice is your debut album, but are these also the first songs you had ever written, or were you writing songs before you decided to record them?
Schuyler Kitchin: Yes, these are the first songs I've written-I've enjoyed creative writing for quite a while, most often poetry. Some of the songs on solstice were adaptations of poems I'd written, but I'd never tried to write full-on songs with lyrics and music before.
JFH (Scott): Did you record and perform everything on the album, or did you use any outside musicians/producers?
Schuyler: I performed a lot of it, but it was a really collaborative project. I work as a chaplain at Berklee College of Music, so I invited a lot of students in to help with parts, as well as friends or connections of mine or of others involved. A ton of talented people, so it was great to work together! But besides myself, the two people most involved in the whole process were my producer, Daniel Tavani, who recorded, arranged, mixed, mastered, and performed on the album, and one of my students, Abraham López Díaz, who did a number of arrangements and some performing on the album.
JFH (Scott): Your style reminds me of artists like Make Sure and John Van Deusen. Who would you say are your musical inspirations?
Schuyler: You have no idea how much of a compliment that is! I don't know Make Sure, but JVD is a HUGE influence for me both personally and musically. I love all of his projects but also just really admire his perspective and the way he goes about music. Some other key influences for me are Tyson Motsenbocker (who gave really helpful feedback for "north of boston" as part of a songwriting course he offered; I really appreciate his storytelling), Matt Theissen (of Relient k; his lyrical cleverness and his commitment to writing music just past his talent level so he has to grow), Simon & Garfunkel (harmonies and experimental style), Jon Foreman (themes and lyrics), and Manchester Orchestra/Andy Hull (full albums telling a story). In addition, I think some sonic influences besides these that showed up in solstice are Pink Floyd, Radiohead, and early Coldplay.
JFH (Scott): Are you looking to sign to a label, or do you intend to stay independent?
Schuyler: I'm part of my producer's label, Immensity Records, which is independent, so I guess both ha. I like having the freedom to focus on my main work, which is ministry at Berklee, but having music as a way to get to know students better and as a creative outlet for myself has been awesome. I feel able to go at my own pace and to have a lot of say in the artistic vision in every step in my current set-up.
JFH (Scott): How would you describe the theme of solstice?
Schuyler: There are three overlapping themes that develop over the course of the album: winter/spring, death/life, darkness/light. The album came out of a painful season in my life, and my experiences of the seasons in New England helped me see these themes and process my experience. Winter is this season of latency when the sun sets at 4pm (at least in Boston)-it's easy to associate it with darkness and death. But the contrast when spring arrives is so refreshing! However, I think the main takeaway of the album is that hope is present not just in the transition into spring/light/life but throughout the whole process-Jesus is not constrained to lighter times and spaces; he is with us even in the hardest times to endure.
JFH (Scott): Which songs do you feel best represent who you are as an artist?
Schuyler: I think "surgery" gives a pretty good taste: it has angst mingled with hope, both sonically and lyrically. I also think the lyrics show my style a lot-I like to turn a phrase. I think "gerasene" is also a good look at who I am. I co-wrote the music for that one with another student, Zach Abel, who performs 95% of the gorgeous guitars on that track. I'm really proud of how that song came out-it's the kind of song I want to listen to-and think it probably communicates my interior world most clearly on the album.
JFH (Scott): Do you have any plans for live shows this summer?
Schuyler: For sure! I plan on be doing an East Coast tour in late June (New Haven, Philly, Baltimore, Charlottesville, Pittsburgh, Boston). And I tend to do a couple random Boston area shows.
JFH (Scott): How can fans connect with you online?
Schuyler: I have instagram (@schuyler.kitchin), which has a post for each song, including a story about it and credits for who all was involved. I'm also on bandcamp, where you can find the music and some merch!
JFH (Scott): Is there anything else you'd like to share?
Schuyler: Thank you for listening! This music is my little match in the darkness-you're not alone there!