308 Ghost Train
is a rock band from Florida specializing in what they call "Message-oriented rock with a classic vibe." Their name is even gospel-centric as it's based on John 3:8. With the scripture -- which references the Spirit (Holy Ghost) -- and singer Anthony "Train" Caruso's nickname, the band name was born. The best way to describe the sound may be a blending of 80's rock with just a little 70's southern rock. Their new EP,
Born in the Wild
, seeks to draw in listeners who are tired of current trends in music by drawing on classic influences. While "21 Guns and a Million Tears" is an absolute rocking opener, the next two tracks are ballads that are a bit reminiscent of Brett Michaels and Poison. "This is My Home" picks up the tempo again with a great rock and roll chorus in a song that may remind you a little of Night Ranger's "Sister Christian" (sans the piano lead verse). The title track brings back a little more of that southern rock influence from the opener mixed with some Mötley Crüe vibes. Before getting to the light-hearted closer, the guys make a stop for one more ballad in "Bleed Over Me." It's a bluesy holiday song about Santa quitting his job, buying a yacht, and enjoying life away from the north pole -- quoting Santa as saying, "
It's all gone to h*ll since Amazon
."
While there are plenty of moments that remind you of a band or song from the past, the group's influences run deeper and into the likes of CCR/John Fogerty, Bon Jovi, John Mellencamp, and even the heartland music of Bruce Springsteen. While nothing on the EP is necessarily new or fresh, it is refreshing to see that someone is out there keeping the classics alive in a new format. Not only is 308 Ghost Train releasing quality and enjoyable material, but they are also opening a gateway for new listeners to discover a great era of rock and roll. If you're tired of the same rock and roll that's constantly played, 308 Ghost Train may be just the change you're looking for. Their new music with a link to the past could provide just the boost you need. I'd certainly recommend a listen to the Born in the Wild EP if you're a fan of 70s and 80s rock and roll.
- Review date: 10/6/20, written by
Michael Weaver
of Jesusfreakhideout.com

Record Label:
308 Records

Album length:
7 tracks

Street Date:
June 2, 2020

Get It:
iTunes
21 Guns and a Million Tears
Worn
I'll Unbreak Your Heart
This is My Home
Born in the Wild
Bleed Over Me
Santa Bought a Yacht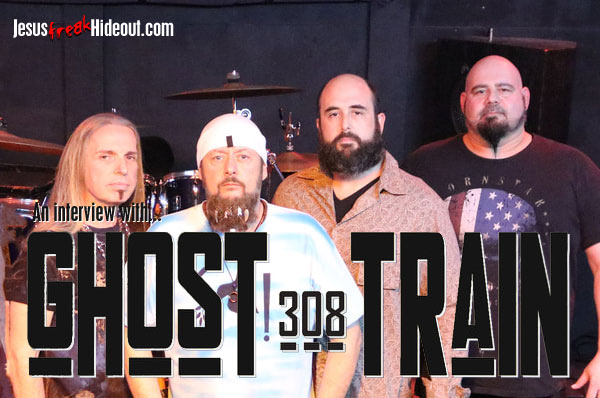 Jesus freak Hideout (Michael Weaver): How did the band come together and how long have you been playing?
Anthony "Train" Caruso: The band came together from a vision that came to me one night in early March of 2019. I was in a really dark place in my life and was contemplating giving up on life altogether. That night the Ghost gave me the beginnings of a song in my sleep, "I maybe worn but I'm holding on" -- later titled "Worn." That song saved my life and was a direct message that spoke to my purpose. I've never looked back since that day.
JFH (Michael): Was John 3:8 a verse you were already familiar with and wanted to use, or was it something that stood out while searching from band name?
Train: It was definitely something I was led to while searching for the band name.
JFH (Michael): I hear so many 70s and 80s influences when listening to your music. What about those eras of music still speak to you and what do think makes new listeners so receptive to it?
Train: There's a pretty big group of people who are disenfranchised with the spoon feeding of pop and calling it rock. People long for the sounds that remind them of the greatest times in their lives. We seem to be ringing that chord for them. 308 Ghost Train is becoming more of a movement than a band.
JFH (Michael): "21 Guns and a Million Tears" is a great rock song and "This is My Home" has such a fun chorus -- they are easily my favorites from the EP. Can you talk a little about these twosongs and what they mean to you?
Train: These songs mean the world to me. "21 Guns" allowed me to pay homage to all military, law enforcement, and first responders. Being an 11-year, honorably discharged veteran, I truly can identify with the sacrifice that is made for freedom. "This is My Home" was my fight song anthem to everyone battling cancer. My hope is that it will instill that "never quit" mentality that leads them to survive.
JFH (Michael): Do you have a personal favorite song from the EP?
Train: Probably "21 Guns and a Million Tears"
JFH (Michael): Your Facebook page mentions a new EP titled Train of Thought. Is that EP still in the works? What can you tell us about new music for 308 Ghost Train moving forward?
Train: Well, our first single off that EP, "Bleed Over Me," shot us through the roof with 11.8 million streams that ultimately brought us to over 41 million streams across all songs in the last 4 months. 2 songs - "Bleed Over Me" and "Love You More" - have been released ("Love You More" drops on Tuesday Oct. 13) on that EP and they can be found on Spotify and Soundcloud.
JFH (Michael): Obviously, COVID has made it difficult for musicians and playing shows. How has God been carrying you through this time and are you planning to put any live events together as things are starting to slowly open backup?
Train: I kind of have to chuckle at that question, because I can't remember a time when GOD wasn't carrying me. So my ride has been blessed even in the midst of a global pandemic.