Mountain Climer
(not a typo) is a brand new alt rock project from the mind of Broomfield, Colorado's Jeremy Climer. Mountain Climer's first official full-length album, following a slew of singles in 2021, is called
I'm Not Enough & That's Okay
, which finds the artist pulling out influences from the late '90s and early '00s to hit the listener with a mix of punk rock and alternative. While the lighter alternative moments are pretty well-written, it's pretty clear that punk rock is really Climer's strong suit. The final two tracks, "Post Modern Man" and "The Mulligan," are perfect examples of this, as they not only hit harder, but are more complementary of the vocals, which don't work quite as well for tracks like "Middle Class Rebel" and "Good People." I also find myself more drawn to the faster and heavier songs due to the lower quality production value. The album isn't necessarily poorly-produced, but it's not top-of-the-line either. And this works in Climer's favor when he goes full-on punk. That being said, I also appreciate the old-school-Bleach sounds of "More Providence Than Gravity," the crunchy bass lines of "Until My Heart Gives Out," and the balladry of "Just Another Broken Heart" and "It Is Finished." When we dive into the vocals and lyrics, the album is a bit weaker. As with the production, nothing about these aspects is particularly bad, but there are times when Climer's vocals do not mesh with the style of music being played. Not to repeat myself, but his vocal style is another example of punk rock being his bread and butter. It works great in the harder tracks, but sounds a bit out of place in songs like "I Remember" and "Good People." The lyrics cover a wide range of topics, from keyboard warriors and fake friends to the joy of marriage and the grace of God. Some of the songs do end up being a bit bleak and even occasionally harsh, like "Darkness," which confronts someone on their deathbed who is clinging to Catholicism in their dying days. While it's appropriate to call out false teachings, it's at least a little concerning that the hope of Christ isn't being shared in the song, too. There are also times where Climer is going for something very specific with the song, but the lyrics don't feel strong enough to pull the weight, such as in "Middle Class Rebel." The song accurately paints a picture of someone who talks about fighting a cause but puts forth no action and lives a contrary lifestyle, but the lyrics aren't as hard-hitting as seemingly intended: "
She pops her pills and drinks her wine, don't forget to tweet / she proudly thinks for herself, so long as everyone agrees / whines about her taxes, but she still feels the Bern / Amazon delivers what Oprah says to read, there's still so much to learn / She can't face it, but she's perfectly vanilla
." There's surely a lot to like about Mountain Climer's debut, but there's also a lot of room for improvement, and a ton of potential to get them moving in the right direction. - Review date: 6/23/22, written by
Scott Fryberger
of Jesusfreakhideout.com
JFH Staff's Second Opinion
Mountain Climer
is the moniker for this longtime band member, now solo artist Jeremy Climer. While he dropped eight individual songs in 2021, this appears to be his first foray into the full-length variety. On this his debut solo album, titled
I'm Not Enough & That's Okay
, he takes a decidedly DIY pop/punk style. Musically, there is much to like, with strong guitar licks, solos, and solid melodies not unlike many others in the pop/punk genre. This is particularly true of songs "I Remember" and "More Providence Than Gravity." Lyrically, although there is a propensity for the cliche, there isn't anything egregious; after all, pop/punk isn't exactly known for depth as much as its frantic rush to be concise and clever. Climer spends more time being straightforward and earnest than cute or precocious, focused primarily on the relational side of life. This is welcome in a genre oft prone to a "down-with-the-man" cheekiness. Vocally, this is where Jeremy has the biggest opportunity for growth, as many times the flat dynamics in his delivery could use some spicing up in production and a touch of auto-tune for pitch issues. The biggest example is the more acoustic-based tune, "Just Another Broken Heart," which features a pleasant female vocal for added texture. Unfortunately, there isn't quite the blend of voices needed to fully pull off the sound. To this point, he seems much more at home when rocking out than slowing it down. All in all, though,
I'm Not Enough, & That's Okay
is a moderate improvement from his 2021 output, and a step in the right direction. - Review date: 7/20/22, written by
Josh Balogh
of Jesusfreakhideout.com

Record Label:
None

Album length:
12 tracks: 39 minutes

Street Date:
July 22, 2022

Buy It:
AmazonMP3
I Remember
Middle Class Rebel
Just Another Broken Heart
More Providence Than Gravity
Darkness
Who Needs Enemies
Good People
It Is Finished
Until My Heart Gives Out
I'm Sorry
Post Modern Man
The Mulligan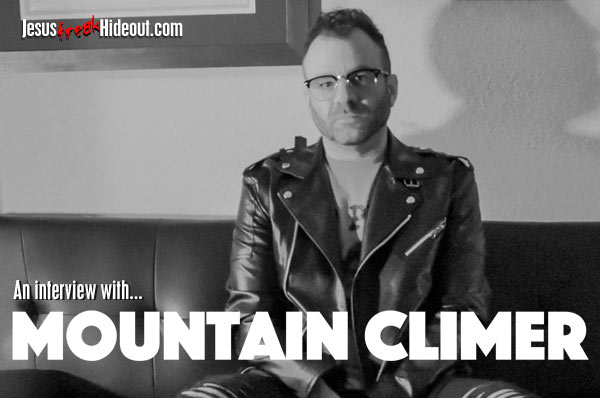 Jesus freak Hideout (Scott Fryberger): According to Spotify, you released a number of singles in 2021, only one of which appears on I'm Not Enough & That's Okay. Did you originally plan to have them on the album?
Jeremy Climer: Honestly, I didn't plan to make an album at first. My original plan was to only release singles, but as I got more and more songs that fit together, I decided to make a full-length record, which I had always wanted to do on my own. "More Providence" just fit, so I decided to remix it and put it on the record.
JFH (Scott): Who all is involved in the making of Mountain Climer songs?
Jeremy: It is truly a solo project. I wrote and recorded the songs and played all the instruments. I had my wife sing background vocals at the end and then I handed it off to Bill Stevenson to be mixed and Jason Livermore to be mastered.
JFH (Scott): Do you get many opportunities to play live shows?
Jeremy: I played in bands non-stop from about 1995 to 2015 all around the country. I haven't played a show since. Most of that is to do with the fact I don't really enjoy playing live. I really enjoy the studio and I'm self-aware enough to know I'm not that entertaining to watch!
JFH (Scott): The album covers a wide range of topics. Is there a common thread that ties them all together, or are they meant to be singular, unrelated stories?
Jeremy: I would say there is a common thread, but I would say it is simply trying to look at my life and the world around me from multiple angles and questioning if things are really as they appear. I'm over 40, I'm sober, my faith grows every day… how should all those things affect how I relate to the world around me? Sometimes it's really simple, sometimes I have to admit I still need to figure it out. It's one thing to know something intellectually and another thing to live as if it's true.
JFH (Scott): You also display a range of genres, from contemporary to alternative to punk. Who are your musical influences?
Jeremy: So, so many, but I have to list: Tom Petty, The Smiths, Descendents/ALL, Big Star, Nick Cave, Oasis, Gaslight Anthem, Hawk Nelson, Stellar Kart, Matty Mullins, Stereophonics, Tiger Army, The Sex Pistols, New Found Glory, Smoking Popes & Superdrag.
JFH (Scott): Are you aiming to sign to a record label or do you plan to stay independent?
Jeremy: My ultimate goal is to write and produce with other artists. Whether that's on a label, or on my own, it doesn't matter so long as I'm creating and giving glory to God in doing so.
JFH (Scott): With the album released, what is in the plans for the rest of your 2022?
Jeremy: I am going to do as much marketing as I can do on my miniscule budget and then finish the recording/mixing course I am doing through Hardcore Music Studio. Also, I'm always writing, so it's likely I'll start on the next album later in the year.
JFH (Scott): What would you say is Mountain Climer's mission statement?
Jeremy: Give glory to God first and foremost. After that, enjoy making music - everything else is icing on the cake.
JFH (Scott): Do you have anything else you'd like to share?
Jeremy: Sonically, this is basically the record I've wanted to make since I was in my first band in the mid-90s. When I started this project, I had zero experience as a recording engineer and it was a steep learning curve. Throughout the process I not only learned how to record, but my musicianship greatly improved as well. I'm grateful for all those who believed in me enough to donate to the cause and/or pray for me. Lastly, I'm excited for what's next, both in terms of my own music and being able to help others with their music in whatever way I can. Thanks to everyone for reading this and checking out my music, it's appreciated!