Metal act Demon Hunter have been captivating hard music fans for years and have once again served up a hefty serving of aggressive music for fans to devour. With the release of True Defiance, JesusfreakHideout.com's Timothy Estabrooks quizzed lead vocalist Ryan Clark about the new album and life in the band...
This interview took place on: June 14, 2012




Jesus freak Hideout (Timothy Estabrooks): What kind of feedback have you received so far concerning True Defiance?
Ryan Clark: The feedback has been overwhelmingly good so far. We're very pleased with how it's been received. We're extremely proud of the record, so it's nice to know our fans are truly appreciating it.
JFH (Timothy): Where did you find artistic inspiration while you were writing the album?
Ryan: It's hard to say where my artistic inspiration comes from. I'd say that my desire to create something that I haven't heard from anyone else is definitely a driving force. I've been underwhelmed with modern heavy metal for quite a few years now, so I have a longing to create what I want to hear.
JFH (Timothy): How would you characterize the overall message of True Defiance?
Ryan: I would say the overarching concept is an unapologetic look at Christian faith in the modern age. In an age that consistently grows further and further away from the core ideals and beliefs of the Christian worldview, this album is about being steadfast in those beliefs, despite adversity or popular leanings. That's really where the album title comes from.
JFH (Timothy): How was the songwriting process influenced by the addition of Jeremiah Scott on rhythm guitar?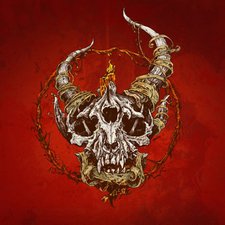 Ryan: The songwriting has always been the same. I write the songs, and when we get together to record, we make subtle revisions/additions/etc in order to fine tune them. I want everyone in the band to feel fulfilled in their respective roles, but the songwriting role has been mine since the band's inception (for the first four records, it was both my brother Don and I). The only blatant exception are the guitar solos, which are all written and performed by Patrick.
JFH (Timothy): Over the years, you have experienced a variety of lineup changes from album to album. How do you continue to consistently make quality music in the light of those changes?
Ryan: Well, being the core songwriter, the songs are always going to have my fingerprints on them. There are more subtle aspects that you hear changing throughout the years (drum style, guitar solos, etc.), but the overall vibe and style of the music stem from my personal inspirations, and those are unchanging for the most part.
JFH (Timothy): To date, Aaron Sprinkle has produced all of your studio albums. How would you describe his artistic influence on the band after so many years of working together?
Ryan: I always call Aaron the "6th band member" in regard to the recording process. His input has really helped shape the Demon Hunter sound over the years. All of those little details you hear in the songs--the cool little keyboard parts, programming, anything like that--are all his doing. Additionally, he's a priceless asset when it comes to vocals. He really brings the most out of the melodies and harmonies. He's helped me completely re-write melodies, or bring parts to life with harmonies I would never have considered. He understands the band like no other producer could.
JFH (Timothy): Your last two albums have both featured guest vocal appearances from some big names in the industry. What caused you to not bring in any guests for True Defiance?
Ryan: It was a combination of things that led to the lack of guests on this record. For one, I was very down-to-the-wire with writing the songs and getting everything prepared, so I didn't have much of a chance to think about this aspect. Furthermore, I feel like we kind of hit the pinnacle on our last record, so it's hard to know where to go from there. Speed Strid (Soilwork) and Christian Alvestam (Misteration, Ex-Scar Symmetry) are two of my favorite current day vocalists.
JFH (Timothy): True Defiance is your sixth full-length album and you have been together as a band for over a decade now. What role do you see yourselves playing in the industry as a veteran band?
Ryan: I hope that we're seen as the guys that are still writing great music and standing true to our beliefs. Like I said, there's a lot of modern heavy music that I can't really relate to, so I'm hoping our music really reaches people that feel a connection with what we do.
JFH (Timothy): Tell us about the upcoming Scream the Prayer Tour that you will be headlining.
Ryan: This is a different tour for us because we've never done anything quite like it in the past. It's a bigger bill, and more of a "full day of music" type of tour, which is cool. We're friends with the Emery and Sleeping Giant guys, and we know a few of the other bands pretty well, so it should be cool to hang out with everyone. More than anything, we're just excited to play this new material!
JFH (Timothy): Any final thoughts for our readers?
Ryan: Thanks for the support! Come out to a show and give us a shout!
Demon Hunter's True Defiance is available now!