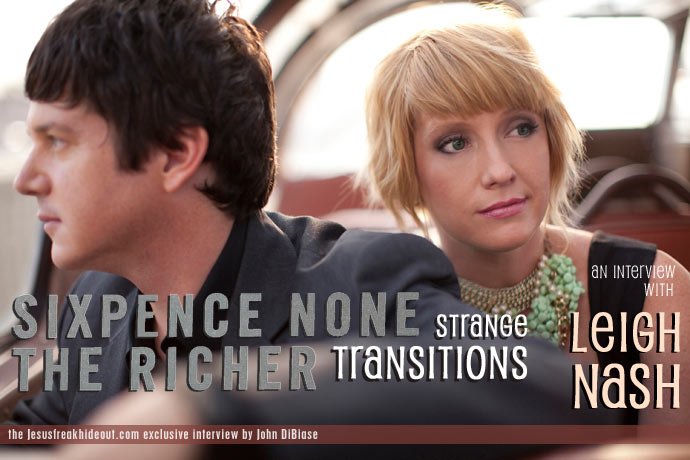 At a one-off solo date in Bethlehem, Pennsylvania, Jesusfreakhideout.com's John DiBiase and Kevin Chamberlin sat down with singer/songwriter Leigh Nash to talk about her solo career and the long-awaited new studio album from Sixpence None The Richer, Lost In Transition...
This interview took place on: 2/28/12.





JFH (John DiBiase): What first inspired you to do a hymns project?
Leigh Nash: Well, I first wanted to do it--I mean God would definitely be my inspiration, and my faith, initially--and I'd always wanted to do a hymns record because I grew up singing hymns in a Southern Baptist church. And then I was asked by this company, Kingsway, to do a whole album of hymns and I thought that sounded really good...
JFH (John): They actually approached you specifically for that?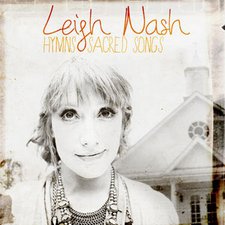 Leigh: Yeah, because I'd done a few songs for them on compilations before, so they just wanted to see if we could do a whole record together. So they approached me, and they took old hymns, y'know like 200-year-old sacred words, and rewrote melodies to them. I got the opportunity to rewrite some of the melodies and I enjoyed that. And at first, I thought, "well this will be really hard to do if I already know the songs," but I didn't know them.
JFH (John): So you didn't choose the songs?
Leigh: I chose a few; I chose like two of them, but otherwise, the producer was really great about choosing them. I think he did a really good job.
JFH (John): Who was the producer for that?
Leigh: John Hartley.
JFH (John): And you've never worked with him before?
Leigh: On those compilations I had. He was the producer for those.
JFH (John): Now, when the announcement for this record, Hymns & Sacred Songs, came out, it mentioned that you have two more albums coming out with Kingsway. Is that right?
Leigh: Yes, two more.
JFH (John): Are they going to be hymns?
Leigh: Yes, hymns, and I guess I'll give it away a little bit to you; I think we're going to try to do an ambient kind of thing, like a Delirium thing but with old hymns. I'm not sure how it will all work, but I'm really excited about it.
JFH (John): Cool! That sounds neat. So kind of like Fauxliage?
Leigh: Yeah!
JFH (John): I was actually going to ask if you had plans for another Fauxliage record.
Leigh: I would love to do another record like that, but they haven't asked. Those guys just disappeared into their own projects. I don't know. I haven't heard from them in a long time.
JFH (John): So for these acoustic shows you're doing, you're just doing a mix of hymns and Sixpence None The Richer stuff?
Leigh: Yeah! Sixpence and Leigh Nash solo stuff, and a few covers. I only play one hymn during these full sets, because I've just got one that I really, really love. And without turning it into a different kind of night altogether, I think it feels really good to play this one very impactful hymn. It's called "O Heart Bereaved and Lonely." It seems to do the trick for the whole show.
JFH (John): So the hymns you did choose for Hymns & Sacred Songs, were they personal to you?
Leigh: No, because they were so old, they were not of the variety that we used to do in church. No, I think the Baptist hymnal hymns are maybe not quite that old. So, no, I just kind of trolled through the Internet and found some really old hymns that I liked the words to and wrote melodies to them. It was really fun, I liked it a lot.
JFH (John): What's the status on Sixpence None The Richer?
Leigh: It comes out [August 7]! We're booking shows. We've got shows on the books! I think where we're really interested in touring is clubs like we did in the beginning. So that's what we're into. We've got a great booking agent working, but we should be busy throughout the summer. The record name has changed now from Strange Conversation to Lost in Transition, which I believe you've probably heard about already.
JFH (John): Yeah, I've heard a lot of rumors. Some people thought it was Translation, some thought it was Transition...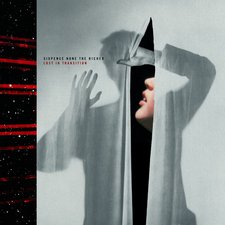 Leigh: No, it's Transition. And, I think, the reason for that change is, I mean, it was obvious for us. This has been such a ridiculous waiting period. Very frustrating for us. So that's what it's felt like - being lost in this transition. And transition's bad enough, but getting lost in it really sucks. *laughs* But we've got the artwork and everything's done. We're really excited. The record's beautiful.
JFH (John): I couldn't believe it's been ten years since Divine Discontent!
Leigh: I know! It's crazy.
JFH (John): So it's been ten years since the last full-length, normal, studio album.
Leigh: I know! It's crazy. And we got back together five years ago to just make records and put 'em out in a normal fashion and that's not what happened cuz we tangled with a label again. So, no more.
JFH (John): So the new one's gonna be indie?
Leigh: Yeah, but we're using this group, they're called Orchard Group, and they kind of quarterback records without being a record label. So we're maintaining the independent nature of the release, but also we're not completely left holding the bag. *laughs* We're spreading the bag out a little bit.
JFH (John): Is it the same batch of songs as Strange Conversation?
Leigh: Yes. Nothing added or subtracted.
JFH (John): Are there any specific songs on the record you're really excited about?
Leigh: "Safety Line" is one of my favorites. I love "Sooner Than Later," which I guess you've heard, but this is recorded differently. Cuz all the songs for the record were recorded at the same time up there with Jim Scott in California. That's where we made the record. And it's the best studio experience we've ever had making a record. That's why it's really been such a sad couple of years, because we were SO excited when we left that studio. And when we were in the studio, the whole thing was just beautiful and perfect. Jim is such a great producer. And then the wind got knocked out of our sails very, very quickly with all of EMI's troubles and it's taken forever to get the record released back to us, which is great that we were able to. But anyway, yeah, it's been a long time. But "Safety Line" is one of my favorites, and "Sooner Than Later."
JFH (John): What's the song "Safety Line" about?
Leigh: It's about love. It's a simple love song. It's about wanting your partner to keep you grounded, or just saying that's what you need, y'know, your partner to be a safety line. I think the words are in typical Matt [Slocum] fashion to write a song. It just blows my mind how he can write something so simply but have it say something so beautiful.
JFH (John): Since I haven't talked to you since it happened, how did your reconnection with Matt to resurrect Sixpence None The Richer start?
Leigh: Well, he went on his honeymoon to Europe for a long time, and during that time, a lot had been happening with me. And he came home and we got together--because I think he'd been gone almost a year!--and we got together and sat down for coffee...
JFH (John): That's a long honeymoon!
Leigh: Yeah, it might have been 6 months, I don't remember.
JFH (John): Still, that's a long honeymoon! *laughs*
Leigh: It was. They did it like the old-fashioned style--I don't even know if it's old-fashioned. It's just nice. *laughs* So they were gone that long and then we just had both been feeling the same way and just thinking that we threw away a good thing too soon, just because we were frustrated with the business. We thought, "Well, that's no reason to break up [the band]" and we wanted to keep doing it, not be real dramatic about it, but let's keep making records, and then this happened, so... But that's alright! I mean, my voice is no less vital than it's ever been. I think it's better than it's ever been, and his writing-- we've just matured! And I don't think we're looking for big success at all; we just want to put our records out again. So maybe it'll end up coming out at just the right time, who knows.
JFH (John): I hope so. I just can't believe all the different label issues you've had over the years.
Leigh: I know...
JFH (John): This is, what? The second or third time?
Leigh: It's at least the third, yeah.
JFH (John): Can you talk about what happened this time?
Leigh: It was nothing ugly that happened. EMI was not the same company; by the time we finished making the record, things looked drastically different there than they did when they signed us. They could no longer do what they said they were going to do. It was just not even their fault. But, the whole A&R process, we were definitely led along. They didn't even have staff in one of the bigger cities, where they were planning on doing stuff, anymore. And like I said, it was not in their control... So we've just been in a waiting pattern, waiting for the lawyers to write up the paperwork to let us have the record back, and all that. But we did that Christmas record (The Dawn of Grace), so we haven't fallen completely off the map. *laughs*
JFH (John): And then you did the My Dear Machine EP. That was still pretty under the radar, but it was something!
Leigh: Yeah! Right, it was something. And that was supposed to be the precursor to this record. And here it comes! ...four years later [after the EP].
JFH (Kevin Chamberlin): When something like that happens where you have to wait a couple years for an album to come out [that you've finished], when it finally comes out, do you not have such a love for that record because your inspirations have changed or what you've been listening to has changed so you don't feel [the same about it]. Like, where you said when you left the studio, you were so excited... does it change having to go through this?
Leigh: I think it probably does. I think some of that must be inevitable, but we stopped listening to it pretty shortly after we found out it wasn't going to come out. We kind of just put it away, because it was really heartbreaking. But it is such a great record that we're still proud of it. It might make us a little more insecure about people hearing it because there's been this build up now. Now it's not just a record that we've just made; it's a record that people have been waiting for. And if it's disappointing now, that's really going to be a kick in the pants. But I think it stands up still after two years. It sounds just as relevant as it did then, as far as the sound goes. And we haven't been out playing the songs and touring a bunch, so we're not tired of playing them live, because we haven't even got started. But we played a show in Indianapolis last month and that was for a couple thousand people and that was wonderful. It was so good to be up there with those guys again. And, I mean, it sounded fantastic.
JFH (John): Who is with you and Matt?
Leigh: Sam Ashworth is playing guitar and Justin Cary is still playing bass with us, but he couldn't be there so we had someone filling in for him, and then Rob Mitchell played drums, who played on Divine Discontent. And Matt Slocum on guitar.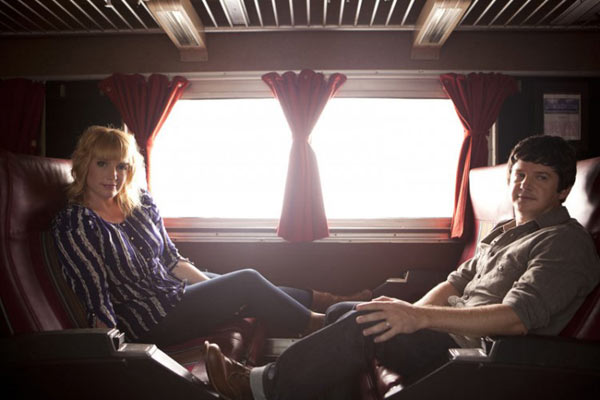 Sixpence None The Richer's Lost In Transition releases everywhere August 7, 2012.


Click here All News Headlines
|

RSS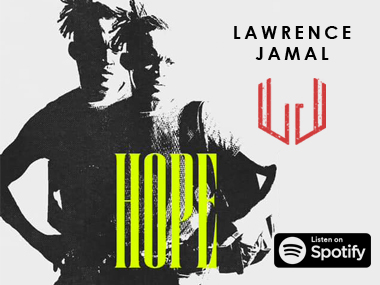 ---
---
---
---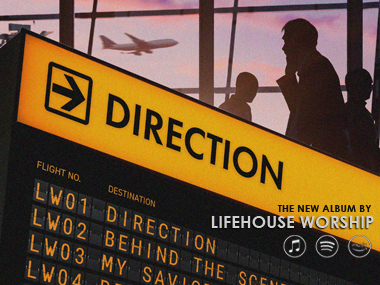 ---
---
---
---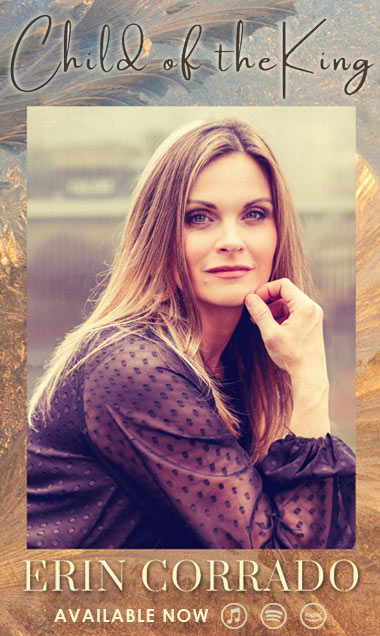 ---