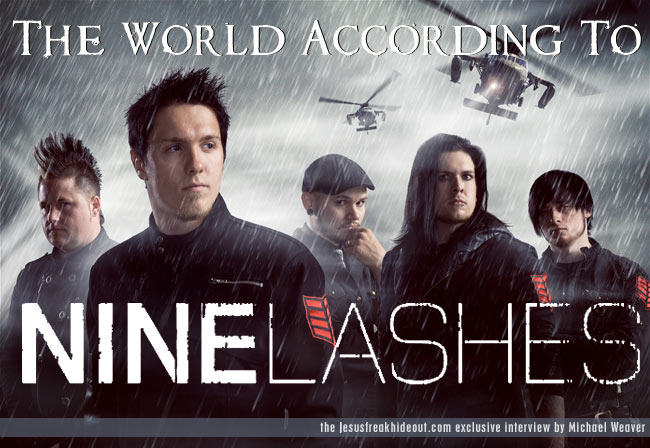 Jesusfreakhideout.com's Michael Weaver recently had a chance to sit down with singer Jeremy Dunn of new Tooth and Nail band
Nine Lashes
while waiting outside of the Jannus Live venue in Saint Petersburg, FL pre-show to the REDvolultion tour. He took a minute to discuss the tour, their newfound success, and their debut album,
World We View
...
This interview took place on: February 26, 2012.
Jesus freak Hideout (Michael Weaver): You're just over two weeks in; what's the tour like so far? How's it going?
Jeremy Dunn: It's been really good, really good. I would say no less than 700 people a night. It's blown us away; it really has. Getting used to crowds that big, it's really… Your adrenaline gets moving and so it's pretty fun. Pretty fun and it's awesome meeting new people. I mean, people are so different from one region to the next; it's really cool.
JFH (Michael): I played in a little local band for a while and 700 people just blows my mind. I think the biggest crowd we had was like 100.
Jeremy: Yeah. *laughs*
JFH (Michael): You're driving all of the country right now; what kind of music are you listening to?
Jeremy: I really don't have time to listen to music. I guess I'm listening to RED and TFK here. *laughs*
JFH (Michael): That's not too bad though.
Jeremy: We really haven't… There's hardly any time off the road, especially at our level. We don't have a lot of people hired to do things for us so we're having to wear a lot of different hats, so it's not much time…
JFH (Michael): You load yourself in.
Jeremy: Yeah.
JFH (Michael): - Sound check yourself.
Jeremy: There's not much time for yourself, you know?
JFH (Michael): Alright. I read this on your Tooth and Nail profile, but if you could, tell our readers a little bit about Trevor [McNevan], his appendix, and your signing to Tooth and Nail.
Jeremy: *laughs* Uhh, God works in mysterious ways. But basically, the way it happened was we were trying to get a show just up the road from us and he put together a festival - this promoter named Joe Posey. So we sent [Joe] our CD and he was like, "OK. Can you do it live?" "Of course, we are a local band. We're offended. You're going to ask us if we can do this live?" It's so funny, we were kids. So he shows up to a show, we invite him to a show… A funny story to go along with that: We didn't know that he had to be somewhere else that night, so he shows and up we're playing, we're rocking out as hard as we can trying to impress this guy to get on this festival and he just leaves in the middle of the set. He had somewhere else to be and we hadn't talked before the show so he couldn't tell us. *laughs* It was just - *laughs* It was just craziness. We were like, "He hated it. He just hated it." So ended up liking it, but the thing that we didn't know is that way back when Trevor was starting - don't quote me on this - but I'm pretty sure the story is that Trevor needed a visa to get into America to be able to promote his business and everything in America.
JFH (Michael): From Canada.
Jeremy: Yeah. So, Joe had to promote X amount of shows for them to be able to be approved for that visa. Of course, Joe didn't book all of the shows they needed, but Joe committed a big portion, so they established a relationship, and they've known each other for a long time. So, Joe had a relationship with Trevor and [he] sent our CD [to him], without us knowing; we didn't know he did it. He sent our CD to Trevor and Trevor - busy guy. I think you might have seen him around, he's out here right now, but he's been on his phone since I got here. He's just super busy, just always taking care of business. So he probably wouldn't have had time to listen to it if his appendix hadn't have ruptured and he hadn't been at home recovering. So, pretty much where we are today is by no account our fault. *laughter* You know? I mean, we work as hard as we can and we give what we do to God and God takes it where He wants it to be, you know?
JFH (Michael): If you give it to him, then big things happen I think.
Jeremy: Oh yeah.
JFH (Michael): So about the album… Well, actually before the album. What's it like going from pretty much a relatively unknown indie band - you have an album out, but you're not really known nationwide, to be being signed to a big label like Tooth and Nail and touring with RED, TFK, and names like that?
Jeremy: It's crazy, but more than anything it's a learning experience because you get to learn the way things are organized, the work that goes into it. You learn what it takes to do this or what it takes to do that. Watching people, learning it just like… When I was a kid if I wanted to learn Legos, the Legos instruction booklets had pictures. So I would look at the pictures to figure out how to build what I'm building. It's the same way. We go on tour with these bands, we see the things that they do, the way they streamline things, get rid of the unnecessary things, keep the things that are really important, and really streamline the work and figure out what has to happen and what doesn't have to happen. It really shows us. It helps us develop our own sort of process; our own way of doing things. We take things and adapt it to what we're doing.
JFH (Michael): That makes sense. What was the biggest difference in the recording process between Escape and World We View?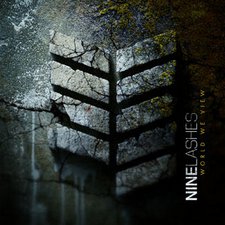 Jeremy: I think there really wasn't much. The biggest difference was the personality of the producers. Travis [Wyrick] is more of a… He's very high-strung. I mean, you'll get there at eight in the morning and think you're ready to work and he's already played racket ball for two hours and he's like, "Are you guys sleeping in today; what's up?" So, you show up and he's ready to go, where Aaron [Sprinkle] is more relaxed. He's just, "Let's work in our own time. Let's not push things. Let's just let it happen." So it was just a very different dynamic. So that's about the only thing that was different other than that. I mean, there's little specific things like gear and all of that stuff that they used differently, but other than that it was pretty much the same process.
JFH (Michael): Were you actually in the studio with Trevor and Ryan [Clark], or did they go and record their parts at a separate time?
Jeremy: We actually wrote that at his house. So we got to see that come to life--not lyrics--the melody came together. He wrote lyrics and recorded them at his house, but the actual idea and hearing it on the demo was at Trevor's house. But Ryan on the other hand, he actually came in and listened to the song. We were just dreaming out loud, "It would be really cool to have someone like Ryan Clark scream on this one" and the next thing you know, Aaron's on the phone and [Ryan] shows up. He listens to it and he says, "It's just my tempo." And I'm just like, "Yes." *whispered* *laughter* I grew up listening to those guys, so that was really awesome. He actually was working on a lot of different artwork for a lot of different artists at Tooth, so he had to show up later after we were gone.
JFH (Michael): You kind of already answered it a little bit, but what did it mean to you personally having those two guys on your record?
Jeremy: It was really cool, because like I said, I grew up listening to both records about equally. I abused the first and second Demon Hunter albums. After that, I was a little more busy so I didn't really get to dig into the later albums, but still it was a time in my youth, so it was really cool. Really cool.
JFH (Michael): Building off of that a little bit… "Our Darkest Day" is actually my favorite song from the album. I think it's the best track musically and lyrically and on top of that I think that Ryan's screams pushed it over the edge.
Jeremy: *laughs* Thanks.
JFH (Michael): What's your favorite song?
Jeremy: Ugh. I can't choose a favorite, man.
JFH (Michael): They're all yours, huh?
Jeremy: I spent hours on every one of these.
JFH (Michael): I hear ya.
Jeremy: It's like giving birth to two kids and then having to pick one you like better; you can't do it. But, there are songs that feel better live, singing.
JFH (Michael): OK, that's where I was going to go next then.
Jeremy: I would have to say "Our Darkest Day" feels really good and probably "Believe Your Eyes" feels really good. They're in that spot of my range where it feels good and I'm not pushing too hard. I can relax and enjoy the song as opposed to working hard and running out of breath, you know? *laughs*
JFH (Michael): What was the thought process of bringing "Afterglow" over from Escape? That's the only one you brought over. Was that a band favorite or a fan favorite?
Jeremy: At first we were kind of iffy about it. We were kind of hesitant. We felt like it would be less special, but then the big thing that pushed us in the direction of going for it is that we just realized that people hadn't heard it and hadn't heard the story behind it. So, we just decided it would be really cool to include it for any new potential fans that we would gain in this story so it would give them something so that they know that we're real people we deal with real problems. We all agreed that would be really cool. I didn't want to exclude them from that.
JFH (Michael): Building off of that. What caused the change [in the song structure]? To me, it seems like you made the original chorus into a pre-chorus and then wrote a new chorus for it.
Jeremy: Yeah, yeah. That was actually all Aaron's idea. He listened to it and the first time hearing it, he said, "Guys, I can't get over it. I've listened to it a few times; I can't get past it. This feels like a pre-chorus to me." We decided to trust his advice, his expertise - he's been doing it a long time - so we wrote a new chorus. It was weird to me at first, but it was only because I'd heard the song a certain way so many times. Now it would feel unnatural without it.
JFH (Michael): Did you change the tempo or anything? There are more words [in the song] and the track is like nine seconds shorter than on Escape.
Jeremy: Well, I don't know, to be honest. I just kinda played it on a guitar and he tapped the tempo out. So I might have played it faster or slower.
JFH (Michael): It doesn't feel much different listening to it, but like I said, when I saw track times and the difference I was just curious.
Jeremy: Yeah. Yeah. That tripped me out. I think we cut some pieces in half too though, so.
JFH (Michael): Maybe. Any tour plans after REDvolution is over?
Jeremy: We are actually. It's in the very earliest stages, but we're trying to get a tour together in May with just us, because we feel like the album's built up a decent amount of hype and we're going to try and just push this thing a little further on our own with a few other bands. We've already gotten pricing on production and lighting and everything. It's in the early stages, so I can't really guarantee anything, but we feel very strongly that we want to do this.
JFH (Michael): You have a new album that just released, you're on a big tour with some big-name bands, but none of this is possible without a loving Savior and God. What's He been teaching you right now through this tour and this time?
Jeremy: Man, just to care for His little ones. Every day you're faced with decisions and you have to make decisions, but you're not the only one to take into account. There's thousands of people. Right now we go to our Facebook, and it's a small number compared to most, but we just hit nine thousand Likes today, and that's nine thousand people that are watching what we're doing. So, we really try to weigh out our decisions and we pray about them. The most important thing is the spiritual health of His little ones, you know? The Bible says, "Woe unto him." It says, "Temptations must come, but woe unto him through whom they come." We just really try to do things to where people can look at us, parents can look at us, and feel OK about their children listening to it, you know? My heart is pure, but people can be skeptical, so we just try to really show our hearts and let people see our hearts in every decision we make.
Nine Lashes's new album World We View is available now on Tooth & Nail Records!