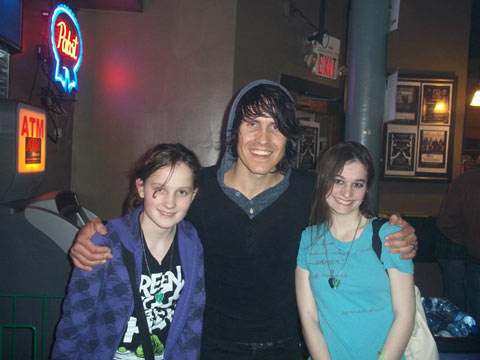 Sammy, David Zach of Remedy Drive, and Elena Frye

Favorite Band/Artist: Remedy Drive
Featured Fan: Elena Frye
Location: Waseca, MN
When/Where Was The Above Photo Taken: Station 4, March 5th 2011
What About This Artist's Music Speaks To You: Their music brings so much hope!!! My dad and I blare "Daylight" really loud in his car whenever it comes on the radio. :) I love going to their concerts, they are really nice guys!!! David even remembers me and my dad from other shows we've been to! :)
Favorite Album by This Artist: Daylight Is Coming
Favorite Song by This Artist: "DAYLIGHT!!!!" (and all the others!)
Number of Times Seen This Artist Live: 6!!!!
Favorite Live Show Experience: ON June 20th, 2010, my dad drove me and 3 three of my friends to a see Remedy Drive in Altoona, Iowa (which was 3 hours away), for my 16th birthday. We had AMAZING standing spots right in front of Philip, and while David was doing his famous stunts, he shook my hand! :) After the show, we went to go get our shirts and posters signed. When we got to Phil, we started talking about how Sammy's sister doesn't like Remedy Drive anymore because her boyfriend Cj doesn't like them and how that was dumb. Phil overhears us and says in a funny voice: "Cj is soo dumb!" and then he looks at Sammy (who wasn't looking him in the eyes) and says: "You have a problem looking me in the eye!" We were all laughing so hard!! When we got to David and he was signing our stuff, he said: "Something smells funky, *smells shirt* I thought it was one of you, but I guess it's me!." (He told us during the concert that they were wearing the same clothes everyday for a week without being washed). My friend Miranda asked if he could sing happy birthday to me, but he didn't. :( Oh well. Then Paul hit us each in the head with a purple noodle. We missed Dan cause he was putting stuff in the trailer. On the drive home, my dad's car got a flat tire in the middle of nowhere, so he called the police and we got to ride in the police car on each other's laps cause there wasn't enough room. The policeman drove us to a rest stop where we waited for my friend's dad to pick us up. We finally got home at 4:30 am. :) BEST BIRTHDAY EVER!!!!!!!!!!!!!!
Favorite Piece Of Merch/Item You Own From This Artist: My signed "Guide You Home" bag. I also have a signed shirt, 2 posters (1 signed), 2 cds (1 signed), and a button
Website: http://www.twitter.com/SKLoverElena

Submit your photo and reasons why YOU'RE a fan for a chance to be featured here!