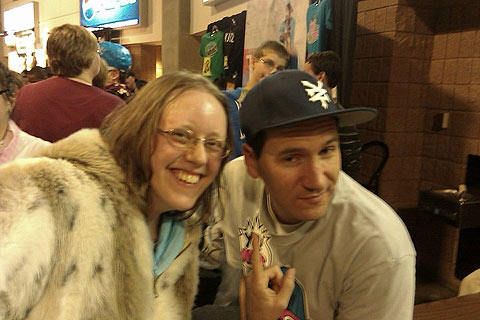 Aimee and KJ-52

Favorite Band/Artist: KJ-52
Featured Fan: Aimee
Location: PA
When/Where Was The Above Photo Taken: Bryce Jordan Center, State College, PA
What About This Artist's Music Speaks To You: I love KJ's songs because they always encourage me. I especially love his song "Daddy's Girl" because I can relate to that song because of my dad and then also "Gonna be Alright" because it encourages me that no matter what is happening in my life that everything is gonna be alright with God.
Favorite Album by This Artist: Five-Two Television
Favorite Song by This Artist: "Daddy's Girl"
Number of Times Seen This Artist Live: 1
Favorite Live Show Experience: Winter Jam at Bryce Jordan Center
Favorite Piece Of Merch/Item You Own From This Artist: my KJ CDs
Website: N/A

Submit your photo and reasons why YOU'RE a fan for a chance to be featured here!