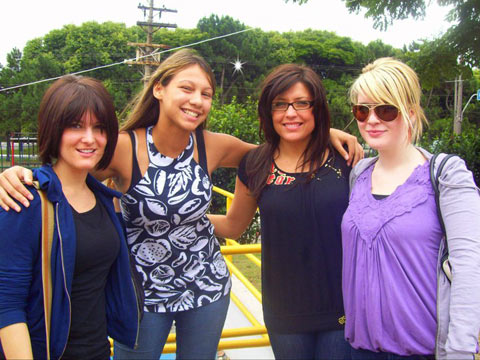 Amanda Guimaraes with BarlowGirl

Favorite Band/Artist: BarlowGirl
Featured Fan: Amanda Guimaraes
Location: Sao Paulo - Brazil
When/Where Was The Above Photo Taken: SOS Da Vida (Life SOS) -- Brazil
What About This Artist's Music Speaks To You: Lauren, Rebecca and Alyssa have been such an inspiration and encouragement to me. Their songs speaks a lot to me. They were so nice, every single moment.
Favorite Album by This Artist: Love & War
Favorite Song by This Artist: "I Need You To Love Me"
Number of Times Seen This Artist Live: 1
Favorite Live Show Experience: 13 September of 2008
Favorite Piece Of Merch/Item You Own From This Artist: CDs, DVD and a t-shirt
Website: www.facebook.com/mandxy

Submit your photo and reasons why YOU'RE a fan for a chance to be featured here!